For a child experiencing a mental health crisis in San Francisco, inpatient beds are few, and getting appropriate care often means leaving family, friends and community for a treatment facility hours away. A child who is on Medi-Cal, uninsured, in foster care or in the juvenile justice system faces even more challenges due to the smaller number of inpatient and intensive outpatient mental health facilities accepting these patients.
Lisa Fortuna, MD, MPH, MDiv, chief of psychiatry at the Priscilla Chan and Mark Zuckerberg San Francisco General Hospital and Trauma Center (ZSFG), remembers one teen she treated who had a significant history of trauma and was experiencing psychotic episodes.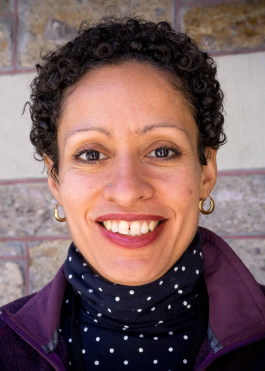 "This young person really needed hospitalization. But everywhere we turned, we were told that the system involvement — with juvenile justice and child welfare — in addition to the youth's clinical history, was too complicated, and they didn't have the workforce to support the child," said Fortuna, who is also the Carol Cochran Schaffner Endowed Chair in Mental Health and executive vice chair of the Department of Psychiatry and Behavioral Sciences at UC San Francisco, which has a longstanding partnership with ZSFG. "Our only choice was to stabilize the child on our pediatrics unit as best we could until we could find a residential setting, and that was far from the city and the child's natural supports."
Nationally and locally, the COVID-19 pandemic dramatically increased the number and severity of mental health challenges for children and youth and exacerbated an existing shortage of services and providers, Fortuna said. Children ages 3 to 17 saw a 29% rise in anxiety and 27% rise in depression from 2016 to 2020, according to the U.S. Department of Health and Human Services.
The San Francisco Department of Public Health (SFDPH), through its academic community hospital ZSFG, is working to change the situation thanks to a $33.7 million state grant. Together, SFDPH and ZSFG plan to add 24 new partial hospitalization and intensive outpatient slots in the next 18 to 24 months, as well as 12 inpatient beds in five years. None of those options for care exist now, as ZSFG's mental health care currently comprises outpatient (non-intensive) visits and consulting services for pediatricians and other physicians.
Adding the new programs will enable the hospital to treat at least 450 youth annually in the inpatient unit, and 900 in intensive outpatient clinics. The expansion is the latest chapter of a 150-year-and-counting partnership with UCSF, in which ZSFG doctors serve as faculty at UCSF and develop cutting-edge clinical research for the benefit of all San Franciscans.
While the services will be new, San Francisco's public hospital has a wealth of experience in treating patients whose vulnerabilities can be too challenging for other health facilities. "At UCSF and ZSFG, this is what we do: We treat people with very complex lives and situations, and we figure out how to respond to barriers — whether financial, cultural or structural — so we can provide quality care," said Fortuna. "We'll bring that expertise to our new mental health services, as well."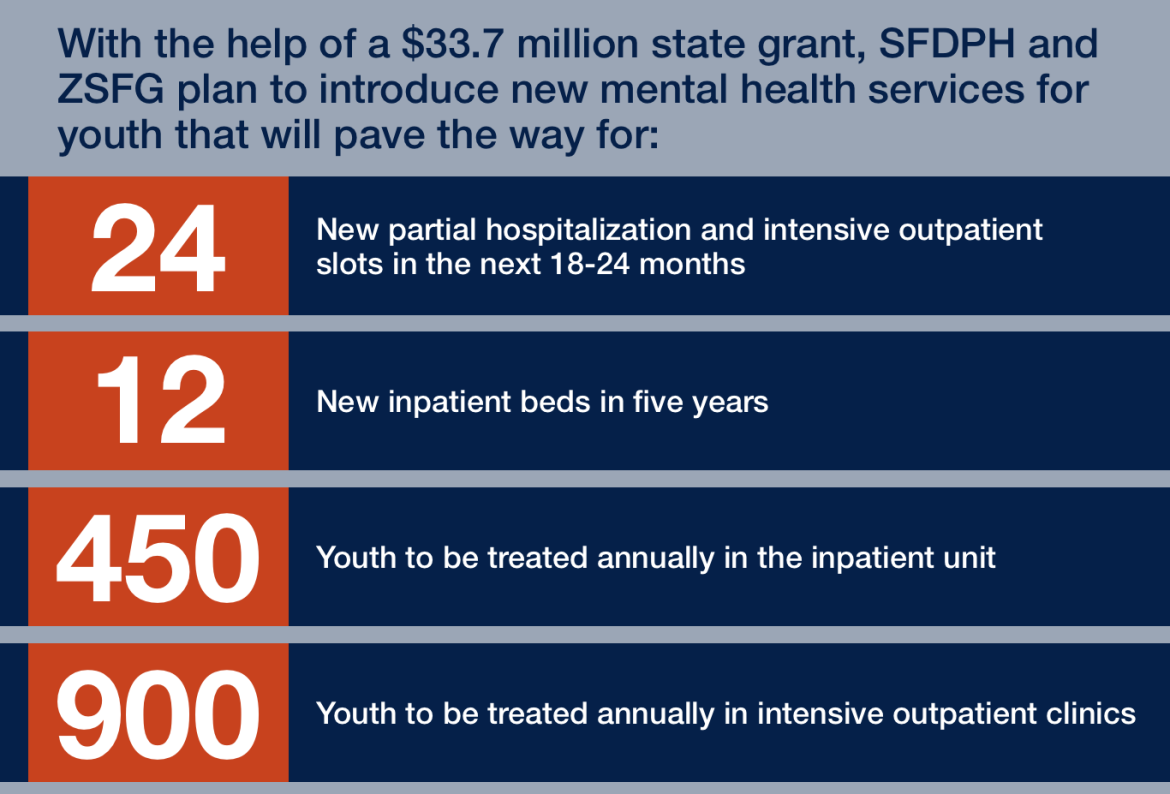 Most mental illness starts in childhood
A growing body of research shows that the sooner a person's mental illness is treated with comprehensive services and support, the better the outcomes in the short and long term, noted Matthew State, MD, PhD, Oberndorf Family Distinguished Professor and chair of UCSF's Department of Psychiatry and Behavioral Sciences.
"The majority of mental illnesses start in childhood and adolescence – half by age 14 and 75% by age 24. That's when we most often see the first bouts of depression or anxiety, the first psychotic episode," said State. "By investing in comprehensive mental health services for children and increasing access to care, we can promote healthy brain development and resilience in young people, in many cases mitigate the consequences of trauma and untreated mental illness, and really improve the trajectory of their lives into adulthood."
To address complex mental health challenges, there needs to be several levels of care that children can step up or down to depending on their current situation and how they respond to treatment, said Fortuna.  Some will need weekly or biweekly outpatient counseling, while others will need intensive outpatient care. At ZSFG, the latter will comprise two full days of intensive services — such as medication management, one-on-one counseling, group and family counseling — followed by regular outpatient sessions. Partial hospitalization, meanwhile, will involve spending at least half of every day receiving services for more than two days.
Having all these tiers available locally will make it easier for the child's natural support system to be involved in the care, said Fortuna.
"As we design these programs, we are very aware of how important family and community engagement and support are; they are at the heart of wellbeing for young people," Fortuna said. "We need to ensure strong community input so we can create culturally appropriate programs where families can be involved in the care."
 
---
About UCSF Psychiatry and Behavioral Sciences
The UCSF Department of Psychiatry and Behavioral Sciences and the Langley Porter Psychiatric Institute are among the nation's foremost resources in the fields of child, adolescent, adult, and geriatric mental health. Together they constitute one of the largest departments in the UCSF School of Medicine and the UCSF Weill Institute for Neurosciences, with a mission focused on research (basic, translational, clinical), teaching, patient care, and public service.
UCSF Psychiatry and Behavioral Sciences conducts its clinical, educational, and research efforts at a variety of locations in Northern California, including the UCSF Nancy Friend Pritzker Psychiatry Building; UCSF Langley Porter Psychiatric Hospital; UCSF Medical Centers at Parnassus Heights, Mission Bay, and Mount Zion; UCSF Benioff Children's Hospitals in San Francisco and Oakland; Zuckerberg San Francisco General Hospital and Trauma Center; the San Francisco VA Health Care System; UCSF Fresno; and numerous community-based sites around the San Francisco Bay Area.
About the UCSF Weill Institute for Neurosciences
The UCSF Weill Institute for Neurosciences, established by the extraordinary generosity of Joan and Sanford I. "Sandy" Weill, brings together world-class researchers with top-ranked physicians to solve some of the most complex challenges in the human brain.
The UCSF Weill Institute leverages UCSF's unrivaled bench-to-bedside excellence in the neurosciences. It unites three UCSF departments—Psychiatry and Behavioral Sciences, Neurology, and Neurological Surgery—that are highly esteemed for both patient care and research, as well as the Neuroscience Graduate Program, a cross-disciplinary alliance of nearly 100 UCSF faculty members from 15 basic-science departments, as well as the UCSF Institute for Neurodegenerative Diseases, a multidisciplinary research center focused on finding effective treatments for Alzheimer's disease, frontotemporal dementia, Parkinson's disease, and other neurodegenerative disorders.
About UCSF
The University of California, San Francisco (UCSF) is exclusively focused on the health sciences and is dedicated to promoting health worldwide through advanced biomedical research, graduate-level education in the life sciences and health professions, and excellence in patient care. UCSF Health, which serves as UCSF's primary academic medical center, includes top-ranked specialty hospitals and other clinical programs, and has affiliations throughout the Bay Area.