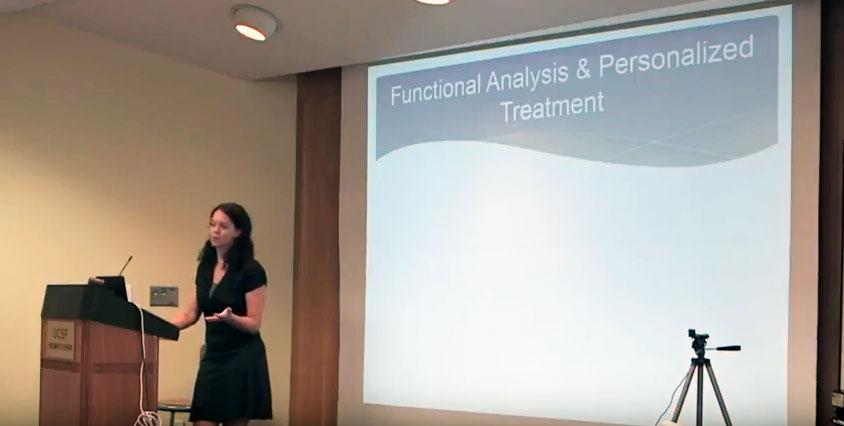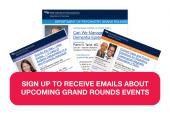 The UCSF Child and Adolescent Psychiatry Grand Rounds series (course number MGR18005) seeks to promote excellence and quality in clinical care; introduce clinicians to recent advances in medical care; provide updates on scientific advances that affect the practice of medicine; and provide a forum for discussion of topics that strengthen the relationship of child and adolescent psychiatry to the broader community.
Events are held on Wednesdays from noon - 1:00 p.m. at rotating sites, with live simulcasts available for viewing at other locations. Click on a date below for speaker details, learning objectives, simulcast locations, and more information. These events are for professional audience members only.
2017-2018 Child and Adolescent Psychiatry Grand Rounds

 

Date

Speaker(s)

Topic

Location/Archive

09/13/17
Sabrina Darrow, PhD
Anticipating the Fourth Wave of Behavior Therapy: The Role of Behavioral Principles in Personalizing Interventions
Watch video
 
09/20/17
Allanceson Smith, MD
Esme Shaller, PhD
CAP-2 Clinical Case Conference
To Discuss or Not? The Dilemma of Suicide Contagion
-
09/27/17
Elizabeth Rody, MD
Mona Tahsini, MFT
Clinical Services at the San Francisco Juvenile Justice Center and Considerations for Working With Juvenile Justice-Involved Youth
Watch video
10/11/17
J. Raul Gutierrez, MD, FAAP
Bienvenido: Revisiting Acculturation and Well-Being for Immigrant Children and Families
Watch video
 
10/18/17
Robert Mendenhall, MD
George Silberschatz, PhD
CAP-2 Clinical Case Conference
"I Have No Core": Psychodynamics and Adolescents
Watch video**
11/08/17
Zea Malawa, MD
Understanding Racism to Better Care for Clients of Color
Watch video
 
11/15/17
Iunia Dadarlat, MD
Yuriy Dobry, MD
CAP-2 Clinical Case Conference
Approach to Evaluation and Treatment of a Teenager With MDD and Comorbid ADHD, ODD, and Substance Use
Watch video**
12/13/17
Naomi E. Goldstein, PhD
Dismantling the School-to-Prison Pipeline With an Alternative to Arrest: The Philadelphia Police School Diversion Program
-
 
01/10/18
Genevieve Martínez-García, PhD
Better Than Dr. Google: How Clinicians Can Use Digital Media to Reach and Engage Patients
-
 
01/17/18
Stephanie Haft
Robert Hendren, DO
Recognizing Learning and Emotional Difficulties in Schools
Watch video
01/24/18
Mark Elliott, MD
CAP-2 Clinical Case Conference
Addressing the Opioid Crisis: A Focus on Prevention
Watch video
01/31/18
David Oppenheim, PhD
Resolution of the Trauma of Childhood Sexual Abuse: How It Fosters Maternal Insightfulness
Watch video
 
02/14/18
Lisa Nakamura, PsyD
An Integrative Approach in Diagnosing ADHD and Trauma
-
 
02/21/18
Melissa Hopkins, MD
CAP-1 Clinical Case Conference
"I Want My Daughter Back": A Complex Case of Altered Mental Status
Watch video**
02/28/18
David S. Hong, MD
Sex Matters: Examining Mechanisms Underlying Sex Differences in Child Psychiatry
Watch video
 
03/14/18
Daphne Koinis‑Mitchell, PhD
Health Care Disparities in Pediatric Asthma: Where We Were, Where We Are Now, and Where We Are Going
-
 
03/21/18
Lauren Schumacher, MD
CAP-1 Clinical Case Conference
A Case of Fairies and Dysfunction: Distinguishing OCD, Psychosis, and Encephalopathy​
Watch video**
03/28/18
Madeline E. Lansky, MD
Chery Baggeroer, MD
Melissa Vallas, MD
How Do We Get Psychiatric Care to All the Kids Who Need It? Integrating Child and Adolescent Psychiatry Consultation Into County Systems of Care
Watch video
04/11/18
Charles A. Nelson, III, PhD
The Bangladesh Early Adversity Neuroimaging (BEAN) Project
Watch video
 
04/18/18
Hohui Eileen Wang, MD
CAP-1 Clinical Case Conference
The Snowball Effect: Teen Substance Abuse: Drugs, Lie, and Mood Disorders
Watch video**
04/25/18
Gabrielle Anderson, PhD
Interpersonal Psychotherapy for Depressed Adolescents
Watch video
 
05/16/18
Cindy Vargas-Cruz, MD, MBA
CAP-1 Clinical Case Conference
Costa Rica: The Impact of Mental Health Education in a Rural High School: A Culturally Sensitive Approach
Watch video**
05/23/18
Stephen Hinshaw, PhD
Stigma, Mental Health, and Families: Another Kind of Madness
Watch video
**- This video contains restricted content and requires a valid UCSF MyAccess login to view.