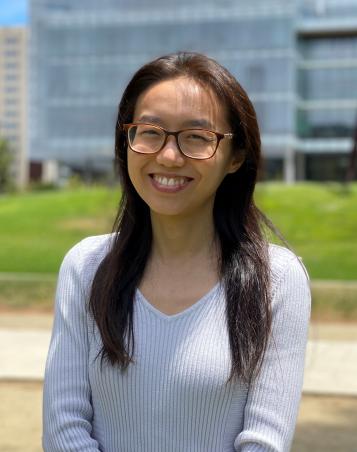 UC San Francisco postdoctoral research fellow Shuyu Wang, MD, PhD, has been selected as a recipient of the 2023 A.P. Giannini Foundation Postdoctoral Research Fellowship and Leadership Award. The highly competitive program provides up to three years of funding for research training and career development programs for physician-scientists and junior researchers at accredited California medical schools with less than three years of postdoctoral research experience.
Wang is a member of the Manoli Lab at UCSF, where she has focused on developing automated methods for unbiased social behavior detection and dissecting the pathways and circuits that underlie pair bond formation at the single cell level. She is ultimately interested in understanding the impact of environmental perturbations on postnatal brain development and social function.
After receiving a doctorate in biology from the Massachusetts of Technology and medical degree from Harvard University, Wang completed her psychiatric residency training at UCSF as part of the UCSF Psychiatry Resident Research Training Program. Since coming to UCSF, she has been recognized a UCSF Weill Pilot Award for Junior Investigators in the Neurosciences (2020), Brain and Behavior Research Foundation Young Investigator Grant (2021), and UCSF Department of Psychiatry and Behavioral Sciences Trainee Research Award (2022). She intends to use her new fellowship funding to continue her research on the molecular and cellular signatures that encode social memory and attachment to shed light on the biology underlying social impairments like those seen in autism, schizophrenia, childhood trauma, and abandonment.
The A.P. Giannini Foundation Postdoctoral Research Fellowship and Leadership Award supports innovative research in the basic sciences and applied fields and trains fellows to become established investigators and to pursue scientific leadership positions in academia, industry, public, and non-traditional career pathways. A.P. Giannini Fellows are among the most highly respected medical and scientific investigators in their respective fields and have served as mentors to succeeding generations of young scientists, as well as in leadership positions at schools of medicine and in the public and private sectors. Since its inception in 1945, the program has awarded nearly $50 million to fund innovative research by postdoctoral biomedical researchers to advance the translation of biomedical sciences into treatments, preventions, and cures for human diseases.
The A.P. Giannini Foundation is governed by a 9-member board of directors, including representatives from the A.P. Giannini family, Bank of America, and the biotechnology and health care industries. The foundation's scientific advisory committee advises the board of directors on the quality and competitiveness of fellowship candidates, their research projects, and the overall postgraduate research fellowship program. Committee members also identify candidates at their medical schools, review and evaluate fellowship applications, and select new fellows each year.
 
---
About UCSF Psychiatry and Behavioral Sciences
The UCSF Department of Psychiatry and Behavioral Sciences and the Langley Porter Psychiatric Institute are among the nation's foremost resources in the fields of child, adolescent, adult, and geriatric mental health. Together they constitute one of the largest departments in the UCSF School of Medicine and the UCSF Weill Institute for Neurosciences, with a mission focused on research (basic, translational, clinical), teaching, patient care, and public service.
UCSF Psychiatry and Behavioral Sciences conducts its clinical, educational, and research efforts at a variety of locations in Northern California, including the UCSF Nancy Friend Pritzker Psychiatry Building; UCSF Langley Porter Psychiatric Hospital; UCSF Medical Centers at Parnassus Heights, Mission Bay, and Mount Zion; UCSF Benioff Children's Hospitals in San Francisco and Oakland; Zuckerberg San Francisco General Hospital and Trauma Center; the San Francisco VA Health Care System; UCSF Fresno; and numerous community-based sites around the San Francisco Bay Area.
About the UCSF Weill Institute for Neurosciences
The UCSF Weill Institute for Neurosciences, established by the extraordinary generosity of Joan and Sanford I. "Sandy" Weill, brings together world-class researchers with top-ranked physicians to solve some of the most complex challenges in the human brain.
The UCSF Weill Institute leverages UCSF's unrivaled bench-to-bedside excellence in the neurosciences. It unites three UCSF departments—Psychiatry and Behavioral Sciences, Neurology, and Neurological Surgery—that are highly esteemed for both patient care and research, as well as the Neuroscience Graduate Program, a cross-disciplinary alliance of nearly 100 UCSF faculty members from 15 basic-science departments, as well as the UCSF Institute for Neurodegenerative Diseases, a multidisciplinary research center focused on finding effective treatments for Alzheimer's disease, frontotemporal dementia, Parkinson's disease, and other neurodegenerative disorders.
About UCSF
The University of California, San Francisco (UCSF) is exclusively focused on the health sciences and is dedicated to promoting health worldwide through advanced biomedical research, graduate-level education in the life sciences and health professions, and excellence in patient care. UCSF Health, which serves as UCSF's primary academic medical center, includes top-ranked specialty hospitals and other clinical programs, and has affiliations throughout the Bay Area.