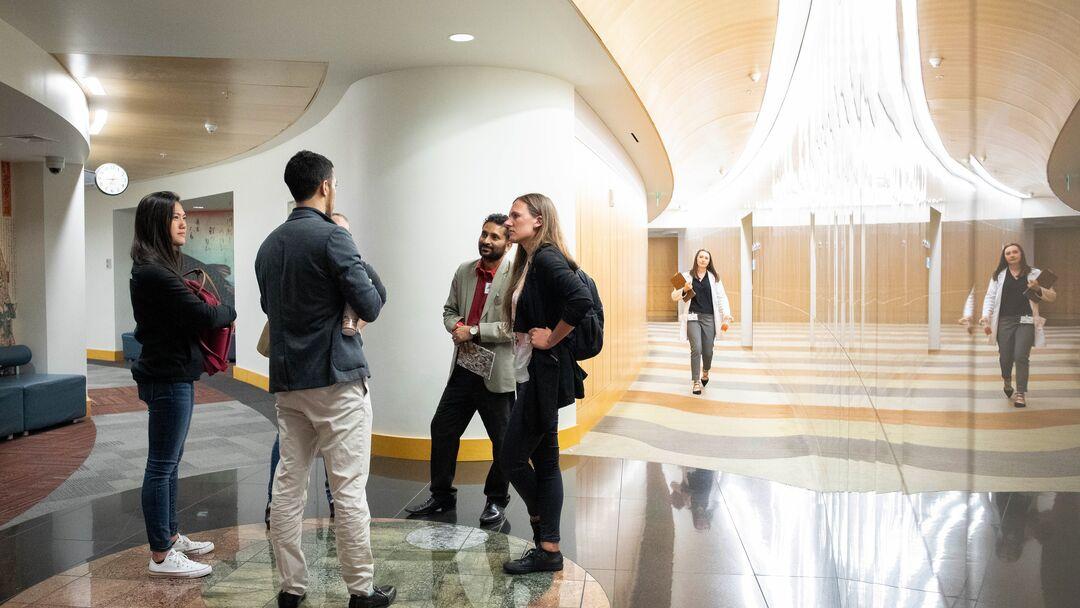 For the sixth year in a row, UC San Francisco's psychiatry program has once again been identified among the best in the nation, according to the latest rankings from in U.S. News & World Report's annual survey of the best graduate and professional schools. UCSF is tied for 4th among all programs and was named the top public university in the United States for graduate and professional psychiatry programs for the fifth consecutive year.
U.S. News' 2023-2024 rankings for medical specialty areas are based on ratings made by medical school deans and senior faculty at peer institutions who are asked to identify schools offering the best programs in each specialty. UCSF has been included in the top five schools each year since U.S. News began including psychiatry as a specialty ranking for medical schools in 2018.

UCSF maintains strong presence in overall medical, nursing school rankings
As a whole, UCSF's medical and nursing schools continued to be highly regarded by survey participants. UCSF's School of Medicine remains the only school that is ranked in the top five for training in both research (tied for 5th) and primary care (5th). UCSF was also ranked in the top five in all right of the medical school specialty areas covered in the survey: anesthesiology, family medicine, internal medicine, obstetrics and gynecology, pediatrics, psychiatry, radiology, and surgery. The UCSF School of Nursing was ranked 10th, and its psychiatric mental health nurse practitioner program was named in the top five for its field.
For the third year, U.S. News also included an assessment of the most diverse medical schools, and four University of California medical schools were included in the top echelon. UC Davis was 3rd for the second consecutive year, UC Riverside was 5th, UCSF was 9th, and UCLA was tied for 13th. All four schools ranked in the top ten among public institutions.
"These rankings reflect our innovative medical education programs, robust research initiatives led by our exceptional faculty, and our ongoing commitment to diversity, equity, belonging, and anti-oppression at the UCSF School of Medicine," said Talmadge E. King Jr., MD, dean of the School of Medicine.
The U.S. News rankings are based on data provided by schools, as well as information from surveys of school leaders. Other factors include the amount of funding that faculty receive from the National Institutes of Health; the rates at which graduates enter primary care residencies in family practice, pediatrics and internal medicine; how selective each school is in admitting students; and the ratio of full-time science and clinical faculty to medical students. Medical specialty areas are ranked based on ratings made by medical school deans and senior faculty at peer institutions.
For medical programs that did not respond to the survey, U.S. News used survey data reported the previous year. If that was unavailable, the school was not ranked. Data from the National Institutes of Health and the American Academy of Family Physicians was also incorporated in the medical rankings.
The diversity ranking is based on the proportion of students who come from groups that are underrepresented in medicine (URM), and for public schools like UCSF, how that compares to a state's population. URMs include students who are Black or African American, Hispanic/Latino, American Indian or Alaska Native, and Native Hawaiian or other Pacific Islander.
U.S. News' rankings are published in the magazine's 2023-2024 issue of "Best Graduate Schools."
 
---
About UCSF Psychiatry and Behavioral Sciences
The UCSF Department of Psychiatry and Behavioral Sciences and the Langley Porter Psychiatric Institute are among the nation's foremost resources in the fields of child, adolescent, adult, and geriatric mental health. Together they constitute one of the largest departments in the UCSF School of Medicine and the UCSF Weill Institute for Neurosciences, with a mission focused on research (basic, translational, clinical), teaching, patient care, and public service.
UCSF Psychiatry and Behavioral Sciences conducts its clinical, educational, and research efforts at a variety of locations in Northern California, including the UCSF Nancy Friend Pritzker Psychiatry Building; UCSF Langley Porter Psychiatric Hospital; UCSF Medical Centers at Parnassus Heights, Mission Bay, and Mount Zion; UCSF Benioff Children's Hospitals in San Francisco and Oakland; Zuckerberg San Francisco General Hospital and Trauma Center; the San Francisco VA Health Care System; UCSF Fresno; and numerous community-based sites around the San Francisco Bay Area.
About the UCSF Weill Institute for Neurosciences
The UCSF Weill Institute for Neurosciences, established by the extraordinary generosity of Joan and Sanford I. "Sandy" Weill, brings together world-class researchers with top-ranked physicians to solve some of the most complex challenges in the human brain.
The UCSF Weill Institute leverages UCSF's unrivaled bench-to-bedside excellence in the neurosciences. It unites three UCSF departments—Psychiatry and Behavioral Sciences, Neurology, and Neurological Surgery—that are highly esteemed for both patient care and research, as well as the Neuroscience Graduate Program, a cross-disciplinary alliance of nearly 100 UCSF faculty members from 15 basic-science departments, as well as the UCSF Institute for Neurodegenerative Diseases, a multidisciplinary research center focused on finding effective treatments for Alzheimer's disease, frontotemporal dementia, Parkinson's disease, and other neurodegenerative disorders.
About UCSF
The University of California, San Francisco (UCSF) is exclusively focused on the health sciences and is dedicated to promoting health worldwide through advanced biomedical research, graduate-level education in the life sciences and health professions, and excellence in patient care. UCSF Health, which serves as UCSF's primary academic medical center, includes top-ranked specialty hospitals and other clinical programs, and has affiliations throughout the Bay Area.