By Jess Berthold

Although no one could have predicted it, the UCSF Child and Adolescent Psychiatry Portal (CAPP) opened its virtual doors to Oakland and East Bay young people at just the right moment, mere weeks before the pandemic began – which, on top of physical health needs, also dramatically increased the need for mental health care.
In the ensuing years, hundreds of primary care providers across the state – mostly pediatricians – have used the portal for real-time video, phone, and email access to UCSF psychiatrists and psychologists for advice on treating young patients with mental health concerns.
For Miriam Rhew, MD, medical director of UCSF Benioff Children's Physicians (UBCP), the portal has been a godsend.
"It's such a great way for pediatricians out in the community to have quick and easy access to psychiatry when that isn't usually the case," said Rhew, who practices at UBCP Bancroft Pediatrics in San Leandro. "To be able to talk to a child psychiatrist on the same day, to go over the case with them and talk about management and resources, is incredibly valuable for our patients. I would feel really helpless without it."
The program was made possible through a $15 million gift from Lynne and Marc Benioff to UCSF Benioff Children's Hospital Oakland with the goal of expanding mental health services for children and adolescents. Along with creating CAPP, the funding has enabled renovations for a new outpatient facility next door to the hospital to serve pediatric mental health patients, and the recruitment of more psychiatrists, who balance time spent working on the portal with office visits. As a result, what was historically a two-to-three-person team has grown to seven psychiatrists in Oakland, all of whom see local children, while also expanding care across the state.
CAPP has enrolled about 1,500 primary care providers from more than 250 practices across 35 California counties. Consultation calls to the portal have come from as far north as Siskiyou County and as far south as Bakersfield.
"We've seen exponential growth," said Bryan King, MD, MBA, Lisa and John Pritzker Family Distinguished Professor in Child Psychiatry, vice chair for child and adolescent psychiatry at UCSF, and vice president for child behavioral health at UCSF Benioff Children's Hospitals.
"In 2020, our first full year, we received a little over 300 phone calls through the portal," King added. "The following year was nearly 1,000, and now and we're on pace to exceed 1,500."
Expanding mental health care access through workforce development
Launched in late 2019 at UCSF Benioff Oakland via the UCSF Department of Psychiatry and Behavioral Sciences, CAPP addresses a need for mental health care that exploded as COVID hit and has remained high since. Anxiety and depression have doubled among young people, with even higher rates among marginalized groups, while emergency department visits for suspected suicide attempts have jumped 50% among girls. Meanwhile, mental health professionals remain in short supply across the nation and state, with one-third of California counties having no child psychiatrists at all.
CAPP is about much more than offering advice to primary care providers. Clinicians can also access online and in-person trainings taught by experts, followed by a group discussion of active patient cases.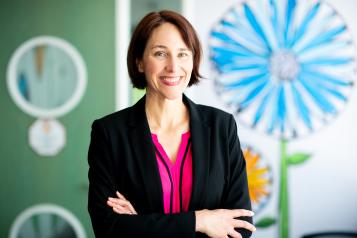 "Through CAPP consultation and training, primary care providers iteratively gain the skills, knowledge and confidence to address a wider range of mental health challenges on their own, and eventually they consult us less frequently and only on more complex presentations," said child and adolescent psychiatrist and CAPP director Petra Steinbuchel, MD, who, along with King, is a faculty member in the Department of Psychiatry and Behavioral Sciences and a member of the UCSF Weill Institute for Neurosciences.
"CAPP develops greater capacity in primary care to address problems earlier, before they become more severe and impactful," she said. "PCPs usually treat thousands of patients throughout their careers, creating a significant ripple effect of this workforce development."
Rhew's five-pediatrician practice learned how to better manage children with mild-moderate depression, anxiety and ADHD, among other conditions, she said.
"At first, I was calling the portal once or twice a week, and now it's probably once or twice a month," Rhew said. "They have done such a great job teaching us that I don't need it as much. And I teach and share what I learn with fellow physicians, as well."
The CAPP website also offers educational resources on how to assess mental health conditions, advice for best treatment practices and tips on provider self-care, in addition to resources for families.
A home for trauma-informed care and cultural responsiveness
King brought the idea for CAPP to UCSF after creating similar programs at Seattle Children's Hospital and Dartmouth Health in New England. He was appalled by the lack of access to psychiatry he witnessed in rural areas and wanted to help address it.
At launch, CAPP enrolled primary care providers within UCSF and UCSF Benioff Children's Hospital-affiliated community providers. Next, the four-county Bay area Community Health Center Federally Qualified Health Center (FQHC) Network enrolled its primary care providers. State and federal grants in 2021 led to expansion into the Central Valley, then counties across Northern California.
Plans are now underway to make the portal a statewide resource, as well as to bring the program into schools to help counselors, nurses and teachers handle mental health issues.
No matter how it grows, the spirit of the Oakland hospital where the program began will remain fundamental, said Steinbuchel.
"UCSF Benioff Oakland is this beautiful mix of being a teaching hospital and a place that serves the medically underserved in the community, at schools and at our hospital," she said. "We offer exceptional, evidence-based treatment, and we also meet people where they are, applying principles of trauma-informed care and cultural responsiveness. CAPP serves to bring these evidence-based, trauma-informed practices to primary care practices throughout underserved areas in California."
"Our multi-talented and dedicated interprofessional team is truly more than the sum of our individual parts," Steinbuchel added. "Together we've come such a long way since 2019, and I know the best is yet to come."
 
---
About UCSF Psychiatry and Behavioral Sciences
The UCSF Department of Psychiatry and Behavioral Sciences and the Langley Porter Psychiatric Institute are among the nation's foremost resources in the fields of child, adolescent, adult, and geriatric mental health. Together they constitute one of the largest departments in the UCSF School of Medicine and the UCSF Weill Institute for Neurosciences, with a mission focused on research (basic, translational, clinical), teaching, patient care, and public service.
UCSF Psychiatry and Behavioral Sciences conducts its clinical, educational, and research efforts at a variety of locations in Northern California, including the UCSF Nancy Friend Pritzker Psychiatry Building; UCSF Langley Porter Psychiatric Hospital; UCSF Medical Centers at Parnassus Heights, Mission Bay, and Mount Zion; UCSF Benioff Children's Hospitals in San Francisco and Oakland; Zuckerberg San Francisco General Hospital and Trauma Center; the San Francisco VA Health Care System; UCSF Fresno; and numerous community-based sites around the San Francisco Bay Area.
About the UCSF Weill Institute for Neurosciences
The UCSF Weill Institute for Neurosciences, established by the extraordinary generosity of Joan and Sanford I. "Sandy" Weill, brings together world-class researchers with top-ranked physicians to solve some of the most complex challenges in the human brain.
The UCSF Weill Institute leverages UCSF's unrivaled bench-to-bedside excellence in the neurosciences. It unites three UCSF departments—Psychiatry and Behavioral Sciences, Neurology, and Neurological Surgery—that are highly esteemed for both patient care and research, as well as the Neuroscience Graduate Program, a cross-disciplinary alliance of nearly 100 UCSF faculty members from 15 basic-science departments, as well as the UCSF Institute for Neurodegenerative Diseases, a multidisciplinary research center focused on finding effective treatments for Alzheimer's disease, frontotemporal dementia, Parkinson's disease, and other neurodegenerative disorders.
About UCSF
The University of California, San Francisco (UCSF) is exclusively focused on the health sciences and is dedicated to promoting health worldwide through advanced biomedical research, graduate-level education in the life sciences and health professions, and excellence in patient care. UCSF Health, which serves as UCSF's primary academic medical center, includes top-ranked specialty hospitals and other clinical programs, and has affiliations throughout the Bay Area.