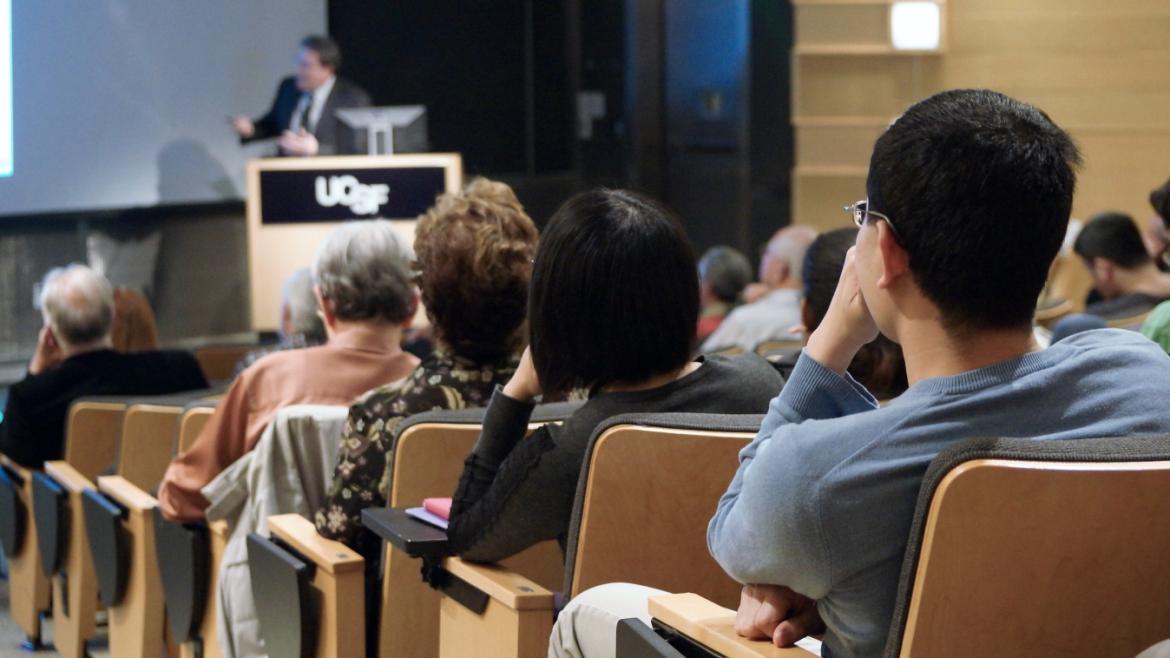 The UCSF Department of Psychiatry and Behavioral Sciences is pleased to announce the return of its special distinguished visiting lectureship series highlighting the integration of biological sciences and psychiatry in honor of Jeanne and Sanford Robertson Endowed Chair and Chair Emeritus Samuel Barondes, MD.
The fifth Samuel Barondes Lecture in Biological Psychiatry will be held on Tuesday, September 19, 2023 at 3:00 p.m. PDT. This year's lectureship recipient is Bryan L. Roth, MD, PhD, one of the world's leading figures in the areas of molecular pharmacology, GPCR structure, and function and synthetic neurobiology. The title of his presentation will be "A Crystal-Clear View of Psychedelic Action."
This event will be held at the UCSF Nancy Friend Pritzker Psychiatry Building in San Francisco. It is free and open to the public, although attendees should keep in mind that the talk will be geared towards a scientific and medical professional audience. Advance registration is required.
The presentation will also be available online via Zoom.
About Bryan L. Roth, MD, PhD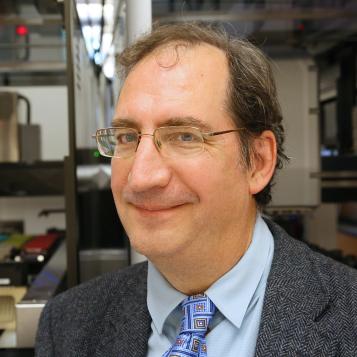 Bryan L. Roth MD, PhD, is the Michael Hooker Distinguished Professor of Protein Therapeutics and Translational Proteomics in the Department of Pharmacology at the University of North Carolina (UNC) Chapel Hill School of Medicine. He also directs the NIMH Psychoactive Drug Screening Program and the NIMH-funded National Cooperative Drug Discovery Group (UNC-Duke-Pfizer).
Dr. Roth studies the structure and function of G-protein coupled receptors (GPCRs), a large and diverse family of proteins encompassing more than 1 percent of the genome. GPCRs couple to multiple intracellular signaling pathways, and currently more than 50 percent of approved medications target GPCRs. The ultimate goal of his research is to find ways to treat psychiatric disease using GPCR-based therapeutics.
After receiving his MD and PhD in Biochemistry from St. Louis University in 1983, he subsequently trained in the NIMH Lab of Preclinical Pharmacology and completed his residency in psychiatry and a fellowship in molecular biology at Stanford University. Prior to joining UNC in 2006, Dr. Roth served on the faculty of the Case Western Reserve University School of Medicine's Departments of Psychiatry, Biochemistry, Oncology, and Neurosciences for 15 years. Over the course of his career, he has published more than 450 papers in the area of the molecular pharmacology of drug actions, received over 40 patents, and founded two companies.
In 2007, his lab also developed Designer Receptors Exclusively Activated by Designer Drugs (DREADDs), a chemogenetic platform used to direct selective, dose-dependent activation of a specific G-protein subtype in vivo. Hailed as one of the most significant breakthrough biomedical research technologies of the 21st century, DREADDs have been used worldwide by scientists to identify brain cells which regulate perception, emotion, cognition, memory, sleep, and nearly every other known biological function mediated by the brain.
Dr. Roth is a member of the National Academy of Medicine of the National Academy of Sciences and the American Academy of Arts and Sciences. He has received numerous honors, including the American Society of Pharmacology and Experimental Therapeutics' Goodman and Gilman Award for Receptor Pharmacology, the PhRMA Foundation Excellence in Pharmacology Award, and a NARSAD Distinguished Investigator Award. He has also been named a Thompson Reuters "Highly Cited Scientist" in pharmacology and biology/biochemistry.
About Samuel Barondes, MD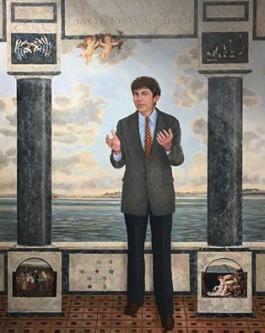 Samuel Barondes, MD, was educated at Columbia and Harvard and learned to do research at the National Institutes of Health as a postdoc with Gordon Tomkins and with Marshall Nirenberg, in whose laboratory he contributed to the Nobel Prize-winning studies that deciphered the genetic code.
Thereafter, Barondes devoted himself to integrating psychiatry with molecular biology and neuroscience. He has been a professor at the University of California since 1969, first at UC San Diego, where he was a founding member of the Department of Psychiatry and the Neuroscience Program and, since 1986 at UC San Francisco, where he initially served as chair of the Department of Psychiatry and director of the Langley Porter Psychiatric Institute. Since 1994, he has served as the Jeanne and Sanford Robertson Endowed Chair and Director of the Center for Neurobiology and Psychiatry. Throughout his time at UCSF, Barondes chaired the Chancellor's Art Committee, overseeing the acquisition and commissioning of hundreds of works, with special emphasis on the J. Michael Bishop Collection at Mission Bay.
Barondes is a member of the National Academy of Medicine, and a fellow of the American Academy of Arts and Sciences and the American Association for the Advancement of Science. In 1976, he was a founder of the McKnight Neuroscience Program, and served as its president for 10 years. His books include Cellular Dynamics of the Neuron (1969); Neuronal Recognition (1976); Molecules and Mental Illness (1993); Mood Genes (1998); Better Than Prozac (2003); Making Sense of People (2011, 2016); and Before I Sleep: Poems For Children Who Think (2014).
Related links
---
About UCSF Psychiatry and Behavioral Sciences
The UCSF Department of Psychiatry and Behavioral Sciences and the Langley Porter Psychiatric Institute are among the nation's foremost resources in the fields of child, adolescent, adult, and geriatric mental health. Together they constitute one of the largest departments in the UCSF School of Medicine and the UCSF Weill Institute for Neurosciences, with a mission focused on research (basic, translational, clinical), teaching, patient care, and public service.
UCSF Psychiatry and Behavioral Sciences conducts its clinical, educational, and research efforts at a variety of locations in Northern California, including the UCSF Nancy Friend Pritzker Psychiatry Building; UCSF Langley Porter Psychiatric Hospital; UCSF Medical Centers at Parnassus Heights, Mission Bay, and Mount Zion; UCSF Benioff Children's Hospitals in San Francisco and Oakland; Zuckerberg San Francisco General Hospital and Trauma Center; the San Francisco VA Health Care System; UCSF Fresno; and numerous community-based sites around the San Francisco Bay Area.
About the UCSF Weill Institute for Neurosciences
The UCSF Weill Institute for Neurosciences, established by the extraordinary generosity of Joan and Sanford I. "Sandy" Weill, brings together world-class researchers with top-ranked physicians to solve some of the most complex challenges in the human brain.
The UCSF Weill Institute leverages UCSF's unrivaled bench-to-bedside excellence in the neurosciences. It unites three UCSF departments—Psychiatry and Behavioral Sciences, Neurology, and Neurological Surgery—that are highly esteemed for both patient care and research, as well as the Neuroscience Graduate Program, a cross-disciplinary alliance of nearly 100 UCSF faculty members from 15 basic-science departments, as well as the UCSF Institute for Neurodegenerative Diseases, a multidisciplinary research center focused on finding effective treatments for Alzheimer's disease, frontotemporal dementia, Parkinson's disease, and other neurodegenerative disorders.
About UCSF
The University of California, San Francisco (UCSF) is exclusively focused on the health sciences and is dedicated to promoting health worldwide through advanced biomedical research, graduate-level education in the life sciences and health professions, and excellence in patient care. UCSF Health, which serves as UCSF's primary academic medical center, includes top-ranked specialty hospitals and other clinical programs, and has affiliations throughout the Bay Area.