African Americans, Hispanics, and Native Americans comprise 30% of the United States population, but members of these racial/ethnic minority groups are underrepresented among NIH-funded researchers. Among researchers funded by the National Institute on Drug Abuse (NIDA) in 2010, for example, 2% were African American, 4% were Hispanic, and less than 1% were Native American. The Learning for Early Careers in Addiction and Diversity (LEAD) training program was developed to support the efforts of assistant professors from underrepresented racial/ethnic minority backgrounds to receive funding from the National Institutes of Health (NIH) as independent scientists.
The LEAD Program is integrated within the National Institute on Drug Abuse (NIDA) Clinical Trials Network (CTN). The CTN provides an enterprise in which NIDA, treatment researchers, and community-based service providers across the country can effectively work toward new treatment options in community-level clinical practice. The LEAD Program uses a team mentoring approach: each LEAD Program scholar works with a CTN primary mentor, while also receiving guidance from a UCSF mentor and a nationally regarded racial/ethnic minority advisor. The LEAD training program also includes a funded four-week intensive program at UCSF each summer where scholars in all stages of the program participate in grant writing and manuscript development workshops to help them obtain grant funding. Other career development workshops might touch on topics that the researchers may encounter later in their careers, such as how to run a lab or an overview of power analytics.
Program faculty
Dr. Masson's research has focused on the design and evaluation of behavioral interventions to address HIV and HCV health disparities among drug using populations. Her research has included the cost and cost-effectiveness of methadone maintenance treatment, integration of syringe exchange services in a hospital setting as a strategy to reduce HIV transmission and increase healthcare access, barriers to healthcare access among drug users, HIV/HCV testing and treatment, and a randomized trial of a hepatitis care coordination intervention in the methadone treatment setting.
Dr. Masson has been a core faculty member within the UCSF Postdoctoral Training Program in Drug Abuse Treatment and Services Research since 1998 (T32DA007250; Director, James L. Sorensen), and has mentored and co-mentored several promising early stage investigators through this training program. For the past 11 years she has also served as the coordinator and mentor for undergraduate students in the UCSF site of the Summer Research with NIDA program. Dr. Masson also serves as the co-Director of the local Dissemination Team for the Western States Node of the NIDA Clinical Trials Network (CTN), and is a member of the national CTN's Minority Special Interest Group. The Western States Node is one of 13 regional research centers in a national network dedicated to improving drug abuse treatment by determining effectiveness of promising and clinically relevant interventions in multi-site trials, and by supporting the transfer of effective interventions into clinical practice.
Dr. Sorensen began his research in drug abuse 30 years ago, directing an NIDA-funded double-blind study of detoxification from heroin using LAAM or methadone. An experienced investigator and leader, he has published 250+ articles, chapters, and books. Dr. Sorensen was the chief of substance abuse services at San Francisco General Hospital from 1982–1995, has led numerous NIH R01 research grants, was director of the NIDA-funded San Francisco Treatment Research Unit (1989–1994), and leads or participates in numerous other NIH and non-government supported research and training programs. Dr. Sorensen was a member of the Institute of Medicine Committee on Community-Based Drug Treatment, which produced the report that led to development of the Clinical Trials Network, and he has made the linking of research and practice his major area of focus for the next decade. His current research focus is as the contact program director and senior research investigator of the NIDA-sponsored (UG1) Western States Node of the NIDA Clinical Trials Network, where he has overall responsibility for the scientific, administrative, and clinical performance of the node and the participating programs.
Dr. Sorensen is dedicated to training future researchers. He has a long record of mentoring and leading research training programs with a focus on development of minority investigators. He is a clinical psychologist who serves on the medical staff at Zuckerberg San Francisco General Hospital and Trauma Center, where he is the leader of the Public Service and Minority Cluster of the Clinical Psychology Training Program. He is a co-director of the CAPS Visiting Professor R25 program, as well as the Learning for Early Careers in Addiction and Diversity (LEAD) program. Dr. Sorensen heads an NIDA-funded T32 grant, the Drug Use Treatment and Services Research Postdoctoral Training Program, and serves as mentor in the Department of Psychiatry's Clinical Services Research Training Program. Altogether, Dr. Sorensen has served as primary mentor to 20 predoctoral and 23 postdoctoral fellows.
Recently, Dr. Sorensen has focused on understanding how front-line staff cope with ethical issues as they treat substance use disorders. In 2018–2019, he gained an international perspective on these issues as a Fulbright Fellow at University of Calgary in Alberta, Canada.
The research of Dr. Guydish concerns access, delivery, and organization of substance abuse treatment services. His experience in addictions research includes studies evaluating efforts to improve access to publicly-funded drug abuse treatment, assessing federal policy to end addiction as an SSI disability category, evaluating needle exchange as an HIV prevention strategy, and investigating Drug Court and intensive case management interventions for drug-involved offenders.
In the course of his career, Dr. Guydish has been primarily responsible for the training of 16 pre and postdoctoral scholars, for both clinical and research training. Of these scholars, 5 (31%) have been underrepresented minority scholars, and an additional 5 (31%) were of other minorities not currently counted as underrepresented by the NIH. Much of this work occurred in the context of the UCSF NIDA T32 postdoctoral training program in Drug Abuse Treatment and Health Services Research, which is one of the programs used as a model for the LEAD program. In addition, and for the past 17 years, Dr. Guydish leads an annual 6 month Scientific Writing Seminar directed toward postdoctoral fellows and junior faculty, designed to support participants in the process of scientific writing and publication. In that time, the seminar has had a total of 162 seminar participants and, using rules which count only one manuscript per participant per year, the seminar has a 70% submission rate and a 64% publication rate for papers it has supported.
Training Committee members
Advisory Committee members
Minority advisors
UCSF faculty speakers
Mentoring team
Each scholar is individually supported by an assigned mentorship team including three mentors:
CTN mentor: a leading researcher in the CTN node with whom the scholar will be associated and will meet with the scholar weekly in person.
UCSF mentor: a UCSF faculty member with some familiarity of the topics covered in the scholar's pilot study with whom the scholar and CTN mentor will meet quarterly to identify the scholar's potential needs and difficulties that have not been addressed either by the program or by the CTN mentor.
Minority advisor: an NIH-involved advisor of national stature from any institution who also facilitates access to relevant NIH offices (e.g., NIDA Office of Diversity and Health Disparities) and informs them of training, scientific, and leadership opportunities intended to support the development of minority researchers. The national stature minority advisor will meet with each scholar quarterly.
 
Summer Intensive Program
Seminars
Model Drug Abuse Treatment Research Programs
Early career scholars can benefit from studying career paths of senior investigators who developed a successful independent research program. In this seminar, senior scientists discuss how they developed their current research programs. Topics include how the senior scientists identified a line of research, overcame obstacles to keep their research program moving forward, and solved methodological problems that arose over the course of their research. Seminar speakers will include nationally recognized experts whose area is relevant to the research interests of the scholars and the individuals who will serve as the scholar's primary mentor.
Qualitative Research Methods
An overview of qualitative research approaches is covered in this two-session seminar. Topics include ethnographic observations, focus groups, participant observation, or other qualitative research that will yield rigorous information helpful for the subsequent NIH grant submission.
Research Design
In this seminar, a brief introduction to clinical trials is presented, and practical advice is given from scientists who have conducted randomized controlled clinical trials.
Quantitative Research Methods
A biostatistician assesses each scholar's needs for statistical analyses. When necessary, seminars will be offered on topics relevant to multiple scholars, as well as individual sessions with scholars who have specific needs. In addition to conceptual overview of research methods topics, specific examples from published clinical trials will be used to illustrate the unique ways that these analyses and design issues are dealt with in the substance use disorder treatment research field.
Cultural Adaptations of Evidence-Based Treatments
This seminar provides an in-depth discussion of the process of culturally adapting evidence-based treatments, using examples from the drug abuse treatment field. Specific topics include conceptualizing culture and context; selecting a framework and level of adaptation; identifying core intervention components; involving the target population; and identifying factors that influence cultural relevance and adaptation mismatch. These issues are addressed with an emphasis on practical strategies for resolving the competing demands of maintaining fidelity to the core elements of the original intervention and adapting the intervention to meet the needs of the cultural group.
Scientific Ethics and Responsible Conduct of Science
Participants in the Scientific Ethics and Responsible Conduct of Science Seminar will be taught the importance of conducting scientific research in an ethical and responsible manner. This seminar, combined with additional supervision, workshops, and discussions, addresses the Responsible Conduct of Research training that is an important component of R25 science education projects.
Implementation Science
This seminar will provide didactic sessions comprised of multi-disciplinary set of theories and methods aimed at improving the process of translating research evidence into health-related practices. It emphasizes the integration of interventions into diverse practice settings with a community-engaged approach. Examples of implementation science studies in the substance use disorder treatment field will be reviewed through directed and educational readings and presentations.
Postdoctoral Scholar Professional Development
This seminar is designed for LEAD scholars who are enrolled in postdoctoral training programs. It will include topics such as applying for faculty positions, preparing for interviews, negotiating job offers, organizing career goals and achievements into a cohesive narrative, giving and receiving career advice, and media and communication training.
Workshops
Research Development Workshop
The focus of this workshop is on the development of individual pilot projects and a successful program of research. Scholars attend a research development workshop that corresponds to scholar objectives for their year in the program. First-year scholars focus on the conceptualization of a pilot project and address particular theoretical and methodological issues unique to their projects (Pilot Development Workshop). Second-year scholars focus on the development of NIH grant applications and present research findings from first-year pilot projects (Grant Proposal Development Workshop). Third-year scholars will focus on the re-submission of NIH grant applications, if necessary, and continue to develop new NIH grant applications (Grant Proposal Revision Workshop).
Pilot Study Development Workshop (first-year scholars)
In this workshop, first-year scholars develop the rationale and theoretical model of their overall program of research, as well as present their initial conceptualization of a pilot project, discuss potential implementation challenges, and obtain feedback from seminar leaders. Each first-year scholar will make a formal one-hour presentation, and receive feedback regarding the scientific merit and viability of the proposed research project. During the third and fourth weeks, scholars receive feedback from experts in the field (i.e., CTN mentors, minority advisors). Experts provide an alternative perspective from that of the CTN mentor and give feedback on the scientific merit of the proposed research and strategies for overcoming weaknesses identified in the proposal.
Grant Proposal Development Workshop (second- and third-year scholars)
For second-year scholars, the focus will be on the presentation of the findings from their first-year pilot projects and the development of NIH grant applications (i.e., K or R applications). Scholars will make an hour-long presentation of their research findings and receive feedback from UCSF mentors and minority advisors. The focus of the presentation will be on using the findings from pilot projects as a foundation for future NIH grant applications. Scholars write and present a three-page concept paper as the first step in the development of NIH grant applications. Outside of the workshop, scholars will work with CTN mentors to develop grant applications in the second year of the program. Thus, the workshop will allow scholars to receive feedback from a team of experts, including their CTN mentor. Scholars will meet weekly for two-hour sessions, and a UCSF program faculty member will lead the workshop.
For third-year scholars, the focus of this workshop is to provide scholars with guidance about how to prepare revised applications for submission to the NIH. Topics for discussion include:
writing an introduction to a revised proposal
working with your program officer to address the reviewers' critiques
whether to change your aims
modifying the experimental plans
common errors
 
In addition, the workshop will focus on review and critique of revised grant applications.
Manuscript Development Workshop
In this weekly 90-minute workshop, scholars submit a pre-publication manuscript prior to each summer intensive training session. Each manuscript is assigned two reviewers, one scholar and one program faculty member. Each reviewer prepares a formal written critique of the manuscript. Reviews are presented orally in a group discussion format. This activity enables scholars to receive feedback on their manuscripts prior to submission to peer-reviewed journals, facilitates development of scientific writing skills; strengthens ability to critically evaluate the scientific literature as reviewers; and enhances understanding of the peer review process.
Pilot study project
A key to successful research training is identifying a first high-quality research project that is scientifically innovative, important, challenging, and feasible based on the scholars' knowledge, abilities, and available resources. Scholars will complete an independent research pilot project related to substance use and addictions research. They are provided with pilot funds to conduct formative research that is expected to lead to larger grant proposals and provide data for the preliminary studies section of these proposals.
During the summer intensive program, scholars will participate in weekly pilot study development workshops where they will develop and refine proposals with feedback from LEAD faculty members. Scholars may propose quantitative or qualitative studies that will clarify their conceptual models, identify key variables, and clarify feasibility issues. It is expected that scholars complete their pilot study over the course of 18 months during the three-year program.
Program eligibility
All applications must satisfy the following requirements:
Doctoral degree (e.g., PhD, MD, DrPH, or equivalent) in medicine, social or behavioral sciences, nursing, public health, health economics, or related fields.
Assistant professor or assistant research scientist at a medical school with a track record of NIH funding, or assistant professor or assistant research scientist at a national research university as defined by the Carnegie Foundation classification as "Research Universities" with "Very High" (RU/VH) or "High" (RU/H) Research Activity.
The applicant must hold an academic appointment that focuses on conducting research rather than an academic appointment that focuses primarily on teaching. Early career research scientists at non-university affiliated research institutions will also be considered, but the institution should have a strong record of NIH funding.
Racial/ethnic minority background that is underrepresented in the biomedical and behavioral sciences (i.e., African American, Hispanic, American Indian/Alaska Native, Native Hawaiian, or Pacific Islanders) is preferred, but individuals from racial/ethnic minority groups that are not underrepresented in the biomedical and behavioral sciences will also be considered.
Evidence of an established program of research in the field of drug abuse and addictions as demonstrated by peer reviewed publications in the field of drug abuse and addictions, and/or intramural grant support as either a principal investigator or co-investigator, and/or extramural grant support as a co-investigator in the field of drug abuse and the addictions. (Applicants who were a principal investigator on a K award, R03, R21, R34, R01, or a component leader of a center grant will not be considered.)
All applicants must be eligible to accept an appointment as a trainee in the eRA Commons xTrain system for the duration of involvement in the program.
Approval from the scholar's home institution to participate in the LEAD program.
 
Offers to participate in the LEAD program are contingent upon availability of funding.
Applying to the program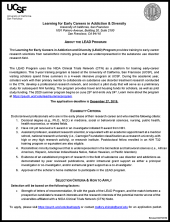 Click here to complete the program application online.
If you have any questions, please contact:
Mallory Shingle
University of California, San Francisco
1001 Potrero Avenue, Building 20, Box 0852
San Francisco, CA 94110-3518
Tel: (628) 206-4453
Email: [email protected]
Current LEAD scholars
| | |
| --- | --- |
| | Dr. Brown is an assistant professor of epidemiology and maternal and child health at the Rutgers University School of Social Work and School of Public Health's Department of Urban-Global Public Health. Dr. Brown's research focuses on system-level change to improve maternal and child health – centering on preventing prenatal substance use and examining the role of the built and social environment and health and social policy in shaping substance use and other health outcomes among women, youth and families. Her research is currently funded by an NCATS/CTSA career development award through the New Jersey Alliance for Clinical and Translational Science. Dr. Brown earned her PhD in drug dependence epidemiology from the Johns Hopkins University and completed a postdoctoral research fellowship in substance abuse epidemiology at Columbia University. She also holds MPH and MSW degrees in maternal and child health. In addition to research, Dr. Brown founded and directs a non-profit, community-based, substance abuse treatment center—Jane's House of Inspiration—where she focuses on helping women, families, and communities address problems related to substance use disorders. |
| | Dr. Fisher is an assistant professor of educational psychology at the University of Georgia. She received her doctorate from Michigan State University and finished her predoctoral internship in New Orleans, LA before working as a school psychologist at a charter school in Washington, D.C. Dr. Fisher's research revolves around improving the life outcomes of diverse populations. She does this through two lines of research: (1) examining models of risk and resilience related to mental health and substance use for African American adolescents and (2) implementing and expanding school mental health services and substance use preventive interventions in low-income minority serving schools. |
| | Dr. Angela Haeny graduated from the University of Missouri in 2018 with a PhD in clinical psychology under the mentorship of Dr. Ken Sher. Her graduate work involved investigating risk factors for alcohol use disorder (AUD), including family history of AUD and impulsivity. She is currently an NIDA T32 postdoctoral fellow at the Yale School of Medicine working with Drs. Stephanie O'Malley and Carolyn Sartor. Dr. Haeny's research focuses on improving treatment access, retention, and outcomes among black people with substance use disorders. |
| | Kait Hirchak (Eastern Shoshone) is a current NIAAA T32 Postdoctoral Research Fellow at the University of New Mexico's Center on Alcoholism, Substance Abuse, and Addictions (CASAA). She received her doctorate in prevention science from Washington State University. For more than 10 years, she has partnered with tribal communities to enhance health and well-being. Dr. Hirchak's research interests, activities, and training are in delivering alcohol and substance use disorder interventions among American Indian/Alaska Native youth and adults, conducting clinical trials in diverse settings, and culturally adapting interventions. |
| | Dr. Iheanacho is an assistant professor of psychiatry at the Yale School of Medicine and serves as the medical director of the Errera Community Care Center of the VA Connecticut Health Care System. He graduated from the Royal College of Surgeons and Abia State University in Nigeria before completing his residency at Nassau University Medical Center, fellowship at Yale, and psychiatric registrar through Trinity College in Dublin. Dr. Iheanacho's background is in general psychiatry with a specialization in addressing mental health needs with comorbid substance use disorder needs in the adult homeless population. Dr. Iheanacho has been honored with the Irma Bland Certificate of Excellence in Teaching Residents in 2017 and the Yale Clinical Innovations in Psychiatry Award in 2014. |
| | Dr. Asti Jackson is an NIDA T32 postdoctoral fellow in the Department of Psychiatry (Division of Substance Abuse) at Yale School of Medicine. She received her PhD in behavioral pharmacology at Virginia Commonwealth University in 2017. During her doctoral studies, she investigated the role of nicotinic acetylcholine receptors in mouse models of nicotine dependence. She currently works as a postdoc with Dr. Suchitra Krishnan-Sarin at the Yale Center of Tobacco Regulatory Science. Her current postdoctoral research investigates adolescent and adult e-cigarette use via experimental paradigms and surveys. |
| | Dr. Micah E. Johnson is an assistant professor in the Department of Mental Health Law and Policy at the University of South Florida. Dr. Johnson is a sociologist who is also trained in criminology and psychiatric epidemiology. His research fuses substance misuse epidemiology and health services research to specifically investigate racial/ethnic and gender disparities in substance use disorder treatment services in the juvenile justice system. Dr. Johnson's pilot proposal is entitled Examining the Stress Process Relating Ethnicity and Sex to Substance Misuse Services Outcomes (ESPRESSO) among justice-involved children. Dr. Johnson is the founder of the Study of Teen Opioid Misuse and Prevention at the University of Florida. He was awarded the Lydia Donaldson Tutt-Jones Research Grant and the McKnight Award of Excellence, as well as membership in the Alpha Lambda Epsilon Honors Society, membership in the Bouchet Honors Society, and other honors. |
| | Dr. Oladunni Oluwoye received her PhD in health promotion and education from the University of Cincinnati. Her postdoctoral training focused on co-occurring substance use disorders and serious mental illness. Dr. Oluwoye's research is more specifically focused on addressing substance use among youth and young adults experiencing their first episode of psychosis. She is also interested in improving service utilization and engagement among clients and families with an emphasis on racial and ethnic minorities. Other interests include implementation science as a way to increase the adoption, acceptability, and effectiveness of evidence-based practices in community-based settings. Dr. Oluwoye is currently a long-term investigator on a National Institute on Alcohol Abuse and Alcoholism diversity supplement focused on improving the adoption of contingency management. |

Past LEAD scholars
| | |
| --- | --- |
| | Dr. Assoumou is an assistant professor of medicine at the Boston University School of Medicine, where she conducts research on co-occurring HIV and hepatitis C among illicit opioid users. Her current research revolves around improving outcomes in individuals infected with human immunodeficiency virus (HIV) and/or hepatitis C (HCV) using comparative and cost-effectiveness analyses. Dr. Assoumou received her MPH at the Harvard University School of Public Health, where she emphasized clinical effectiveness research, and received her MD from the University of Rochester School of Medicine and Dentistry. She trained at the combined internal medicine/pediatrics residency at Brown University and completed an infectious diseases fellowship at Beth Israel Deaconess Medical Center, Harvard University. |
| | Dr. Bagot is an assistant professor in residence at the University of California, San Diego, where she focuses on the prevention and treatment of cannabis use disorders among adolescents. Dr. Bagot was awarded a highly competitive resident research award from the American Academy of Child and Adolescent Psychiatry (AACAP) and the National Institute of Drug Abuse (NIDA) to fund her research investigating smoking cessation in adolescents. Dr. Bagot received her MD from the University of Illinois at Chicago School of Medicine. |
| | Dr. Cruz is currently an associate professor at the Department of Psychology at Utah State University. His primary research focus is in longitudinally examining cultural and familial influences on Mexican-origin youth substance use and he is investigating "Mexican-Origin Youth Substance Use Development: Cultural, Familiar and Individual Influences" in the capacity of PI under an NIH award. He is also serving as PI for a Varda Shoham Clinical Scientist Training Initiative Grant from the Society for a Science of Clinical Psychology to implement a web-based outcome monitoring system to improving training in clinical practice and research. His pilot study for the LEAD Program aims to assess the feasibility and effectiveness of implementing the Family Check Up (FCU) and family management interventions in community mental health agencies for Latino families for improving outcomes related to youth problem behavior and substance use risk. He also aims to identify and address components of the FCU that may benefit from cultural adaptation for this population. Dr. Cruz completed his PhD in clinical psychology from the University of Washington. |
| | Dr. Frimpong is an associate professor in the research track at the Johns Hopkins Carey Business School. Her research focuses on the adoption and sustainability of innovations, development and testing of organizational-level interventions and performance improvement, mainly surrounding health care organizations. Dr. Frimpong received her MPH from the University of Arizona, where she emphasized health administration and policy. She received her PhD in management science and applied economics, with an additional emphasis in health services research, from the University of Pennsylvania's Wharton School of Business. |
| | Dr. Jordan is an assistant professor of psychiatry at Yale University, where she completed a general adult psychiatry residency in June 2015. Her research focuses on increasing education and access to mental health and addiction services among underserved populations. Dr. Jordan's pilot study for the LEAD Program, "The use of the black church to improve treatment access for blacks with SUD" aims to assess the willingness of blacks with substance use disorders (BSD) to accept help for substance abuse problems within the black church setting; to understand attitudes and barriers in accessing treatment among BSD; and to determine if any specific spiritual and/or religious practices would be helpful in increasing engagement with CBT4CBT. Dr. Jordan is a graduate of the NIH Medical Scientist Training Program at the Albert Einstein College of Medicine, where she received doctoral degrees in medicine and immunopathology. |
| | Dr. Montgomery is an assistant professor in the Addiction Sciences Division of the Department of Psychiatry and Behavioral Neuroscience at the University of Cincinnati College of Medicine. During her graduate school studies, Dr. Montgomery focused on racial/ethnic minority differences in motivational interviewing treatment outcomes in multi-site clinical trials of the NIDA Clinical Trials Network. Dr. Montgomery received her PhD in clinical psychology from the University of Cincinnati, and completed her predoctoral internship at the Yale University School of Medicine. Dr. Montgomery now serves on LEAD's advisory committee and acts as a mentor in the LEAD Program. She has also been a guest lecturer in the LEAD Summer Intensive Program. |
| | Dr. Sanjuan is a research assistant professor in the Department of Psychology at the University of New Mexico, where she focuses on the co-occurrence of substance use disorders and posttraumatic stress disorder, particularly in the two populations of pregnant women and women involved in the criminal justice system. Dr. Sanjuan's research has included neurocognitive and genetic correlates of emotion regulation in individuals with co-occurring PTSD and substance use disorders. Dr. Sanjuan received her PhD in clinical psychology from Rutgers University and completed her internship at the Southwest Consortium Predoctoral Psychology Internship in Albuquerque, New Mexico. She completed a NIAAA postdoctoral fellowship at the Center on Alcoholism, Substance Abuse, and Addiction at the University of New Mexico. |
| | Dr. St. Helen is currently an assistant professor in residence in the Division of Clinical Pharmacology at UCSF. His pilot study for the LEAD Program aims to assess vaping topography and patterns of use in experience-exclusive e-cigarettes users and dual e-cigarettes/tobacco cigarettes users using an advanced, second generation device. This study will take place in a naturalistic setting over 7 days, with participants using a modified e-cigarette device to measure puff duration, puff velocity, number of puffs, and interpuff interval. Recently, Dr. St. Helen has been involved in a student research grant, studying biomarkers of secondhand smoke exposure outside restaurants and bars in downtown Athens, GA. He was project leader for a NCI grant to examine pharmacokinetics of nicotine and effects among e-cigarette users. He also completed a TRDRP study as PI assessing the effects of nicotine dependence and metabolism on smoke intake among African American light smokers. Dr. St. Helen received his PhD in toxicology from the University of Georgia and completed a postdoctoral fellowship at the Center for Tobacco Control Research and Education at UCSF. |
| | Dr. Zapolski is an associate professor of psychology at the Indiana University–Purdue School of Science. She received a doctoral degree in clinical psychology from the University of Kentucky in Lexington, KY. Dr. Zapolski's research focuses on identifying risk factors and development interventions to address substance use disorders and risk behaviors among African American youth. She served as the PI in an NIH KL2 award investigating the use of modified DBT-A in reducing risk-taking behaviors among adolescents. Dr. Zapolski's pilot study for the LEAD Program aims to estimate and evaluate the impact of a MET/CBT and CM interventions on non-tobacco substance use, abstinence, and co-occurring psychiatric symptom severity for youth in a school-based setting. |