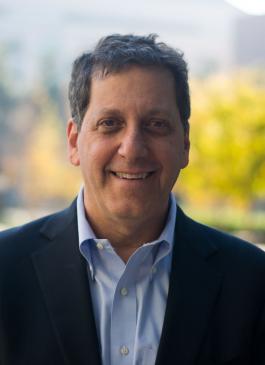 Matthew W. State MD, PhD, is a child psychiatrist and human geneticist studying pediatric neuropsychiatric syndromes. In 2013, he became the inaugural Oberndorf Family Distinguished Professor and the current Chair of UCSF Psychiatry and Director of the Langley Porter Psychiatric Institute.
Dr. State received his undergraduate and medical degrees at Stanford University, completed his residency in psychiatry and fellowship in child psychiatry at the UCLA Neuropsychiatric Institute, and earned a PhD in genetics from Yale University. He was on the faculty at Yale from 2001 to 2013, where he was the Donald J. Cohen Professor of Child Psychiatry, Psychiatry and Genetics and the Co-Founder and Co-Director of the Yale Program on Neurogenetics. His research at UCSF focuses on gene discovery as a launching point for efforts to illuminate the biology of these conditions and to develop novel and more effective therapies.
Dr. State's lab has played a leading role in demonstrating the contribution of rare and de novo variation to autism spectrum disorders (ASD), Tourette syndrome, and brain malformation syndromes. His recent work has contributed to the identification of dozens of ASD risk genes and has utilized systems biological approaches to characterize the spatial and temporal convergence of these genes in developing human brain. He plays a leadership role in a number of national and international collaborative genomics studies of autism and Tourette disorder, including the Simons Simplex Collection Genomics Consortium, the Autism Sequencing Consortium, and the Tourette International Collaboration (TIC) on Genetics. His research has been routinely cited as top scientific breakthroughs by organizations such as Autism Speaks, the Brain & Behavior Research Foundation, and
Science
 magazine. 
Among the numerous honors Dr. State has received are the Brain & Behavior Research Foundations' Ruane Prize for Research in Child and Adolescent Psychiatry (2012) and the American Academy of Child and Adolescent Psychiatry's George Tarjan Award for Contributions in Developmental Disabilities (2014). In 2013, he was elected as a member of the National Academies of Science, Engineering and Medicine's Health and Medicine Division (formerly known as the Institute of Medicine). 
An author of more than 100 academic publications, Dr. State currently serves on the editorial boards of 
Autism Research
, 
Biological Psychiatry
,
Journal of Neurodevelopmental Disorders
, and 
Molecular Autism
. He is the chair of the Autism Science Foundation's Scientific Advisory Board, and a member of the Steering Committee Autism Genetics Resource Exchange (AGRE), the NIH Genetics of Health and Disease Study Section, and the NIH Board of Scientific Counselors.