Young adults get more pleasure from smoking cigarettes while they are drinking alcohol than they do while using marijuana, according to new research conducted at UC San Francisco.
The study, led by assistant professor of psychiatry Danielle E. Ramo, PhD, is the first to document that tobacco accompanied by alcohol provides cigarette smokers with a greater perceived reward than when they smoke cigarettes while using marijuana.
The study was published online on April 18, 2017, in the journal Addiction Research & Theory.
"What we've learned may have important implications for understanding differences in co-use of cigarettes with alcohol versus marijuana," said co-first author Noah R. Gubner, PhD, a postdoctoral scholar at the Philip R. Lee Institute for Health Policy Studies at UCSF.
"Our findings show that co-use of cigarettes and alcohol could be more pleasurable than co-use of cigarettes and marijuana," said Gubner.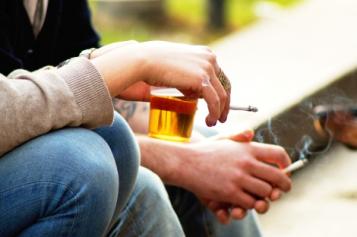 Smoking common among heavy drinkers
Research has shown that among young adults, cigarette smoking is strongly associated with alcohol and marijuana use – and smoking is particularly common among heavy drinkers or binge drinkers. Previous studies have also shown that the combined pharmacological effects of cigarettes and alcohol can lead to a heightened sense of reward for the users.
In the new study, which used self-reported data, participants were between the ages of 18 and 25, living in the United States, and reported current smoking along with recent use of alcohol or marijuana, or both. The study recruited participants between October 2014 and August 2015 through a paid advertising campaign on Facebook. Altogether, there were 500 participants.
Using cross-sectional survey data, the researchers examined the extent of cigarette smoking under the influence of alcohol or marijuana, along with the differences in perceived pleasure. They found that individuals smoked more than 40 percent of their cigarettes under the influence of alcohol or marijuana.
"Since the main route of administration for marijuana is smoking, some aspects of marijuana use (such as the smoke, lighting of a joint, the throat feeling when inhaling smoke) may serve as cues that increase urges to smoke cigarettes," the authors write. "In addition, certain individuals may enjoy aspects of smoking in general, regardless of substance."
But both alcohol and marijuana users reported increased pleasure from smoking cigarettes when drinking alcohol – and this pleasure was not heightened by binge drinking. By contrast, there was on average no change in perceived pleasure from smoking cigarettes when using marijuana.
Findings could help people cope with smoking triggers
"Our findings point to different reasons why people co-use cigarettes with marijuana than with alcohol," said Johannes Thrul, PhD, co-first author of the study and a postdoctoral scholar at the UCSF Center for Tobacco Control Research and Education. "Smoking cessation interventions should highlight these differences and address co-use to effectively help people cope with triggers to smoke."
The authors noted some limitations in the study, including their focus on the enhancement of perceived pleasure of smoking cigarettes by alcohol or marijuana "rather than the ability of cigarettes to enhance the pleasurable effects of other substances."
The other UCSF co-authors are Oona A. Kelly, a clinical research coordinator, and Ramo, who is also a member of the UCSF Helen Diller Family Comprehensive Cancer Center.
The study was supported by the National Institute on Drug Abuse (NIDA). The preparation of the manuscript was supported by NIDA and the California Tobacco-Related Disease Research Program.
Read the paper
Related articles
---
About UCSF Psychiatry
The UCSF Department of Psychiatry and the Langley Porter Psychiatric Institute are among the nation's foremost resources in the fields of child, adolescent, adult, and geriatric mental health. Together they constitute one of the largest departments in the UCSF School of Medicine and the UCSF Weill Institute for Neurosciences, with a mission focused on research (basic, translational, clinical), teaching, patient care and public service.
UCSF Psychiatry conducts its clinical, educational and research efforts at a variety of locations in Northern California, including UCSF campuses at Parnassus Heights, Mission Bay and Laurel Heights, UCSF Medical Center, UCSF Benioff Children's Hospitals, Zuckerberg San Francisco General Hospital and Trauma Center, the San Francisco VA Health Care System and UCSF Fresno.
About the UCSF Weill Institute for Neurosciences
The UCSF Weill Institute for Neurosciences, established by the extraordinary generosity of Joan and Sanford I. "Sandy" Weill, brings together world-class researchers with top-ranked physicians to solve some of the most complex challenges in the human brain.
The UCSF Weill Institute leverages UCSF's unrivaled bench-to-bedside excellence in the neurosciences. It unites three UCSF departments—Neurology, Psychiatry, and Neurological Surgery—that are highly esteemed for both patient care and research, as well as the Neuroscience Graduate Program, a cross-disciplinary alliance of nearly 100 UCSF faculty members from 15 basic-science departments, as well as the UCSF Institute for Neurodegenerative Diseases, a multidisciplinary research center focused on finding effective treatments for Alzheimer's disease, frontotemporal dementia, Parkinson's disease, and other neurodegenerative disorders.
About UCSF
UC San Francisco (UCSF) is a leading university dedicated to promoting health worldwide through advanced biomedical research, graduate-level education in the life sciences and health professions, and excellence in patient care. It includes top-ranked graduate schools of dentistry, medicine, nursing and pharmacy; a graduate division with nationally renowned programs in basic, biomedical, translational and population sciences; and a preeminent biomedical research enterprise. It also includes UCSF Health, which comprises top-ranked hospitals – UCSF Medical Center and UCSF Benioff Children's Hospitals in San Francisco and Oakland – and other partner and affiliated hospitals and healthcare providers throughout the Bay Area.