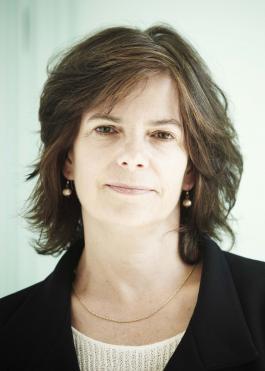 Roy and Marie Scola Endowed Chair and UCSF Psychiatry vice chair for the Weill Institute Kristine Yaffe, MD, is among the 100 new members elected to the National Academy of Medicine (NAM), one of the highest honors in the fields of health and medicine.
Membership in NAM recognizes individuals who have demonstrated outstanding professional achievements and commitment to service in the medical sciences, health care and public health. Other UCSF Psychiatry faculty members in this distinguished group include:
Yaffe, a professor of psychiatry, neurology, and epidemiology, and director of the Center for Population Brain Health, studies the epidemiology of cognitive aging and dementia. She is a leading expert in the modifiable risk factors of dementia, including research that has linked low physical activity and concussions to cognitive decline later in life.
Yaffe served as co-chair of the Institute of Medicine's (now the NAM) Committee on Cognitive Aging and currently serves on the Governor's Task Force for Alzheimer's Prevention and Preparedness. Her awards include the American Association for Geriatric Psychiatry's Distinguished Scientist Award and the American Academy of Neurology's Potamkin Prize for Alzheimer's Research.
Three other UCSF faculty members were elected this year, bringing the university's membership in NAM to 110:
Julia Adler-Milstein, PhD, associate professor of medicine
Laura M. Gottlieb, MD, MPH, associate professor of family and community medicine
Diane Havlir, MD, professor and associate chair of clinical research in the Department of Medicine, and chief of the Division of HIV, Infectious Diseases, and Global Medicine
 
"These newly elected members represent the most exceptional scholars and leaders whose remarkable work has advanced science, medicine, and health in the U.S. and around the globe," said NAM president Victor J. Dzau. "Their expertise will be vital to addressing today's most pressing health and scientific challenges and informing the future of health and medicine for the benefit of us all. I am honored to welcome these esteemed individuals to the National Academy of Medicine."
New members are elected by current members through a process that recognizes individuals who have made major contributions to the advancement of the medical sciences, health care, and public health. A diversity of talent among NAM's membership is assured by its Articles of Organization, which stipulate that at least one-quarter of the membership is selected from fields outside the health professions — for example, from such fields as law, engineering, social sciences, and the humanities. The newly elected members bring NAM's total membership to more than 2,200 and the number of international members to approximately 180.
Established originally as the Institute of Medicine in 1970 by the National Academy of Sciences, the National Academy of Medicine addresses critical issues in health, science, medicine, and related policy and inspires positive actions across sectors. NAM works alongside the National Academy of Sciences and National Academy of Engineering to provide independent, objective analysis and advice to the nation and conduct other activities to solve complex problems and inform public policy decisions. The National Academies of Sciences, Engineering, and Medicine also encourage education and research, recognize outstanding contributions to knowledge, and increase public understanding. With their election, NAM members make a commitment to volunteer their service in National Academies activities.
Further coverage
---
About UCSF Psychiatry
The UCSF Department of Psychiatry, UCSF Langley Porter Psychiatric Hospital and Clinics, and the Langley Porter Psychiatric Institute are among the nation's foremost resources in the fields of child, adolescent, adult, and geriatric mental health. Together they constitute one of the largest departments in the UCSF School of Medicine and the UCSF Weill Institute for Neurosciences, with a mission focused on research (basic, translational, clinical), teaching, patient care, and public service.
UCSF Psychiatry conducts its clinical, educational and research efforts at a variety of locations in Northern California, including UCSF campuses at Parnassus Heights, Mission Bay and Laurel Heights, UCSF Medical Center, UCSF Benioff Children's Hospitals in San Francisco and Oakland, Zuckerberg San Francisco General Hospital and Trauma Center, the San Francisco VA Health Care System, and UCSF Fresno.
About the UCSF Weill Institute for Neurosciences
The UCSF Weill Institute for Neurosciences, established by the extraordinary generosity of Joan and Sanford I. "Sandy" Weill, brings together world-class researchers with top-ranked physicians to solve some of the most complex challenges in the human brain.
The UCSF Weill Institute leverages UCSF's unrivaled bench-to-bedside excellence in the neurosciences. It unites three UCSF departments—Neurology, Psychiatry, and Neurological Surgery—that are highly esteemed for both patient care and research, as well as the Neuroscience Graduate Program, a cross-disciplinary alliance of nearly 100 UCSF faculty members from 15 basic-science departments, as well as the UCSF Institute for Neurodegenerative Diseases, a multidisciplinary research center focused on finding effective treatments for Alzheimer's disease, frontotemporal dementia, Parkinson's disease, and other neurodegenerative disorders.
About UCSF
UC San Francisco (UCSF) is a leading university dedicated to promoting health worldwide through advanced biomedical research, graduate-level education in the life sciences and health professions, and excellence in patient care. It includes top-ranked graduate schools of dentistry, medicine, nursing and pharmacy; a graduate division with nationally renowned programs in basic, biomedical, translational and population sciences; and a preeminent biomedical research enterprise.
It also includes UCSF Health, which comprises three top-ranked hospitals – UCSF Medical Center and UCSF Benioff Children's Hospitals in San Francisco and Oakland – as well as Langley Porter Psychiatric Hospital and Clinics, UCSF Benioff Children's Physicians, and the UCSF Faculty Practice. UCSF Health has affiliations with hospitals and health organizations throughout the Bay Area. UCSF faculty also provide all physician care at the public Zuckerberg San Francisco General Hospital and Trauma Center, and the San Francisco VA Medical Center.