UC San Francisco and SF VA Health Care System (SFVAHCS) researcher Kristine Yaffe, MD, has been named the 2022 John B. Barnwell Award recipient by the VA's Clinical Science Research and Development (CSR&D) service in recognition of her significant contributions as a leader in the field of Alzheimer's disease and related dementias (ADRD). She is the first woman to receive the award, which is CSR&D's highest honor given for scientific contributions that change clinical practice for veterans.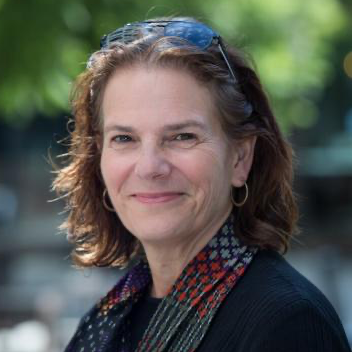 Yaffe is the Roy and Marie Scola Endowed Chair and a professor of psychiatry, neurology, and epidemiology at UCSF, as well the Department of Psychiatry and Behavioral Sciences' vice chair for the Weill Institute for Neurosciences. She is also the chief of neuropsychiatry and director of the Memory Evaluation Clinic at the San Francisco VA Medical Center and director of the UCSF Center for Population Brain Health.
"With an H-index of 152 and more than 600 peer-reviewed articles, Dr. Yaffe's research has had a significant impact in dementia research," said VA Chief Research and Development Officer Rachel B. Ramoni, DMD, ScD. "Many of her papers are in high impact journals and landmark studies."
"Her service and mentorship activities are also exceptional," added Ramoni. "Her mentees have, in turn, become leaders in dementia research. She plays critical leadership and advisory roles at SFVAHCS. She is a major asset for the VA and the veterans we serve."
As an internationally recognized expert in the epidemiology of dementia and cognitive aging, Yaffe has served as the principal investigator on multiple grants from NIH, the U.S. Department of Defense, and several foundations, and delivered testimony as a subject expert to the U.S. Senate Special Committee on Aging. Her work focuses on the identification of modifiable risk factors—including cardiovascular and metabolic risk factors, sleep disturbances, and traumatic brain injury—and the critical role they play not just in late life, but across the entire lifespan. Her work has also provided important insight into the pathways that increase dementia risk.
She is also the principal investigator for the UCSF Population-Based Research for Alzheimer's Innovation (Pop-BRAIN) Program, an exciting multidisciplinary program that highlights new strategies for prevention, underscores the underpinnings for health disparities in risk of ADRD, and offers new insights to the life course etiology of ADRD. The program also aims to foster the careers of junior investigators from a variety of disciplines focused on population health for ADRD by providing mentoring, didactics, research design and biostatistics guidance, pilot funding, and career development activities across several departments at UCSF in a unified hub dedicated to population health.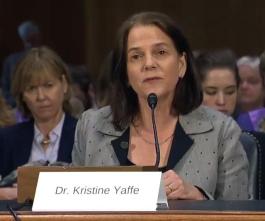 Yaffe served as co-chair of the National Academy of Medicine's Committee on Cognitive Aging, which assessed the public health dimensions of cognitive aging and released a report, "Cognitive Aging: Progress in Understanding and Opportunities for Action," in 2015, and was appointed to the Governor's Task Force on Alzheimer's Prevention and Preparedness by California Governor Gavin Newsom in 2019. She was elected to the National Academy of Medicine in 2019 and has received numerous awards in recognition of her work, including the American Association for Geriatric Psychiatry's Distinguished Scientist Award, the American College of Psychiatrists' Research Award in Geriatric Psychiatry, and the American Academy of Neurology's Potamkin Prize for Alzheimer's Research. Most recently, in 2021, Yaffe was selected as the recipient of the National Institutes of Health's Robert S. Gordon, Jr. Lectureship Award and the National Institute on Aging's Leadership Award for Alzheimer's Disease and Related Dementias Research.
The Barnwell Award was established in 2007 to honor John Blair Barnwell, MD, a distinguished educator and physician-scientist who directed research and education at the Veterans Administration (now the Department of Veterans Affairs) Central Office in the 1940s. It recognizes senior VA investigators who have achieved national and international acclaim for clinical research accomplishments in areas of prime importance to the VA's research mission and who have also demonstrated a high level of clinical commitment to the patient population. More specifically, the award celebrates clinical researchers who have made notable sustained contributions resulting in better evaluation and treatment of conditions that are particularly important to veterans' health care.
Yaffe will receive a $50,000 annual research award for three years, a cash award of $5,000, and an inscribed plaque commemorating her scientific achievements. The San Francisco VA Health Care System also will receive a plaque honoring her and her accomplishments.
 
---
About UCSF Psychiatry and Behavioral Sciences
The UCSF Department of Psychiatry and Behavioral Sciences and the Langley Porter Psychiatric Institute are among the nation's foremost resources in the fields of child, adolescent, adult, and geriatric mental health. Together they constitute one of the largest departments in the UCSF School of Medicine and the UCSF Weill Institute for Neurosciences, with a mission focused on research (basic, translational, clinical), teaching, patient care, and public service.
UCSF Psychiatry and Behavioral Sciences conducts its clinical, educational, and research efforts at a variety of locations in Northern California, including the UCSF Nancy Friend Pritzker Psychiatry Building; UCSF Langley Porter Psychiatric Hospital; UCSF Medical Centers at Parnassus Heights, Mission Bay, and Mount Zion; UCSF Benioff Children's Hospitals in San Francisco and Oakland; Zuckerberg San Francisco General Hospital and Trauma Center; the San Francisco VA Health Care System; UCSF Fresno; and numerous community-based sites around the San Francisco Bay Area.
About the UCSF Weill Institute for Neurosciences
The UCSF Weill Institute for Neurosciences, established by the extraordinary generosity of Joan and Sanford I. "Sandy" Weill, brings together world-class researchers with top-ranked physicians to solve some of the most complex challenges in the human brain.
The UCSF Weill Institute leverages UCSF's unrivaled bench-to-bedside excellence in the neurosciences. It unites three UCSF departments—Psychiatry and Behavioral Sciences, Neurology, and Neurological Surgery—that are highly esteemed for both patient care and research, as well as the Neuroscience Graduate Program, a cross-disciplinary alliance of nearly 100 UCSF faculty members from 15 basic-science departments, as well as the UCSF Institute for Neurodegenerative Diseases, a multidisciplinary research center focused on finding effective treatments for Alzheimer's disease, frontotemporal dementia, Parkinson's disease, and other neurodegenerative disorders.
About UCSF
The University of California, San Francisco (UCSF) is exclusively focused on the health sciences and is dedicated to promoting health worldwide through advanced biomedical research, graduate-level education in the life sciences and health professions, and excellence in patient care. UCSF Health, which serves as UCSF's primary academic medical center, includes top-ranked specialty hospitals and other clinical programs, and has affiliations throughout the Bay Area.