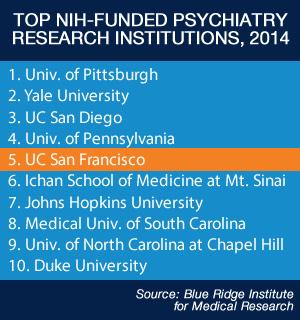 The UCSF Department of Psychiatry was ranked third among departments at public institutions and fifth among all recipients in psychiatric research grants from the National Institutes of Health (NIH) in fiscal year 2014, according to annual figures released by the
Blue Ridge Institute for Medical Research
. This marks the third consecutive year that UCSF Psychiatry has been ranked in the top ten nationally among psychiatry departments for NIH funding, following ninth place rankings in 2012 and 2013.
UCSF Psychiatry received over $26.4 million in NIH funding last year, representing an increase of more than $5.5 million from its FY 2013 funding totals.
Vice Chair for Clinical and Translational Research
Kristine Yaffe, MD
, said the latest rankings demonstrate the department's strong commitment to both clinical and basic research. "It is certainly gratifying to see the upward trajectory, particularly in the current funding climate." She added, "These figures don't reflect important funding sources apart from NIH or the contribution of researchers who collaborate on grants, but are not listed as PIs. Nonetheless, the numbers underscore the very high quality and productivity of our faculty."
The department's funding success parallels that of the university: UCSF and its four schools have been among the nation's top institutions in NIH funding for more than two decades. In FY 2014,
UCSF led all institutions
with more than $538 million in NIH grants, and the UCSF Schools of Medicine, Pharmacy, Dentistry and Nursing also ranked first in their fields for NIH funding.