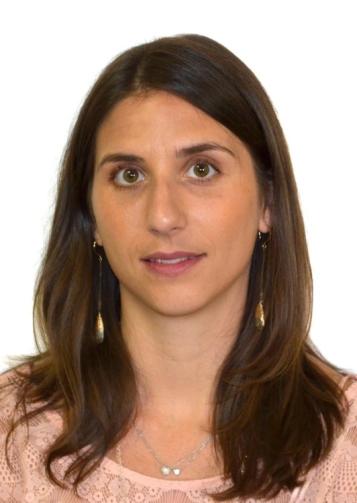 Mental health research funder 1907 Research announced today that UC San Francisco Assistant Professor of Clinical Psychiatry Katherine Scangos, MD, PhD, has been chosen as one of the first recipients of its annual 1907 Trailblazer Award. She is one of three promising scientists to receive the two-year grant, valued at over $120,000 each, to pursue groundbreaking mental health research proposals.
Scangos was selected to receive the honor for her proposal "Using direct cortical and subcortical neural recordings to uncover principles of network dynamics underlying depression symptom severity in major depression." Joining her as inaugural 1907 Trailblazer Award recipients are Arizona State University's Benjamin Bartelle, PhD, and Laura Lewis, PhD, from Boston University.
Scangos joined the UCSF Department of Psychiatry and Behavioral Sciences faculty in 2018 and is the co-director of the UCSF Transcranial Magnetic Stimulation Clinic. She studies the development of novel, personalized, circuit-based treatment paradigms for depression. Her research is unique because she is collaborating with a team of surgeons and implanting EEGs into human patients with severe depression, monitoring their neural behaviors in dynamic environments, and seeing how they respond to neurostimulation.
"This research is very high-risk," she says, "which makes it challenging to receive funding from standard grant agencies. The Trailblazer Award will allow me to start up my own laboratory and facilitate the collection of pilot data to show my research is feasible and has the ability to advance our understanding of depression. I am excited to be part of the amazing group of investigators passionate about making a difference through our research and patient care," Scangos remarked.
Grants support pioneering early-career investigators in search of causes and cures of mental illnesses
"The three early-career researchers we have chosen to support are truly exceptional in their ambition and innovation. Tackling psychiatric disease and mental illness through neuroscience needs new thinking, and this is exactly what our incoming fellows are bringing," said Anil Seth, PhD, a professor of cognitive and computational neuroscience at the University of Sussex and member of the 1907 Research Advisory Board that selected the Trailblazer Award Fellows.
"We were looking for people with thoughtful but different perspectives on the neurobiology of mental illness, that have the potential to transform our understanding of these disorders," reflected Amy Arnsten, PhD, a professor of neuroscience at Yale Medical School and member of the 1907 Research Advisory Board.
The 1907 Trailblazer Award Fellows represent the top-ranked 2% of 150 applications received from 69 research institutions, universities and hospitals, in the United States, United Kingdom, and Canada. The recipients were selected by a committee of 12 experts from different disciplines of brain and mental health science. 1907 Research designed a unique research review and selection process that focused on the merit of the science proposed, reduced bias, and encouraged diversity of opinion. Reviewers were blinded to applicants' identifying information until the final stage of selecting three Fellows from a slate of 15 candidates.
"1907 Research is committed to accelerating breakthroughs in mental health research by supporting ideas based on first principles thinking, rather than dogma," explained Vanessa Tolosa, PhD, a neurotechnologist and member of the 1907 Research team that reviewed proposals. "The unique process used for the Trailblazer Awards is designed to cut through discriminating factors that have no basis for scientific success such as gender, race, or pedigree. This allows for truly novel and sound ideas from the thinkers of tomorrow to be given a chance at discovery today."
"Since its launch in 2019, 1907 Research has been committed to supporting extraordinary young scientists," affirmed Guoping Feng, MD, PhD, a professor of neuroscience at the Massachusetts Institute of Technology and member of the 1907 Research Advisory Board. "These innovative research projects could potentially lead to the breakthrough discoveries we desperately need to solve mental health problems, and are unlikely to be funded through traditional channels."
"Each of our 12 scientific advisors conducted blind reviews of the 1907 Trailblazer Award applications and we used data from independent reviews in final deliberations. Ultimately, all 12 of our scientific advisors unanimously agreed on the three fellowships," said Adam Pieczonka, co-founder and head of award management at 1907 Research. "Our aim is to support both the science and the scientist. Now that we have made award decisions, we look forward to building community and resources amongst the 1907 Research team and our fellows to ensure success of the fellows over the two-year program."
---
About 1907 Research
1907 Research is a public charity that funds innovative mental health research. The 1907 Research team of scientists, technologists and investors take a unique investment management approach to grant funding. The 1907 Trailblazer Award is granted annually to a select cohort of early career MDs and PhDs at leading hospitals and universities. Donations support young scientists' investigation of the causes and cures of mental illness. Visit 1907-Research.org and follow 1907 Research on Twitter (@1907research) for updates about the Trailblazer Awards.
About UCSF Psychiatry and Behavioral Sciences
The UCSF Department of Psychiatry and Behavioral Sciences and the Langley Porter Psychiatric Institute are among the nation's foremost resources in the fields of child, adolescent, adult, and geriatric mental health. Together they constitute one of the largest departments in the UCSF School of Medicine and the UCSF Weill Institute for Neurosciences, with a mission focused on research (basic, translational, clinical), teaching, patient care, and public service.
UCSF Psychiatry and Behavioral Sciences conducts its clinical, educational, and research efforts at a variety of locations in Northern California, including Langley Porter Psychiatric Hospital; UCSF Medical Centers at Parnassus Heights, Mission Bay, and Mount Zion; UCSF Benioff Children's Hospitals in San Francisco and Oakland; Zuckerberg San Francisco General Hospital and Trauma Center; the San Francisco VA Health Care System; UCSF Fresno; and numerous community-based sites around the San Francisco Bay Area.
About the UCSF Weill Institute for Neurosciences
The UCSF Weill Institute for Neurosciences, established by the extraordinary generosity of Joan and Sanford I. "Sandy" Weill, brings together world-class researchers with top-ranked physicians to solve some of the most complex challenges in the human brain.
The UCSF Weill Institute leverages UCSF's unrivaled bench-to-bedside excellence in the neurosciences. It unites three UCSF departments—Neurology, Psychiatry, and Neurological Surgery—that are highly esteemed for both patient care and research, as well as the Neuroscience Graduate Program, a cross-disciplinary alliance of nearly 100 UCSF faculty members from 15 basic-science departments, as well as the UCSF Institute for Neurodegenerative Diseases, a multidisciplinary research center focused on finding effective treatments for Alzheimer's disease, frontotemporal dementia, Parkinson's disease, and other neurodegenerative disorders.
About UCSF
The University of California, San Francisco (UCSF) is exclusively focused on the health sciences and is dedicated to promoting health worldwide through advanced biomedical research, graduate-level education in the life sciences and health professions, and excellence in patient care. UCSF Health, which serves as UCSF's primary academic medical center, includes top-ranked specialty hospitals and other clinical programs, and has affiliations throughout the Bay Area.