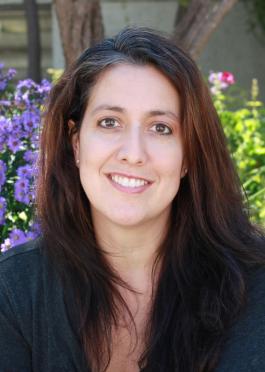 Christina Mangurian, MD, MAS, has been appointed as the UCSF Department of Psychiatry's first Director of Diversity by department chair Matthew W. State, MD, PhD, effective Wednesday, July 1. As a member of the department's Executive Committee, Mangurian will work on a wide range of issues, including the recruitment and retention of diverse faculty, staff, and trainees, as well as other broader matters of climate and diversity.
Since joining UCSF as a faculty member in 2009, Mangurian has worked tirelessly to improve medical services for diverse and underserved populations, and has provided support and mentorship for her colleagues at both the university and national levels.
She has been a strong advocate for gender faculty equity at UCSF, and was nominated for the UCSF Chancellor's Award for the Advancement of Women for founding the Women's Advancement and Recognition in Medicine (WARM Hearts) group at San Francisco General Hospital and Trauma Center (SFGH). The monthly group includes junior women faculty members from several departments at SFGH and provides provide peer guidance on topics such as mentorship, promotion, managing employees, and balancing work-family obligations. She also received funding from the UCSF Clinical & Translational Science Institute's Career Development Program to understand potential gender differences in research career advancement among a cohort of UCSF KL2 Scholars.
In addition to directing the UCSF Public Psychiatry Fellowship at SFGH, Mangurian is the first and only psychiatrist on faculty at the UCSF Center for Vulnerable Populations at SFGH. She was recently named Chair of the American Psychiatric Association (APA) Council of Minority Mental Health and Health Disparities and has also served as the Treasurer of the American Society of Hispanic Psychiatry. Earlier this week, she took part in the White House's Forum on Excellence and Innovation through Diversity in the STEM Workforce in Washington D.C.
Throughout her career, Mangurian has been dedicated to providing opportunities for women and people from underrepresented backgrounds in medicine and psychiatry as research assistants and mentees. "Increasing diversity in the workforce is not only a potential solution for narrowing the gap in health care disparities experienced by racial and ethnic minorities, but also a crucial component for achieving academic excellence." says Mangurian. "Studies have shown that diversity increases productivity and creativity. Additionally, the more complex a problem, the more necessary diversity of thought is required. Training future leaders from diverse backgrounds in research, education, and clinical work is necessary to make UCSF a leader in the new era of health care reform. My goal is to create an environment in the UCSF Department of Psychiatry where women and minorities thrive."
As a Latina NIH-funded clinician researcher, the majority of Mangurian's work has focused on improving medical services for diverse and underserved populations with severe mental illnesses, such as her National Institute of Mental Health-funded Career Development Award focused on improving metabolic screening among diverse populations with severe mental illnesses and a National Institute of Diabetes and Digestive and Kidney Diseases-funded study on the cost-effectiveness of expanding the scope of community psychiatrists to include initial treatment of diabetes and pre-diabetes.
---
About UCSF Psychiatry
The UCSF Department of Psychiatry and the Langley Porter Psychiatric Institute are among the nation's foremost resources in the fields of child, adolescent, adult, and geriatric mental health. Together they constitute one of the largest departments in the UCSF School of Medicine, with a mission focused on research (basic, translational, clinical), teaching, patient care and public service. UCSF Psychiatry has an organizational structure that crosses all major UCSF sites - Parnassus, Mission Bay, Laurel Heights, Mt. Zion, San Francisco General Hospital and Trauma Center, the San Francisco VA Medical Center, and UCSF Fresno.
About UCSF
The University of California, San Francisco (UCSF) is the nation's leading university exclusively focused on health. UCSF is dedicated to transforming health worldwide through advanced biomedical research, graduate-level education in the life sciences and health professions, and excellence in patient care. It includes top-ranked graduate schools of dentistry, medicine, nursing and pharmacy; a graduate division with world-renowned programs in the biological sciences, a preeminent biomedical research enterprise and top-tier hospitals, UCSF Medical Center and UCSF Benioff Children's Hospitals.