UCSF Psychiatry Staff Reports
 
On Saturday, March 11, over 350 Bay Area community leaders attended the sold out annual Red Cross Gala, "Heroes Among Us," honoring military service members, veterans, and families who have selflessly served and those who are currently serving our nation, as well as those who tirelessly support them. The signature event raised over $500,000 to support the Red Cross mission to prevent and alleviate human suffering during emergencies, with over $100,000 of that earmarked to specifically support Red Cross Services to the Armed Forces.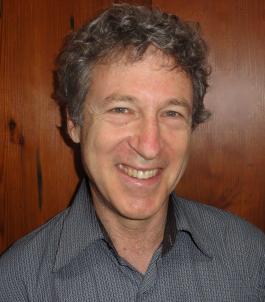 Among those recognized by the American Red Cross of the Bay Area for their outstanding dedication, service, and contributions on behalf of service members, veterans, and military families was Russell B. Lemle, PhD, clinical professor in the UC San Francisco Department of Psychiatry and Chief Psychologist at the San Francisco VA Health Care System. Lemle was honored his creation of "Pets for Vets," a program designed to provide Northern California veterans with a pet at no cost in partnership with San Francisco's Wonder Dog Rescue.
The program, which has been replicated around the country, was founded by Lemle in 2000 using his own personal funds and connected more than 150 pets with veterans in its first decade of operation. Today, Pets for Vets is supported entirely by donations.
The honor comes as the latest career accolade for Lemle, who has also been recognized with an American Psychological Association Presidential Citation (2005), an Association of VA Psychologist Leaders' Leader Award (2007), the APA Division 18 Harold Hildreth Award (2011), the AVAPL Antonette Zeiss Distinguished Leadership Award (2013), and the AVAPL Patrick DeLeon Advocacy Award (2016).
Also saluted at the event for their dedication were:
Jake Harriman, CEO of Nuru International
Major General James M. "Mike" Myatt, President and CEO of Marines Memorial Association
Mary Louise Chapman, Red Cross Volunteer
 
"We were excited to honor our Service to Armed Forces honorees this year," said Kate Smith, gala co-chair. "The Red Cross relationship with the Armed Forces is much deeper than the amazing work the Red Cross does in response to natural disasters. It is on the front line and behind the scenes, each and every day."
---
About UCSF Psychiatry
The UCSF Department of Psychiatry and the Langley Porter Psychiatric Institute are among the nation's foremost resources in the fields of child, adolescent, adult, and geriatric mental health. Together they constitute one of the largest departments in the UCSF School of Medicine and the UCSF Weill Institute for Neurosciences, with a mission focused on research (basic, translational, clinical), teaching, patient care and public service.
UCSF Psychiatry conducts its clinical, educational and research efforts at a variety of locations in Northern California, including UCSF campuses at Parnassus Heights, Mission Bay and Laurel Heights, UCSF Medical Center, UCSF Benioff Children's Hospitals, Zuckerberg San Francisco General Hospital and Trauma Center, the San Francisco VA Health Care System and UCSF Fresno.
About the San Francisco VA Health Care System
The San Francisco VA Health Care System is a comprehensive network that provides health services to Veterans through the San Francisco VA Medical Center (SFVAMC) and six community-based outpatient clinics in Santa Rosa, Eureka, Ukiah, Clearlake, San Bruno, and downtown San Francisco. It has a long history of conducting cutting-edge research, establishing innovative medical programs, and providing compassionate care to Veterans. SFVAMC has been affiliated with the University of California, San Francisco (UCSF), School of Medicine for over 50 years.
It has one of the largest funded research programs in the Veterans Health Administration with $70 million in research expenditures. SFVAMC is one of the few medical centers in the world equipped for studies using both whole-body magnetic resonance imaging (MRI) and spectroscopy, and is the site of VA's National Center for the Imaging of Neurodegenerative Diseases.
About UCSF
UC San Francisco (UCSF) is a leading university dedicated to promoting health worldwide through advanced biomedical research, graduate-level education in the life sciences and health professions, and excellence in patient care. It includes top-ranked graduate schools of dentistry, medicine, nursing and pharmacy; a graduate division with nationally renowned programs in basic, biomedical, translational and population sciences; and a preeminent biomedical research enterprise. It also includes UCSF Health, which comprises top-ranked hospitals – UCSF Medical Center and UCSF Benioff Children's Hospitals in San Francisco and Oakland – and other partner and affiliated hospitals and healthcare providers throughout the Bay Area.