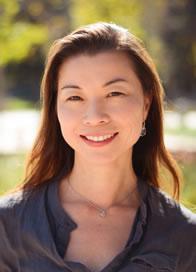 Associate Professor of Child & Adolescent Psychiatry and UCSF BrainLENS director Fumiko Hoeft, MD, PhD, will be featured as a speaker at the upcoming TEDxSausalito conference. Her presentation, "Dyslexia, Learning Differently, and Innovation - Is There a Causal Link?" will be part of an afternoon colloqium exploring how and why creativity is a catalyst for change. Hoeft's talk will focus on recent research on the heightened prevalence of dyslexia among entrepreneurs and consider explanations from a neuroscientific perspective on how individuals with dyslexia may possess superior skills such as resilience and spatial skills.
TEDxSausalito will take place on Thursday, September 22, 2016 at the Bay Area Discovery Museum at Fort Baker. The independently organized event, licensed by TED, will feature diverse voices under the theme of "Why Creativity?" Speakers at the event will discuss creativity through various lenses, including education, technology, business, and public policy.
Launched in 2009, TEDx is a program of locally organized events that bring communities together to share a TED-like experience. Some of the best talks from TEDx events have gone on to be featured on TED.com and garnered millions of views from audiences across the globe.
Later in September, Hoeft will speak about the neural basis of reading in developing bilinguals at the Israel Science Foundation's "First vs. Second Language Learning: From Neurobiology to Cognition" workshop in Jerusalem. The three-day event will feature a number of renowned experts on theoretically motivated cognitive and neural investigations of first- and second-language learning.
She was also recently elected to the National Center for Learning Disabilities' Professional Advisory Board, as well as the International Dyslexia Association's Board of Directors. In addition, Hoeft was selected earlier this year to serve on the California Department of Education's Dyslexia Guidelines Work Group. The group will help develop program guidelines to assist teachers and parents to identify and assess pupils with dyslexia, and to plan, provide, evaluate, and improve educational services for them.
 
---
About UCSF Psychiatry
The UCSF Department of Psychiatry and the Langley Porter Psychiatric Institute are among the nation's foremost resources in the fields of child, adolescent, adult, and geriatric mental health. Together they constitute one of the largest departments in the UCSF School of Medicine and the UCSF Weill Institute for Neurosciences, with a mission focused on research (basic, translational, clinical), teaching, patient care, and public service.
UCSF Psychiatry conducts its clinical, educational, and research efforts at a variety of locations in Northern California, including UCSF campuses at Parnassus Heights, Mission Bay, and Laurel Heights, the UCSF Medical Center at Mt. Zion, Zuckerberg San Francisco General Hospital and Trauma Center, the San Francisco VA Health Care System, and UCSF Fresno.
About the UCSF Weill Institute for Neurosciences
The UCSF Weill Institute for Neurosciences, established by the extraordinary generosity of Joan and Sanford I. "Sandy" Weill, brings together world-class researchers with top-ranked physicians to solve some of the most complex challenges in the human brain.
The UCSF Weill Institute leverages UCSF's unrivaled bench-to-bedside excellence in the neurosciences. It unites three UCSF departments—Neurology, Psychiatry, and Neurological Surgery—that are highly esteemed for both patient care and research, as well as the Neuroscience Graduate Program, a cross-disciplinary alliance of nearly 100 UCSF faculty members from 15 basic-science departments, as well as the UCSF Institute for Neurodegenerative Diseases, a multidisciplinary research center focused on finding effective treatments for Alzheimer's disease, frontotemporal dementia, Parkinson's disease, and other neurodegenerative disorders.
About UCSF
UC San Francisco (UCSF) is a leading university dedicated to promoting health worldwide through advanced biomedical research, graduate-level education in the life sciences and health professions, and excellence in patient care. It includes top-ranked graduate schools of dentistry, medicine, nursing and pharmacy; a graduate division with nationally renowned programs in basic, biomedical, translational and population sciences; and a preeminent biomedical research enterprise. It also includes UCSF Health, which comprises two top-ranked hospitals, UCSF Medical Center and UCSF Benioff Children's Hospital San Francisco, and other partner and affiliated hospitals and healthcare providers throughout the Bay Area.