Originally published on UCSF News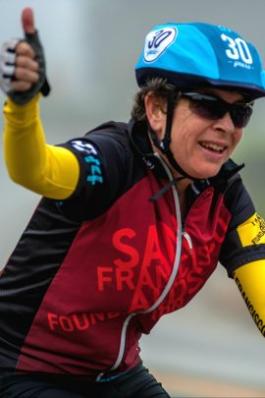 Three department members will join thousands of other cyclists this June to participate and raise money for
AIDS/LifeCycle
—a seven-day, 545-mile bike ride from San Francisco to Los Angeles that has become the world's largest annual, single-event AIDS fundraiser.
"I want to do my part to see an end to HIV/AIDS," said Adult Psychiatry Clinic Director 
Ellen Haller, MD
, who is participating in her third AIDS ride. "With the money we raise, the Los Angeles LGBT Center and San Francisco AIDS Foundation can continue to provide critical services for the HIV-positive community and prevent new HIV infections through programs, services, and education.
Some of the UCSF cyclcists are veterans who have done this ride a number of times in the past, while others are new to long-distance cycling. In addition to nearly two dozen UCSF faculty, staff, students and trainees taking part in the ride as part of Team UCSF, three members of the Department of Psychiatry are also riding as individuals or as members of other fundraising teams: Haller; 
George Harrison, MD
; and
Hugo Sosa
. The ride will begin on May 31 at the Cow Palace in San Francisco, and finish on June 6 in Westwood, near the UCLA campus in Los Angeles.
"As a first-time participant, I wasn't even sure at first if this was something I could physically do," said Team UCSF captain Chris Waddling, a specialist in the Department of Biochemistry and Biophysics. "Now having spent nearly a year training and logging more than 5,500 miles on my bike, I look forward to spending a week on the road with the amazing community of AIDS/LifeCycle participants."
Some members of UCSF's medical community will volunteer their time and provide essential medical support to cyclists during the course of the ride.
In the seven days it takes the 2,500 riders and 1,500 volunteer roadies to reach Los Angeles, more than 1,000 people in the United States will become infected with HIV. Especially alarming is the fact that one out of every five people living with HIV nationwide is not aware of their status, according to AIDS/LifeCycle.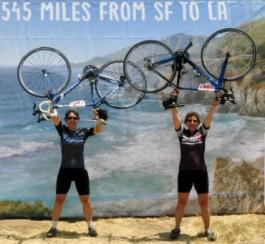 "What these cyclists contribute to the fight against HIV/AIDS is truly remarkable," said AIDS/LifeCycle Senior Director Greg Sroda. "Each year people from across the country and all over the world join us not only because the event is a life-changing experience for them, but also because the money they raise changes the lives of people living with HIV."
Since the ride began in 1993, participants have raised more than $200 million and completed more than 42,000 journeys from San Francisco to Los Angeles. Last year alone, riders raised more than $15 million.
The
Los Angeles LGBT Center
and
San Francisco AIDS Foundation
, the beneficiaries and producers of AIDS/LifeCycle, are at the forefront of efforts to reduce new HIV infections and are dedicated to ensuring access to proper medical care for anyone who needs it. Both organizations deliver essential community programs and services for HIV prevention, testing, care, and education.
AIDS/LifeCycle participants play a significant role in helping to promote HIV/AIDS education and awareness through outreach to hundreds of thousands of people who support their efforts. On average, each cyclist raises close to $6,000 through their network of donors, which includes family, friends, and co-workers.
So far this year, Team UCSF has raised more than $45,000 and UCSF employees representing other teams have raised an additional $40,000. To help team members reach their goals, visit their team pages below: