UC San Francisco neuropsychiatrist Kristine Yaffe, MD, joined former First Lady of California Maria Shriver and other geriatric care experts last week to testify about the importance of Alzheimer's disease research and prevention at a meeting of the U.S. Senate Special Committee on Aging. 
Yaffe, a professor of psychiatry, neurology, and epidemiology at UCSF, as well as the Roy and Marie Scola Endowed Chair and Department of Psychiatry Vice Chair for the UCSF Weill Institute, gave the committee a brief overview of the impact of Alzheimer's and discussed recent research developments which point to possible future treatments and preventative methods. She also explained that there is much about the condition that remains to be uncovered. "Despite tremendous advances in brain science over the past two decades," she told the committee, "there is still so much to learn."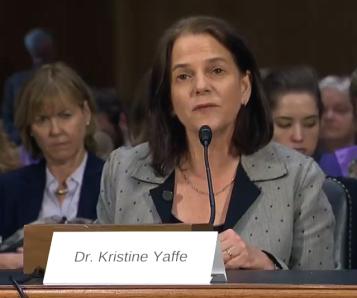 The committee hearing was held in the midst of the White House's proposal to reduce the National Institutes of Health (NIH)'s funding by $1.2 billion during the remainder of the current fiscal year and $5.8 billion in its fiscal year 2018 budget. 
Shriver, founder of the Women's Alzheimer's Movement, reported that deaths from Alzheimer's disease have increased nearly twofold since 2000, while deaths from other causes such as breast cancer, prostate cancer, heart disease, and stroke have all decreased over the same period. "We need to ensure the scientists have the funding they requested in the professional judgment budget, she told the committee. "We cannot afford to stall research and delay this important lifesaving work."
In response to a question from committee member Sen. Elizabeth Warren about the importance of NIH support, Yaffe explained, "I couldn't be doing what I'm doing without NIH funding. It's by far the most important funder of medical research...and it is particularly important for young people."
"We're talking about the importance of the geriatric workforce, but we also need to talk about the importance of the physician-scientists and scientists in general who, once they finish their training, they are expected to get a grant – often a career development award – to get from their training stage to the independent stage. This is critical," Yaffe stressed, "and it's critical that the NIH fund this because otherwise people aren't going to go into science."
Yaffe also noted that the number of diagnosed Alzheimer's cases is expected to triple by 2050 and associated costs are forecast to increase by 400 percent – costs which could be prevented if today's research is funded.
"The United States spends more than $259 billion per year [on Alzheimer's disease-related costs], including $175 billion in costs to the Medicare and Medicaid programs," said committee chair Sen. Susan Collins. "If we do nothing, the Alzheimer's Association forecasts that this disease will cost our country an astonishing $1.1 trillion by 2050, and it will bankrupt the Medicaid and Medicare programs."
Transcripts of each speaker's testimony and video of the entire hearing are available on the U.S. Senate Special Committee on Aging website.
---
About UCSF Psychiatry
The UCSF Department of Psychiatry and the Langley Porter Psychiatric Institute are among the nation's foremost resources in the fields of child, adolescent, adult, and geriatric mental health. Together they constitute one of the largest departments in the UCSF School of Medicine and the UCSF Weill Institute for Neurosciences, with a mission focused on research (basic, translational, clinical), teaching, patient care and public service.
UCSF Psychiatry conducts its clinical, educational and research efforts at a variety of locations in Northern California, including UCSF campuses at Parnassus Heights, Mission Bay and Laurel Heights, UCSF Medical Center, UCSF Benioff Children's Hospitals, Zuckerberg San Francisco General Hospital and Trauma Center, the San Francisco VA Health Care System and UCSF Fresno.
About the UCSF Weill Institute for Neurosciences
The UCSF Weill Institute for Neurosciences, established by the extraordinary generosity of Joan and Sanford I. "Sandy" Weill, brings together world-class researchers with top-ranked physicians to solve some of the most complex challenges in the human brain.
The UCSF Weill Institute leverages UCSF's unrivaled bench-to-bedside excellence in the neurosciences. It unites three UCSF departments—Neurology, Psychiatry, and Neurological Surgery—that are highly esteemed for both patient care and research, as well as the Neuroscience Graduate Program, a cross-disciplinary alliance of nearly 100 UCSF faculty members from 15 basic-science departments, as well as the UCSF Institute for Neurodegenerative Diseases, a multidisciplinary research center focused on finding effective treatments for Alzheimer's disease, frontotemporal dementia, Parkinson's disease, and other neurodegenerative disorders.
About UCSF
UC San Francisco (UCSF) is a leading university dedicated to promoting health worldwide through advanced biomedical research, graduate-level education in the life sciences and health professions, and excellence in patient care. It includes top-ranked graduate schools of dentistry, medicine, nursing and pharmacy; a graduate division with nationally renowned programs in basic, biomedical, translational and population sciences; and a preeminent biomedical research enterprise. It also includes UCSF Health, which comprises top-ranked hospitals – UCSF Medical Center and UCSF Benioff Children's Hospitals in San Francisco and Oakland – and other partner and affiliated hospitals and healthcare providers throughout the Bay Area.