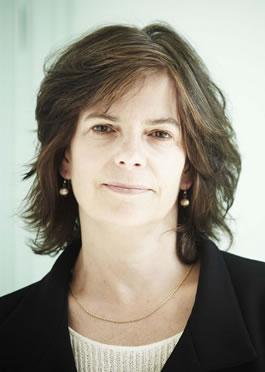 The American Academy of Neurology is awarding UC San Francisco researcher Kristine Yaffe, MD, with a 2017 Potamkin Prize for Research in Pick's, Alzheimer's and Related Diseases for her work in dementia research. Yaffe, along with UC Irvine's Claudia Kawas, MD, will be honored this April at the American Academy of Neurology's 69th Annual Meeting in Boston.
Sometimes referred to as the Nobel Prize of Alzheimer's research, the Potamkin Prize honors researchers for their work in helping to advance the understanding of Pick's disease, Alzheimer's disease, and related disorders. The $100,000 prize is an internationally recognized tribute for advancing dementia research.
Yaffe, a professor of psychiatry, neurology, and epidemiology, the Roy and Marie Scola Endowed Chair, and Department of Psychiatry Vice Chair for the UCSF Weill Institute, will be recognized for her research on the epidemiology of Alzheimer's and other dementias.
Her work focuses on the identification of modifiable risk factors, including cardiovascular and metabolic risk factors, sleep disturbances, and traumatic brain injury. The results of Yaffe's research in these areas highlight the critical role of modifiable risk factors, not just in late life, but across the lifespan. Her work also provides important insight into the pathways that increase dementia risk.
"Our research on modifiable risk factors for dementia prevention is important both for individual patients who are concerned about their cognitive health, and for public health prevention," Yaffe said. "Addressing these risk factors could be a fundamental component of our strategy for slowing down the dementia epidemic."
The Potamkin Prize is made possible by the philanthropic contributions of the Potamkin family of New York, Philadelphia, and Miami. The goal of the prize is to help attract the best medical minds and most dedicated scientists in the world to the field of dementia research. The Potamkin family has been the Academy's single largest individual donor since 1988, providing more than $2 million to fund the Potamkin Prize.
To learn more about dementia, Pick's, and related diseases, visit aan.com/patients.
---
About the American Academy of Neurology
The American Academy of Neurology (AAN) is the world's largest association of neurologists and neuroscience professionals, with 32,000 members. The AAN is dedicated to promoting the highest quality patient-centered neurologic care. A neurologist is a doctor with specialized training in diagnosing, treating, and managing disorders of the brain and nervous system such as Alzheimer's disease, stroke, migraine, multiple sclerosis, concussion, Parkinson's disease, and epilepsy.
About UCSF Psychiatry
The UCSF Department of Psychiatry and the Langley Porter Psychiatric Institute are among the nation's foremost resources in the fields of child, adolescent, adult, and geriatric mental health. Together they constitute one of the largest departments in the UCSF School of Medicine and the UCSF Weill Institute for Neurosciences, with a mission focused on research (basic, translational, clinical), teaching, patient care and public service.
UCSF Psychiatry conducts its clinical, educational and research efforts at a variety of locations in Northern California, including UCSF campuses at Parnassus Heights, Mission Bay and Laurel Heights, UCSF Medical Center, UCSF Benioff Children's Hospitals, Zuckerberg San Francisco General Hospital and Trauma Center, the San Francisco VA Health Care System, and UCSF Fresno.
About the UCSF Weill Institute for Neurosciences
The UCSF Weill Institute for Neurosciences, established by the extraordinary generosity of Joan and Sanford I. "Sandy" Weill, brings together world-class researchers with top-ranked physicians to solve some of the most complex challenges in the human brain.
The UCSF Weill Institute leverages UCSF's unrivaled bench-to-bedside excellence in the neurosciences. It unites three UCSF departments—Neurology, Psychiatry, and Neurological Surgery—that are highly esteemed for both patient care and research, as well as the Neuroscience Graduate Program, a cross-disciplinary alliance of nearly 100 UCSF faculty members from 15 basic-science departments, as well as the UCSF Institute for Neurodegenerative Diseases, a multidisciplinary research center focused on finding effective treatments for Alzheimer's disease, frontotemporal dementia, Parkinson's disease, and other neurodegenerative disorders.
About UCSF
UC San Francisco (UCSF) is a leading university dedicated to promoting health worldwide through advanced biomedical research, graduate-level education in the life sciences and health professions, and excellence in patient care. It includes top-ranked graduate schools of dentistry, medicine, nursing and pharmacy; a graduate division with nationally renowned programs in basic, biomedical, translational and population sciences; and a preeminent biomedical research enterprise. It also includes UCSF Health, which comprises top-ranked hospitals – UCSF Medical Center and UCSF Benioff Children's Hospitals in San Francisco and Oakland – and other partner and affiliated hospitals and healthcare providers throughout the Bay Area.