The University of Southern California's Elyn Saks, JD, PhD, will deliver the Dr. Evelyn Lee Visiting Scholar Lecture in Cultural Competency and Diversity on Tuesday, April 18, 2017 as part of the Department of Psychiatry's Grand Rounds series. Her presentation will focus on her own personal experience with schizophrenia and the factors that can contribute to recovery. The lecture, which will take place in HSW-301 on the Parnassus campus, will be streamed live online beginning at 8 a.m. at psych.ucsf.edu/live.
Saks is a legal scholar and mental health-policy advocate whose work and life story are expanding the options for those suffering from severe mental illness. Trained at Oxford in philosophy, at Yale in jurisprudence, and the New Center for Psychoanalysis in psychoanalytic science, Saks is recognized by mental health professionals and legal scholars alike as an important contributor to national debates on mental health policy.
She has played a major role in discussions of mental health law, patients' rights, and multiple-personality disorder, including such issues as involuntary commitment, competency to be executed, proxy consent, and the right to refuse treatment.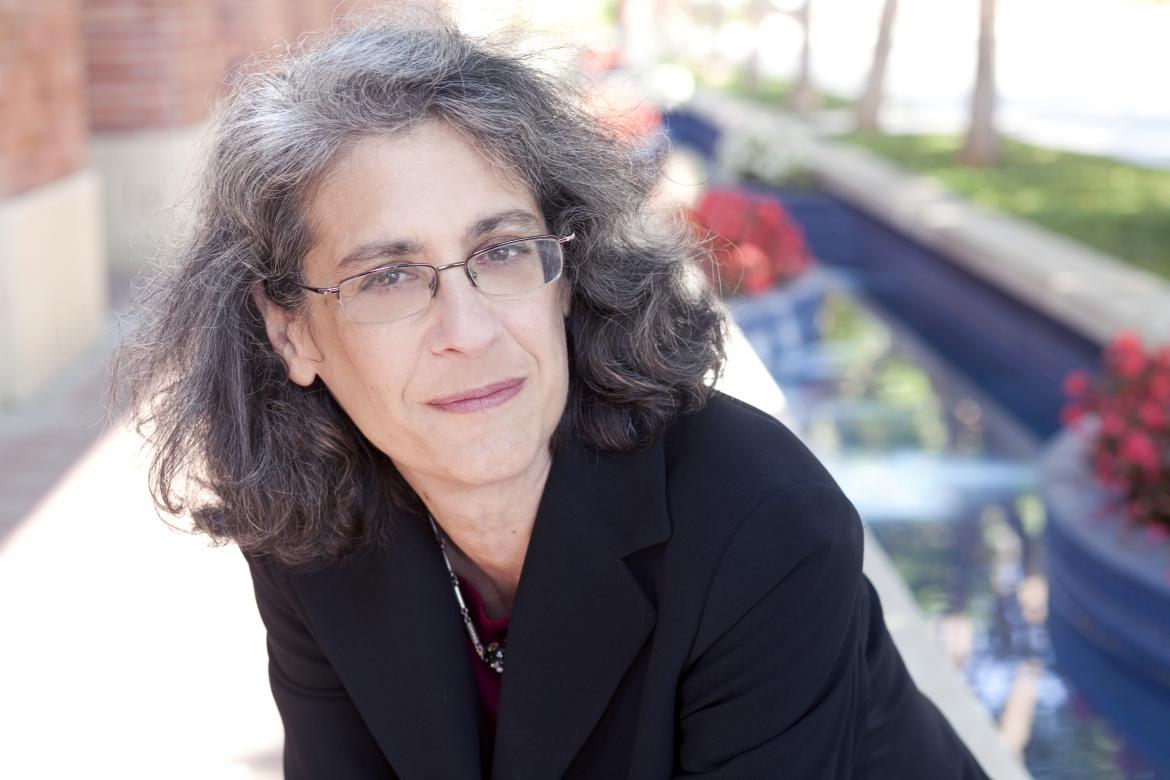 Her contributions and commitment to mental health law took on a personal dimension with the publication of her 2007 memoir, "The Center Cannot Hold: My Journey Through Madness," in which she made public for the first time her lifelong struggle with schizophrenia, including severe episodes of psychosis as well as experiences with misguided or harmful treatments. She has won numerous honors, including a John D. and Catherine T. MacArthur Fellowship in 2009.
Saks used her funds from the MacArthur Fellowship to create the Saks Institute for Mental Health Law, Policy, and Ethics at USC, a think tank that studies issues at the intersection of law, mental health, and ethics.
She is currently the Orrin B. Evans Professor of Law, Psychology, and Psychiatry, and the Behavioral Sciences at the USC Gould School of Law; Director of the Saks Institute for Mental Health Law, Policy, and Ethics; Adjunct Professor of Psychiatry at the UC San Diego School of Medicine; and faculty at the New Center for Psychoanalysis. She served as USC Law's associate dean for research from 2005-2010 and also teaches at the Keck School of Medicine.
Events also scheduled at ZSFG, SFVAMC
Following her Grand Rounds talk, Saks will travel to Zuckerberg San Francisco General Hospital and Trauma Center for a conversation about living with schizophrenia, moderated by Stephen Hinshaw, PhD. The event will begin at 10 a.m. with a meet-and-greet reception, followed by the hour-long conversation starting promptly at 10:30 a.m. The event will take place in Zuckerberg San Francisco General's Carr Auditorium, and all faculty, trainees, students and staff are invited to attend. Seating is limited and tickets are available online.
In the afternoon, she will sit down with Jennifer E. Boyd, PhD, CPRP, for a discussion titled, "Living With Mental Illness and Thriving in the Workplace" at the San Francisco VA Medical Center. The talk will begin at 3 p.m. in the SFVAMC Auditorium. No tickets are required.
The annual Dr. Evelyn Lee Visiting Scholar Lecture in Cultural Competency and Diversity is sponsored by the UCSF Department of Psychiatry Diversity Committee in remembrance of Evelyn Lee, EdD, who served as a clinical faculty member for more than 20 years before her passing in 2003. In addition to her work at UCSF and SFGH, Lee served as executive director of San Francisco-area mental health agency Richmond Area Multi-Services and authored more than 30 publications fostering cultural competence and cross-cultural communication in mental health.
Saks is the 2016 recipient of the Dr. Evelyn Lee Visiting Scholar Lectureship; her visit was originally scheduled for October 2016, but was postponed due to scheduling difficulties. An additional scholar will be selected later this year as the 2017 recipient.
---
About UCSF Psychiatry
The UCSF Department of Psychiatry and the Langley Porter Psychiatric Institute are among the nation's foremost resources in the fields of child, adolescent, adult, and geriatric mental health. Together they constitute one of the largest departments in the UCSF School of Medicine and the UCSF Weill Institute for Neurosciences, with a mission focused on research (basic, translational, clinical), teaching, patient care and public service.
UCSF Psychiatry conducts its clinical, educational and research efforts at a variety of locations in Northern California, including UCSF campuses at Parnassus Heights, Mission Bay and Laurel Heights, UCSF Medical Center, UCSF Benioff Children's Hospitals, Zuckerberg San Francisco General Hospital and Trauma Center, the San Francisco VA Health Care System and UCSF Fresno.
About the UCSF Weill Institute for Neurosciences
The UCSF Weill Institute for Neurosciences, established by the extraordinary generosity of Joan and Sanford I. "Sandy" Weill, brings together world-class researchers with top-ranked physicians to solve some of the most complex challenges in the human brain.
The UCSF Weill Institute leverages UCSF's unrivaled bench-to-bedside excellence in the neurosciences. It unites three UCSF departments—Neurology, Psychiatry, and Neurological Surgery—that are highly esteemed for both patient care and research, as well as the Neuroscience Graduate Program, a cross-disciplinary alliance of nearly 100 UCSF faculty members from 15 basic-science departments, as well as the UCSF Institute for Neurodegenerative Diseases, a multidisciplinary research center focused on finding effective treatments for Alzheimer's disease, frontotemporal dementia, Parkinson's disease, and other neurodegenerative disorders.
About UCSF
UC San Francisco (UCSF) is a leading university dedicated to promoting health worldwide through advanced biomedical research, graduate-level education in the life sciences and health professions, and excellence in patient care. It includes top-ranked graduate schools of dentistry, medicine, nursing and pharmacy; a graduate division with nationally renowned programs in basic, biomedical, translational and population sciences; and a preeminent biomedical research enterprise. It also includes UCSF Health, which comprises top-ranked hospitals – UCSF Medical Center and UCSF Benioff Children's Hospitals in San Francisco and Oakland – and other partner and affiliated hospitals and healthcare providers throughout the Bay Area.