Staff reports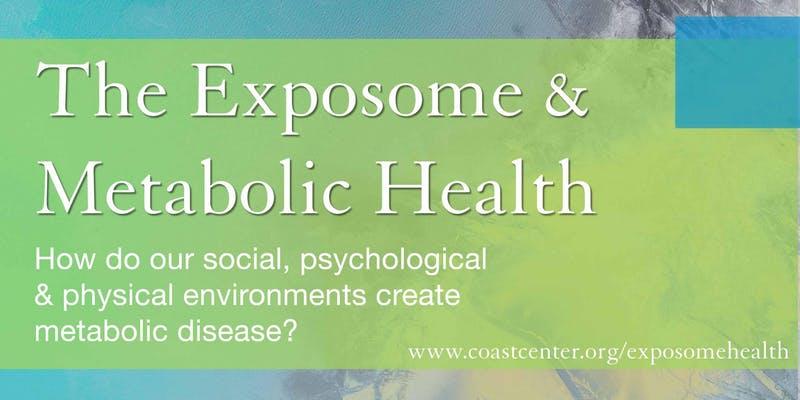 UC San Francisco experts on environmental exposures, social adversity, and health policy will lead "The Exposome and Metabolic Health" on Friday, September 21 in the UCSF Laurel Heights Auditorium from 10 a.m.–4 p.m. (PT).
The event, the 12th annual Consortium for Obesity Assessment Study and Treatment (COAST)/Sugar Stress Environment, and Weight (SSEW) Symposium, will unite researchers, healthcare providers, environmental health experts, and policy advocates from across the University of California system in a day-long conference focusing on how exposures from our environment, both chemical and psychological, get underneath the skin and affect human metabolic health and obesity.
Obesity and related chronic diseases, such as type 2 diabetes, are among the leading health crises of the 21st century and scientists are still trying to understand how our exposome may play a key role. The exposome encompasses all exposures within the human physical and social environments, including air pollution, chemicals, pesticides, processed foods, chronic stress, and even neighborhoods.
The event is free and open to the public, and a free livestream link will be offered to those who register in advance online.
Live-streamed symposium to fuse research and action
"We are at a critical moment in the history of human health and the environment, and the science we will discuss is of utmost important to public health, policy, and individuals. We must raise awareness of how our air, our food, and our social environments are impacting our health in dramatic ways, affecting us now and affecting the next generations," said Elissa Epel, PhD, professor of psychiatry and director of COAST. "This symposium will cover critical new science and policy actions that are of interest to all, from students to scientists to our grandparents."
"Science shows that we are all exposed to multiple industrial chemicals, many of which are a concern for metabolic diseases," added Tracey Woodruff, PhD, MPH, director of the event co-sponsor UCSF Environmental Health Initiative. "Pregnant women, children, communities of color and low-income communities can be more impacted by these exposures increasing the urgency to take actions to prevent harmful exposures" 
A collection of accomplished speakers and panelists will discuss the wide-reaching – yet often invisible impact – of social stress and environmental air and food toxins on obesity:
In addition, a panel of experts led by Laura Schmidt, PhD (UCSF) will explore relevant policy implications and actions. Panelists will include Lauren Zeise, PhD (Caifornia Office of Environmental Health Hazard Assessment), Jeanne Rizzo, RN (Breast Cancer Prevention Partners), and Meg Schwarzman, MD, MPH (UC Berkeley).
Experts to field questions from viewers on Facebook
The University of California will also host a Facebook Live Panel on their page (facebook.com/universityofcalifornia) from 12:30 p.m.–1:00 p.m. Viewers will be able to ask researchers questions on topics such as how environment, diet, and social experiences affect the health of the next generation. The panel will be moderated by Elissa Epel, PhD, and will also include Tracey Woodruff, PhD, MPH (UCSF); Kim Harley, PhD (UC Berkeley); Candice Price, PhD (UC Davis); and Martyn Smith, PhD (UC Berkeley).
"The Exposome and Metabolic Health" is sponsored by COAST, SSEW, the UCSF Nutrition and Obesity Research Center, UCSF Environmental Health Initiative and the UCSF Center for Health and Community. It is led by Epel, Schmidt, and SSEW Executive Director Samantha Schilf.
---
About UCSF Psychiatry
The UCSF Department of Psychiatry and the Langley Porter Psychiatric Institute are among the nation's foremost resources in the fields of child, adolescent, adult, and geriatric mental health. Together they constitute one of the largest departments in the UCSF School of Medicine and the UCSF Weill Institute for Neurosciences, with a mission focused on research (basic, translational, clinical), teaching, patient care and public service.
UCSF Psychiatry conducts its clinical, educational and research efforts at a variety of locations in Northern California, including UCSF campuses at Parnassus Heights, Mission Bay and Laurel Heights, UCSF Medical Center, UCSF Benioff Children's Hospitals, Zuckerberg San Francisco General Hospital and Trauma Center, the San Francisco VA Health Care System and UCSF Fresno.
About the UCSF Weill Institute for Neurosciences
The UCSF Weill Institute for Neurosciences, established by the extraordinary generosity of Joan and Sanford I. "Sandy" Weill, brings together world-class researchers with top-ranked physicians to solve some of the most complex challenges in the human brain.
The UCSF Weill Institute leverages UCSF's unrivaled bench-to-bedside excellence in the neurosciences. It unites three UCSF departments—Neurology, Psychiatry, and Neurological Surgery—that are highly esteemed for both patient care and research, as well as the Neuroscience Graduate Program, a cross-disciplinary alliance of nearly 100 UCSF faculty members from 15 basic-science departments, as well as the UCSF Institute for Neurodegenerative Diseases, a multidisciplinary research center focused on finding effective treatments for Alzheimer's disease, frontotemporal dementia, Parkinson's disease, and other neurodegenerative disorders.
About UCSF
UC San Francisco (UCSF) is a leading university dedicated to promoting health worldwide through advanced biomedical research, graduate-level education in the life sciences and health professions, and excellence in patient care. It includes top-ranked graduate schools of dentistry, medicine, nursing and pharmacy; a graduate division with nationally renowned programs in basic, biomedical, translational and population sciences; and a preeminent biomedical research enterprise. It also includes UCSF Health, which comprises top-ranked hospitals – UCSF Medical Center and UCSF Benioff Children's Hospitals in San Francisco and Oakland – and other partner and affiliated hospitals and healthcare providers throughout the Bay Area.