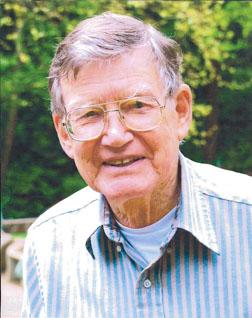 George Chester Stone was born February 21, 1924, the first child of Bessie Jones Stone and Glenn Everett Stone, and older brother of Millie and Robert. George graduated from East Whittier High in 1942 and earned his BA, MA, and PhD degrees, all in psychology, from UC Berkeley.
He married Hannah Zacharin in 1946, and they had four children: Peter, now of Woodside, CA; Lisa of Tucson, AZ and Corbett, OR; Sarah of El Cerrito, CA; and Laura of Cazadero, CA. All survive him.
Dr. Stone is also survived by his second wife, Rosannah Alderson Stone, and his stepson, Justin Alderson of Lynnewood, WA. Among his and Rosannah's five children, George was grandfather to ten grandchildren. He was preceded in death by his parents and his younger brother Bob.
Following his doctoral studies, he and his family moved to Illinois where he worked as a psychopharmaceutical researcher with G.D. Searle & Company. In 1958, he returned to San Francisco to join the faculty of the Langley Porter Neuropsychiatric Program at UCSF.
In 1975, he established the nation's first department of Health Psychology. He was the lead editor of the foundational text for this new field of psychology, and served as founding editor of the division's journal
Health Psychology
. He was on staff at UCSF for 31 years.
Dr. Stone retired from UCSF in 1990 and moved with his wife Rosannah to Portland, OR. He accelerated his environmental activism, establishing the Interfaith Network for Earth Concerns (INEC). As a member of Reedwood Friends Church, he volunteered numerous hours serving homeless families in the church's family shelter. He was also a co-founder of Cascadia Commons Cohousing Community.
In the last decade of his life, George dealt with Parkinson's disease, succumbing peacefully on July 13, 2013.
A memorial celebration of George's life will be held at Cascadia Commons, 4377 SW 94th Avenue, Portland, OR, 97225, on Saturday, July 27 at 2:00 p.m.