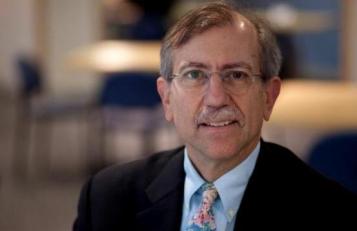 Following a national search, the UCSF Department of Psychiatry and UCSF Benioff Children's Hospital are pleased to announce the appointment of Bryan H. King, MD, MBA, as Professor of Psychiatry and Vice Chair of Child and Adolescent Psychiatry for UCSF Health, as well as Vice President for Child Behavioral Health Services at UCSF Benioff Children's Hospitals, effective August 1, 2016.
King will lead UCSF Psychiatry's continued expansion and integration of child and adolescent-focused psychiatric and behavioral services across the UCSF Health system, as well as develop initiatives to further enhance patient access and delivery of patient-centered care. He will also play a key role in integrating child mental health services across Benioff Childrens Hospital campuses in Oakland and San Francisco, and in the planning and development of the Child, Teen and Family Center, which will serve as the centerpiece of a future UCSF mental health facility in San Francisco's Dogpatch neighborhood near UCSF Mission Bay. In addition, King will work to enhance and expand collaborative relationships with other UCSF sites, departments, and community partners.
A graduate of the Medical College of Wisconsin and the George Washington University School of Business, King has previously held faculty appointments at the UCLA David Geffen School of Medicine and Dartmouth Medical School. He has worked in a number of key clinical leadership positions at Seattle Children's Hospital, the Dartmouth-Hitchcock Medical Center and Children's Hospital at Dartmouth-Hitchcock, and the UCLA Neuropsychiatric Institute and Hospital, in addition to serving as medical director for State of New Hampshire's Division of Developmental Services for a four-year span beginning in 2001.
In 2005, King was named professor, vice chair, and director of child and adolescent psychiatry at the University of Washington, as well as chair of the Department of Psychiatry and Behavioral Health at Seattle Children's Hospital. Since 2009, he has also served as the founding director of the Seattle Children's Autism Center. In these positions, he has overseen an incredible expansion of psychiatric services for the children and families of Seattle and the state of Washington.
During his tenure at UW and Seattle Children's, King's departments have doubled in both faculty size and inpatient capacity, improved clinical productivity, and launched new clinical programs which have become national models for excellence in the field. His efforts have led to a substantial increase in philanthropic and extramural research funding enabling focused initiatives in the areas of autism and neurodevelopmental disorders, pediatric psychology and behavioral medicine, mood disorders, and disruptive behavior disorders.
King is a member of the American Psychiatric Association (APA) and the American College of Psychiatrists (ACP), a Distinguished Fellow of the American Academy of Child and Adolescent Psychiatry (AACAP), and a Fellow of the Benjamin Rush Society. He has been the recipient of numerous awards and honors throughout his career, including AACAP's George Trajan Award for Contributions in Developmental Disabilities (1995) and APA's Frank J. Menolascino Award for Psychiatric Services for Persons with Intellectual Development Disorders/Developmental Disabilities (2001).
Over the past 25 years, King has served on numerous APA committees, including its Committee on Mental Retardation (1991-1995), the Committee on Developmental Disabilities (2002-2005), and the DSM-5 Work Group on Neurodevelopmental Disorders (2007-2013). Since 2008, he has served as co-chair of the AACAP's Committee on Autism and Intellectual Disabilities.
King is also a highly accomplished researcher, having authored more than 120 academic publications. Over the past decade alone, he has been awarded over $12 million in National Institutes of Health (NIH) research funding. King currently serves on the editorial boards of the Journal of Mental Health Research in Intellectual Disabilities, Journal of Autism Research and Treatment, and World Journal of Pediatrics.
"I could not be more thrilled to have Bryan joining us at UCSF. He will have an enormous impact on our efforts to expand pediatric mental health services at all of our sites, to reach out to community partners, and to integrate care across Benioff Childrens Hospital campuses." said Matthew W. State, MD, PhD, Oberndorf Family Distinguished Professor, Chair of the UCSF Department of Psychiatry, and Director of the Langley Porter Psychiatric Institute. "He is a world leader in neurodevelopmental disorders and a highly experienced and accomplished leader in children's and adolescent psychiatry broadly. He brings a unique set of skills to UCSF combining clinical, research, educational and administrative excellence."
 
---
About UCSF Psychiatry
The UCSF Department of Psychiatry and the Langley Porter Psychiatric Institute are among the nation's foremost resources in the fields of child, adolescent, adult, and geriatric mental health. Together they constitute one of the largest departments in the UCSF School of Medicine and the UCSF Weill Institute for Neurosciences, with a mission focused on research (basic, translational, clinical), teaching, patient care, and public service. UCSF Psychiatry conducts its clinical, educational, and research efforts at a variety of locations in Northern California, including UCSF campuses at Parnassus Heights, Mission Bay, and Laurel Heights, the UCSF Medical Center at Mt. Zion, Zuckerberg San Francisco General Hospital and Trauma Center, the San Francisco VA Health Care System, and UCSF Fresno.
About UCSF
UC San Francisco (UCSF) is a leading university dedicated to promoting health worldwide through advanced biomedical research, graduate-level education in the life sciences and health professions, and excellence in patient care. It includes top-ranked graduate schools of dentistry, medicine, nursing and pharmacy; a graduate division with nationally renowned programs in basic, biomedical, translational, and population sciences; and a preeminent biomedical research enterprise. It also includes UCSF Health, which comprises two top-ranked hospitals, UCSF Medical Center and UCSF Benioff Children's Hospital San Francisco, and other partner and affiliated hospitals and healthcare providers throughout the Bay Area.