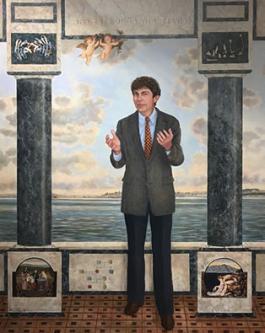 The UCSF Department of Psychiatry will launch a new special distinguished visiting lectureship series this spring highlighting the integration of biological sciences and psychiatry in honor of Jeanne and Sanford Robertson Endowed Chair and Chair Emeritus Samuel Barondes, MD.
The inaugural lecture will be held at 3 p.m. on Friday, April 28, 2017 in Genetech Hall's Byers Auditorium on the UCSF Mission Bay campus. Following brief remarks by Barondes and current department chair Matthew W. State, MD, PhD, Stanford University's Karl Deisseroth, MD, PhD, will deliver the keynote address, "Nature's Gift: How the Discovery of Structural Principles in a Microbial Protein Helped Illuminate the Pathophysiology of Psychiatry." A reception will immediately follow the presentation in the Genentech Hall Atrium.
The event is free and open to the public, although attendees should keep in mind that the talk will be geared towards a scientific and medical professional audience. Tickets are now available online at psychiatry.ucsf.edu/barondes.
About Samuel Barondes
Samuel Barondes was an undergraduate and medical student at Columbia University and was trained in clinical medicine and psychiatry at the Peter Bent Brigham, McLean, and Massachusetts General hospitals. He learned to do research in molecular biology at the National Institutes of Health as a postdoc with Gordon Tomkins and with Marshall Nirenberg, in whose laboratory he contributed to the Nobel Prize-winning studies that deciphered the genetic code.
Thereafter, Barondes devoted himself to integrating psychiatry with molecular biology and neuroscience. He has been a professor at the University of California since 1969, first at its San Diego campus where he was a founding member of the Department of Psychiatry and the Neuroscience Program, and, since 1986, at its San Francisco campus, where he was, for seven years, Chairman of the Department of Psychiatry and Director of its Langley Porter Psychiatric Institute and then Jeanne and Sanford Robertson Endowed Chair and Director of the Center for Neurobiology and Psychiatry. Throughout his time at UCSF he has been Chair of the Chancellor's Art Committee, overseeing the acquisition and commissioning of hundreds of works, with special emphasis on the J. Michael Bishop Collection at Mission Bay.
Barondes is a member of the National Academy of Medicine, and a fellow of the American Academy of Arts and Sciences. In 1976 he was a founder of the McKnight Neuroscience Program, which he served as its President for ten years. He has also served NIMH throughout his career, including as Chair of its Board of Scientific Counselors. In addition to his 200 research publications, Barondes has edited two academic books, "Cellular Dynamics of the Neuron" (1969) and "Neuronal Recognition" (1976) and written five books for a general audience: "Molecules and Mental Illness" (1993); "Mood Genes" (1998); "Better Than Prozac" (2003); "Making Sense of People" (2011, 2016); and "Before I Sleep: Poems For Children Who Think" (2014).
About Karl Deisseroth
Karl Deisseroth is the D.H. Chen Professor of Bioengineering and of Psychiatry and Behavioral Sciences at Stanford University, and Investigator of the Howard Hughes Medical Institute. He received his undergraduate degree from Harvard, and his MD and PhD from Stanford, where he also completed his postdoctoral training, medical internship, and adult psychiatry residency. He continues as a practicing psychiatrist at Stanford with specialization in affective disorders and autism-spectrum disease, employing medications along with neural stimulation. In the engineering school he developed and launched the undergraduate degree in bioengineering, and continues to serve as Director of Undergraduate Education in Bioengineering.

Over a period of less than twelve years, Deisseroth's laboratory created and developed both optogenetics (a technology for precisely controlling millisecond-scale activity patterns in specific cell types using microbial opsin genes and fiberoptic-based neural interfaces) and CLARITY (a technology for creating composites of biological molecules in tissue covalently linked to polymer hydrogels, which allows high-resolution optical access to structural and molecular detail within intact tissues). He has employed his technologies to discover the neural cell types and connections that cause adaptive and maladaptive behaviors, and has disseminated the technologies to thousands of laboratories around the world.
Deisseroth is a member of the National Academy of Medicine, the US National Academy of Sciences, and the German National Academy of Sciences (Leopoldina), and a foreign adjunct professor at the Karolinska Institute. He has received or shared many prizes for his work including the Koetser Prize, Nakasone Prize, Alden Spencer Prize, Richard Lounsbery Prize,Dickson Prize in Science, Keio Prize, Lurie Prize, Albany Prize, Dickson Prize in Medicine, Redelsheimer Prize, Zuelch Prize, Perl Prize, BRAIN Prize, Pasarow Prize, Breakthrough Prize, Massry Prize, and Harvey Prize.
---
About UCSF Psychiatry
The UCSF Department of Psychiatry and the Langley Porter Psychiatric Institute are among the nation's foremost resources in the fields of child, adolescent, adult, and geriatric mental health. Together they constitute one of the largest departments in the UCSF School of Medicine and the UCSF Weill Institute for Neurosciences, with a mission focused on research (basic, translational, clinical), teaching, patient care and public service.
UCSF Psychiatry conducts its clinical, educational and research efforts at a variety of locations in Northern California, including UCSF campuses at Parnassus Heights, Mission Bay and Laurel Heights, UCSF Medical Center, UCSF Benioff Children's Hospitals, Zuckerberg San Francisco General Hospital and Trauma Center, the San Francisco VA Health Care System and UCSF Fresno.
About the UCSF Weill Institute for Neurosciences
The UCSF Weill Institute for Neurosciences, established by the extraordinary generosity of Joan and Sanford I. "Sandy" Weill, brings together world-class researchers with top-ranked physicians to solve some of the most complex challenges in the human brain.
The UCSF Weill Institute leverages UCSF's unrivaled bench-to-bedside excellence in the neurosciences. It unites three UCSF departments—Neurology, Psychiatry, and Neurological Surgery—that are highly esteemed for both patient care and research, as well as the Neuroscience Graduate Program, a cross-disciplinary alliance of nearly 100 UCSF faculty members from 15 basic-science departments, as well as the UCSF Institute for Neurodegenerative Diseases, a multidisciplinary research center focused on finding effective treatments for Alzheimer's disease, frontotemporal dementia, Parkinson's disease, and other neurodegenerative disorders.
About UCSF
UC San Francisco (UCSF) is a leading university dedicated to promoting health worldwide through advanced biomedical research, graduate-level education in the life sciences and health professions, and excellence in patient care. It includes top-ranked graduate schools of dentistry, medicine, nursing and pharmacy; a graduate division with nationally renowned programs in basic, biomedical, translational and population sciences; and a preeminent biomedical research enterprise. It also includes UCSF Health, which comprises top-ranked hospitals – UCSF Medical Center and UCSF Benioff Children's Hospitals in San Francisco and Oakland – and other partner and affiliated hospitals and healthcare providers throughout the Bay Area.