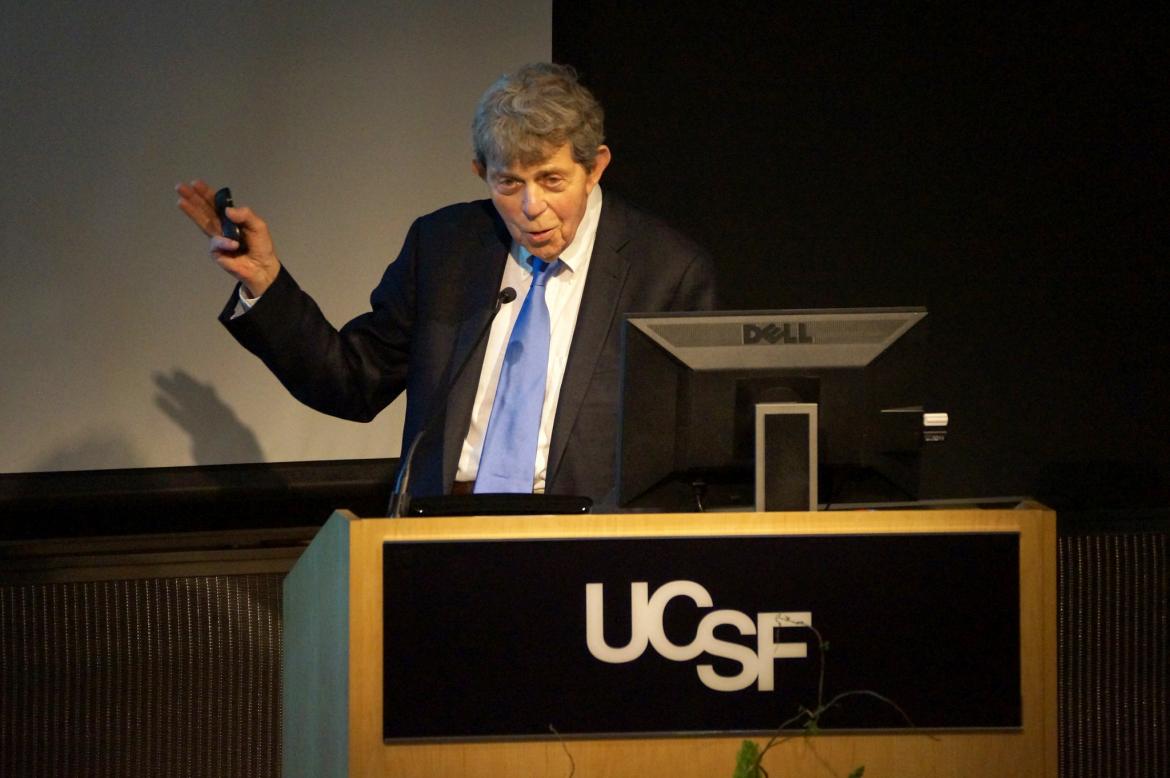 Colleagues, friends, and family packed Genentech Hall on the UCSF Mission Bay campus on April 28, 2017, for the inaugural Samuel Barondes Lecture. The new special distinguished visiting lectureship series was founded to highlight the integration of psychiatry and biological sciences in honor of Chair Emeritus Samuel Barondes, MD.
Barondes, who also holds the Jeanne and Sanford Robertston Endowed Chair in Neurobiology and Psychiatry, was on hand at the event to deliver opening remarks about his career and influences, highlighting his professional stops at the National Institutes of Health, Harvard Medical School, Albert Einstein College of Medicine, UC San Diego, and UC San Francisco. 
"I am deeply honored that this lectureship is being set up in my name," he told the audience. "It's my hope that, from year to year, it will keep chronicling the advances that we will depend on to address the still daunting problems of mental illness. It is my hope that it will be an annual opportunity for the UCSF community to take clear note of and celebrate inspiring and practical achievements in the field."
Barondes is one of the preeminent neuropsychiatrists of the last half-century, playing a major part in developing and expanding molecular and genetic approaches to psychiatry and neuroscience. He joined the faculty at UCSF in 1986 and served as chair of the Department of Psychiatry and director of the Langley Porter Psychiatric Institute until 1993, when he founded the UCSF Center for Neurobiology and Psychiatry. From 1989 to 1998, Barondes also served as president of the McKnight Endowment Fund for Neuroscience. 
In 1988, he was awarded Estonia's Herman Stillmark Lectin Centennial Medal and was named the 30th J. Robert Oppenheimer Memorial Lecturer in 2000. He received the J. Elliot Royer Award in Psychiatry and was elected to the Institute of Medicine (now known as the National Academy of Medicine) in 1990.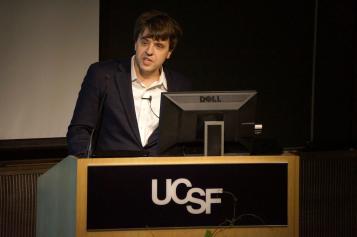 Barondes has written nearly 200 peer-reviewed scientific studies and several books for lay audiences, including "Molecules and Mental Illness" (1993), "Mood Genes: Hunting for Origins of Mania and Depression" (1998), "Better Than Prozac: Creating the Next Generation of Psychiatric Drugs" (2003), and "Making Sense of People: Decoding the Mysteries of Personality" (2011).
Following Barondes' remarks, Stanford University's Karl Deisseroth, MD, PhD, delivered the keynote lecture, "Nature's Gift: How the Discovery of Structural Principles in a Microbial Protein Helped Illuminate the Pathophysiology of Psychiatry."
Video of Deisseroth's lecture will be made available at a later date, pending publication of the research behind the talk.
Related links
---
About UCSF Psychiatry
The UCSF Department of Psychiatry and the Langley Porter Psychiatric Institute are among the nation's foremost resources in the fields of child, adolescent, adult, and geriatric mental health. Together they constitute one of the largest departments in the UCSF School of Medicine and the UCSF Weill Institute for Neurosciences, with a mission focused on research (basic, translational, clinical), teaching, patient care and public service.
UCSF Psychiatry conducts its clinical, educational and research efforts at a variety of locations in Northern California, including UCSF campuses at Parnassus Heights, Mission Bay and Laurel Heights, UCSF Medical Center, UCSF Benioff Children's Hospitals, Zuckerberg San Francisco General Hospital and Trauma Center, the San Francisco VA Health Care System and UCSF Fresno.
About the UCSF Weill Institute for Neurosciences
The UCSF Weill Institute for Neurosciences, established by the extraordinary generosity of Joan and Sanford I. "Sandy" Weill, brings together world-class researchers with top-ranked physicians to solve some of the most complex challenges in the human brain.
The UCSF Weill Institute leverages UCSF's unrivaled bench-to-bedside excellence in the neurosciences. It unites three UCSF departments—Neurology, Psychiatry, and Neurological Surgery—that are highly esteemed for both patient care and research, as well as the Neuroscience Graduate Program, a cross-disciplinary alliance of nearly 100 UCSF faculty members from 15 basic-science departments, as well as the UCSF Institute for Neurodegenerative Diseases, a multidisciplinary research center focused on finding effective treatments for Alzheimer's disease, frontotemporal dementia, Parkinson's disease, and other neurodegenerative disorders.
About UCSF
UC San Francisco (UCSF) is a leading university dedicated to promoting health worldwide through advanced biomedical research, graduate-level education in the life sciences and health professions, and excellence in patient care. It includes top-ranked graduate schools of dentistry, medicine, nursing and pharmacy; a graduate division with nationally renowned programs in basic, biomedical, translational and population sciences; and a preeminent biomedical research enterprise. It also includes UCSF Health, which comprises top-ranked hospitals – UCSF Medical Center and UCSF Benioff Children's Hospitals in San Francisco and Oakland – and other partner and affiliated hospitals and healthcare providers throughout the Bay Area.