Ricardo F. Muñoz, PhD, professor emeritus of psychology at the University of California, San Francisco, has been named a Fellow of the American Association for the Advancement of Science (AAAS). Election as an AAAS Fellow is an honor bestowed upon AAAS members by their peers.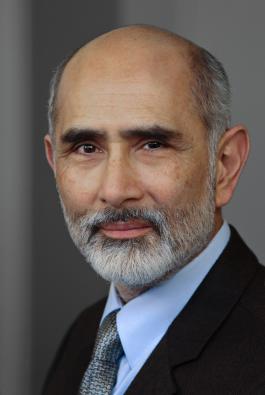 This year, 391 members were awarded this honor by AAAS because of their scientifically or socially distinguished efforts to advance science or its applications. The tradition of AAAS Fellows began in 1874.
Currently, members can be considered for the rank of fellow if nominated by the steering groups of the association's 24 sections, or by any three fellows who are current AAAS members (so long as two of the three sponsors are not affiliated with the nominee's institution), or by the AAAS chief executive officer. Each steering group reviews the nominations of individuals within its respective section and a final list is forwarded to the AAAS Council, which votes on the aggregate list.
New fellows will be presented with an official certificate and a gold and blue (representing science and engineering, respectively) rosette pin next February at the AAAS Fellows Forum during the 2017 AAAS Annual Meeting in Boston, Mass.
This year's AAAS Fellows will be formally announced in the AAAS News & Notes section of the journal Science on November 25, 2016.
A lifetime of leadership in clinical and digital mental health care
As part of the Section on Psychology, Muñoz was elected as an AAAS Fellow for his distinguished contributions towards the prevention of major depression and the development of internet interventions to improve mental health worldwide. He is a depression prevention and treatment researcher, and currently serves as a distinguished professor of clinical psychology at Palo Alto University.
From 1977 to 2012, Muñoz was a professor of psychology at the UCSF Department of Psychiatry, based at the then-San Francisco General Hospital (now Zuckerberg San Francisco General Hospital and Trauma Center), where he served as chief psychologist for 26 years. Muñoz has been the recipient of numerous awards, including UCSF's Martin Luther King, Jr. Leadership Award (1991), the National Mental Health Association's Lela Rowland Prevention Award (1994), and UCSF Psychiatry's George Sarlo Award for Excellence in Teaching (2001). He was named a fellow of the American Psychological Society in 1994.
Muñoz has been a pioneer in the development of internet interventions for health since the 1990's and was a founding member of the board of directors for the International Society for Research on Internet Interventions from 2010 to 2013. He has most recently founded i4Health, an institute dedicated to developing, evaluating, and disseminating evidence-based psychological interventions in multiple languages for people worldwide using internet sites and mobile applications.
He immigrated from Perú to San Francisco's Mission District in 1961 at the age of 10. He did his undergraduate work at Stanford University and received a masters and doctorate in clinical psychology from the University of Oregon in Eugene. In 1977, Muñoz became the first psychologist to join the UCSF Psychiatry faculty at SFGH. He founded the SFGH Depression Clinic, UCSF's first cognitive behavioral service, in 1985, and the UCSF/SFGH Latino Mental Health Research Program in 1992. He became chief psychologist at SFGH in 1986 and served as the director of the Clinical Psychology Training Program from 1992 to 2012.
His research focuses on the development of prevention and treatment interventions for depression and applications of these methods to help people stop smoking. Muñoz began work on international, randomized trials via the internet in 1998, and founded the UCSF/SFGH Internet World Health Research Center in 2004. He was the principal investigator on the first randomized, controlled trial to prevent major depression, and served on Institute of Medicine committees which produced major reports on prevention of mental disorders in 1994 and 2009. His latest contributions to the field of depression prevention include articles in the Annual Review of Clinical Psychology (2010), American Psychologist (2012), and a chapter in the Handbook of Depression, Third Edition (2015).
 
---
About AAAS
The American Association for the Advancement of Science (AAAS) is the world's largest general scientific society and publisher of the journal Science as well as Science Translational Medicine, Science Signaling, a digital, open-access journal, Science Advances, Science Immunology, and Science Robotics. AAAS was founded in 1848 and includes nearly 250 affiliated societies and academies of science, serving 10 million individuals. Science has the largest paid circulation of any peer-reviewed general science journal in the world. The non-profit AAAS is open to all and fulfills its mission to "advance science and serve society" through initiatives in science policy, international programs, science education, public engagement, and more.
About UCSF Psychiatry
The UCSF Department of Psychiatry and the Langley Porter Psychiatric Institute are among the nation's foremost resources in the fields of child, adolescent, adult, and geriatric mental health. Together they constitute one of the largest departments in the UCSF School of Medicine and the UCSF Weill Institute for Neurosciences, with a mission focused on research (basic, translational, clinical), teaching, patient care, and public service.
UCSF Psychiatry conducts its clinical, educational, and research efforts at a variety of locations in Northern California, including UCSF campuses at Parnassus Heights, Mission Bay, and Laurel Heights, the UCSF Medical Center at Mt. Zion, Zuckerberg San Francisco General Hospital and Trauma Center, the San Francisco VA Health Care System, and UCSF Fresno.
About the UCSF Weill Institute for Neurosciences
The UCSF Weill Institute for Neurosciences, established by the extraordinary generosity of Joan and Sanford I. "Sandy" Weill, brings together world-class researchers with top-ranked physicians to solve some of the most complex challenges in the human brain.
The UCSF Weill Institute leverages UCSF's unrivaled bench-to-bedside excellence in the neurosciences. It unites three UCSF departments—Neurology, Psychiatry, and Neurological Surgery—that are highly esteemed for both patient care and research, as well as the Neuroscience Graduate Program, a cross-disciplinary alliance of nearly 100 UCSF faculty members from 15 basic-science departments, as well as the UCSF Institute for Neurodegenerative Diseases, a multidisciplinary research center focused on finding effective treatments for Alzheimer's disease, frontotemporal dementia, Parkinson's disease, and other neurodegenerative disorders.
About UCSF
UC San Francisco (UCSF) is a leading university dedicated to promoting health worldwide through advanced biomedical research, graduate-level education in the life sciences and health professions, and excellence in patient care. It includes top-ranked graduate schools of dentistry, medicine, nursing and pharmacy; a graduate division with nationally renowned programs in basic, biomedical, translational and population sciences; and a preeminent biomedical research enterprise. It also includes UCSF Health, which comprises two top-ranked hospitals, UCSF Medical Center and UCSF Benioff Children's Hospital San Francisco, and other partner and affiliated hospitals and healthcare providers throughout the Bay Area.