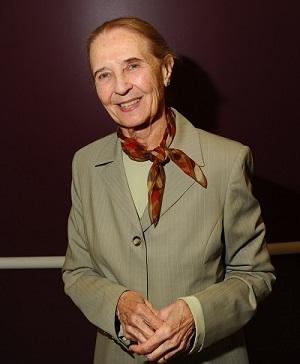 A special celebration of life will be held for UC San Francisco Clinical Professor of Psychiatry (retired) Marilyn Reed Lucia, MD, on Wednesday, April 12 at 5:30 p.m. at 610 Parnassus Ave. for her groundbreaking work that led to the development of the statewide University of California child care system.
Lucia died suddenly on Nov. 18, 2016. Her life is closely linked with UCSF, where she graduated from medical school in 1956 as one of only three women in her class. Lucia later went on to complete her residency in psychiatry and child psychiatry.
After medical school, she interned at Stanford University and then completed her residency in psychiatry at UCSF's Langley Porter Neuropsychiatric Institute. Her interest in child care evolved after she completed her residencies in child psychiatry at Mount Zion Hospital and community psychiatry. As her professional training and personal life coalesced, her interest in creating a child care study center took shape.
Diane Wara, MD, retired chief of Pediatric Immunology and Rheumatology and program director of the Pediatric Clinical Research Center at UCSF Benioff Children's Hospital, served as the first chair of the Chancellor's Advisory Committee on Child Care. She worked closely with Lucia on the committee.
"Marilyn, had of course, initiated the university's first child care facility," Wara said. "She was an enormous help on the committee. She had historical perspective and terrific ideas. Marilyn was wonderful to work with, she was a very kind, intuitive woman with great ideas and she attended almost every meeting for nearly 10 years."
With the encouragement of UCSF Chancellor Willard Fleming, Lucia initiated Assembly Bill 687 in 1968, which authorized the Regents of the University of California and the Trustees of the California State Colleges to establish and maintain children's centers on their respective campuses. A year later, she initiated Assembly Bill 2261 which authorized funds for the construction and support of a Children's Center at UCSF.
These bills opened the way for the eventual establishment of children's centers on all CSU and UC campuses. In 1968, land was set aside at UCSF and funding was approved which started the process leading to development of the children's center on campus in 1980. The center was named UCSF Marilyn Reed Lucia Child Care Study Center on Oct. 8, 1986, on Lucia's birthday.
UCSF now has four licensed child care centers on three campuses. They serve children from three months to five-years-old. The programs facilitate many areas of growth in young children, from social skills to problem-solving skills, all in a supportive and nurturing environment.
Lucia lived by the motto, "All our dreams can come true if we have the courage to pursue them." This was especially true in the case of her son, Darryl Reed Lucia, who was born in 1961 with severe facial deformities.
Her advocacy for Darryl led to a model of early childhood education for both children and parents. The vision was to study children from their natural behavior. She did not believe in a passive nursery where kids were simply dropped off. That is illustrated in the UCSF child care centers today, where caregivers work together to plan and implement a variety of activities for infants and toddlers to develop their whole selves through playing, learning, and exploring.
The campus community is invited join in honoring the life of Lucia on Wednesday, April 12 at 5:30 p.m. at the Marilyn Reed Lucia Child Care Study Center at 610 Parnassus Ave.
Further reading
---
About UCSF Psychiatry
The UCSF Department of Psychiatry and the Langley Porter Psychiatric Institute are among the nation's foremost resources in the fields of child, adolescent, adult, and geriatric mental health. Together they constitute one of the largest departments in the UCSF School of Medicine and the UCSF Weill Institute for Neurosciences, with a mission focused on research (basic, translational, clinical), teaching, patient care and public service.
UCSF Psychiatry conducts its clinical, educational and research efforts at a variety of locations in Northern California, including UCSF campuses at Parnassus Heights, Mission Bay and Laurel Heights, UCSF Medical Center, UCSF Benioff Children's Hospitals, Zuckerberg San Francisco General Hospital and Trauma Center, the San Francisco VA Health Care System, and UCSF Fresno.
About the UCSF Weill Institute for Neurosciences
The UCSF Weill Institute for Neurosciences, established by the extraordinary generosity of Joan and Sanford I. "Sandy" Weill, brings together world-class researchers with top-ranked physicians to solve some of the most complex challenges in the human brain.
The UCSF Weill Institute leverages UCSF's unrivaled bench-to-bedside excellence in the neurosciences. It unites three UCSF departments—Neurology, Psychiatry, and Neurological Surgery—that are highly esteemed for both patient care and research, as well as the Neuroscience Graduate Program, a cross-disciplinary alliance of nearly 100 UCSF faculty members from 15 basic-science departments, as well as the UCSF Institute for Neurodegenerative Diseases, a multidisciplinary research center focused on finding effective treatments for Alzheimer's disease, frontotemporal dementia, Parkinson's disease, and other neurodegenerative disorders.
About UCSF
UC San Francisco (UCSF) is a leading university dedicated to promoting health worldwide through advanced biomedical research, graduate-level education in the life sciences and health professions, and excellence in patient care. It includes top-ranked graduate schools of dentistry, medicine, nursing and pharmacy; a graduate division with nationally renowned programs in basic, biomedical, translational and population sciences; and a preeminent biomedical research enterprise. It also includes UCSF Health, which comprises top-ranked hospitals – UCSF Medical Center and UCSF Benioff Children's Hospitals in San Francisco and Oakland – and other partner and affiliated hospitals and healthcare providers throughout the Bay Area.