UCSF Psychiatry Staff Reports
 
The Brain Health Registry (BHR), a free online platform with over 52,000 participants, has launched a new initiative called the Caregiver and Study Partner Portal (CASPP). This innovative tool allows BHR participants to designate someone who knows them well, such as a family member or close friend, to join BHR as their study partner. The information gathered from the participant-study partner pair can be used to better identify those at risk for developing brain disease. CASPP will facilitate Alzheimer's research at first and then expand to different types of clinical research, including recruitment for clinical trials and screening for cognitive decline.
"Study partners are an essential part of brain health research, especially in the Alzheimer's disease field, when the person with Alzheimer's may lose insight about their own ability to think and remember things," said Michael Weiner, MD, BHR principal investigator and Professor of Radiology and Biomedical Engineering, Medicine, Psychiatry, and Neurology at UC San Francisco. "Study partners can give unique insight into a person's day-to-day functioning and quality of life, outcomes that are important to families, but often left out of traditional research."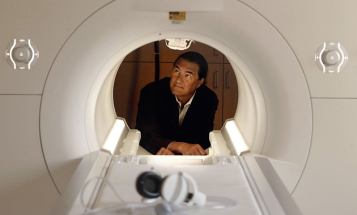 Study partner participation is often required for enrollment in a clinical trial, but until now there has been no way to gather this information remotely from large numbers of people. By using an online tool and leveraging the large number of people already enrolled in BHR, the CASPP can help researchers and clinicians better incorporate the viewpoint of study partners into their studies and care plans.
Study partners can enroll online and answer questions about the participant, such as about recent changes in the person's memory or thinking. Study partners also answer questions about themselves, such as whether they are a caregiver, and if so, how that affects their own health. Those interested join the main BHR study and complete "My Study Partner" in their task list. The study partner will receive an email invitation to join the CASPP. The study is open to all adults age 18 and over, whether or not they are a caregiver, study partner, or would just like to enroll themselves.
Unique benefits of using study partner-reported outcomes
Researchers have long appreciated the value of a study partner's perspective. In some cases, a study partner's report may be more accurate than the person's self-evaluation of their ability to function. Allowing a study partner to be a primary point of contact can help to recruit participants who may be too impaired or embarrassed to initiate contact themselves.
Focus on caregivers
Brain diseases affect an entire community, not just a patient. For study partners who are also caregivers, BHR has teamed up with experts at the UCSF Stress Measurement Network, led by Elissa Epel, PhD, to identify study partners who are also caregivers, and learn about their experience. The ultimate goal is to improve caregiver health by better understanding the role of caregiver stress.
---
About Brain Health Registry
Brain Health Registry (BHR) is a free, online platform designed to speed the path to effective treatments for Alzheimer's, Parkinson's, depression, PTSD, mild cognitive impairment, and other brain disorders. BHR gathers data from volunteers who have registered and completed questionnaires and cognitive tests on the BHR website. BHR aims to reduce the cost of patient recruitment for clinical trials by building a large online pool of potential candidates. BHR has referred more than 10,000 registrants into research studies. The registry is led by Dr. Michael Weiner, Professor of Radiology and Biomedical Engineering, Medicine, Psychiatry and Neurology at the University of California, San Francisco (UCSF), along with other UCSF researchers and leading scientific institutions. For more information, visit brainhealthregistry.org.
About UCSF Psychiatry
The UCSF Department of Psychiatry and the Langley Porter Psychiatric Institute are among the nation's foremost resources in the fields of child, adolescent, adult, and geriatric mental health. Together they constitute one of the largest departments in the UCSF School of Medicine and the UCSF Weill Institute for Neurosciences, with a mission focused on research (basic, translational, clinical), teaching, patient care and public service.
UCSF Psychiatry conducts its clinical, educational and research efforts at a variety of locations in Northern California, including UCSF campuses at Parnassus Heights, Mission Bay and Laurel Heights, UCSF Medical Center, UCSF Benioff Children's Hospitals, Zuckerberg San Francisco General Hospital and Trauma Center, the San Francisco VA Health Care System and UCSF Fresno.
About the UCSF Weill Institute for Neurosciences
The UCSF Weill Institute for Neurosciences, established by the extraordinary generosity of Joan and Sanford I. "Sandy" Weill, brings together world-class researchers with top-ranked physicians to solve some of the most complex challenges in the human brain.
The UCSF Weill Institute leverages UCSF's unrivaled bench-to-bedside excellence in the neurosciences. It unites three UCSF departments—Neurology, Psychiatry, and Neurological Surgery—that are highly esteemed for both patient care and research, as well as the Neuroscience Graduate Program, a cross-disciplinary alliance of nearly 100 UCSF faculty members from 15 basic-science departments, as well as the UCSF Institute for Neurodegenerative Diseases, a multidisciplinary research center focused on finding effective treatments for Alzheimer's disease, frontotemporal dementia, Parkinson's disease, and other neurodegenerative disorders.
About UCSF
UC San Francisco (UCSF) is a leading university dedicated to promoting health worldwide through advanced biomedical research, graduate-level education in the life sciences and health professions, and excellence in patient care. It includes top-ranked graduate schools of dentistry, medicine, nursing and pharmacy; a graduate division with nationally renowned programs in basic, biomedical, translational and population sciences; and a preeminent biomedical research enterprise. It also includes UCSF Health, which comprises top-ranked hospitals – UCSF Medical Center and UCSF Benioff Children's Hospitals in San Francisco and Oakland – and other partner and affiliated hospitals and healthcare providers throughout the Bay Area.