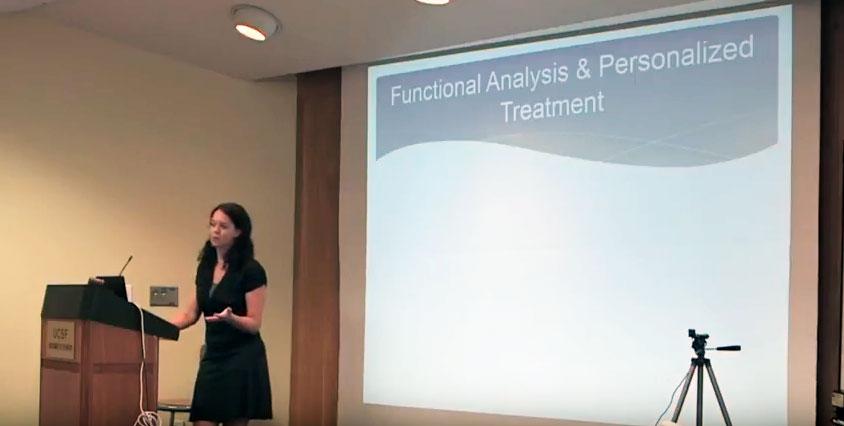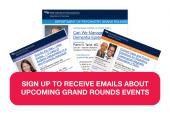 The UCSF Child and Adolescent Psychiatry Grand Rounds series (course number MGR21005) seeks to promote excellence and quality in clinical care; introduce clinicians to recent advances in medical care; provide updates on scientific advances that affect the practice of medicine; and provide a forum for discussion of topics that strengthen the relationship of child and adolescent psychiatry to the broader community.
Events are held on Wednesdays from noon–1:00 p.m.. All events will be held online via Zoom for the foreseeable future in accordance with the UCSF Interim Policy on Large Events and Gatherings. Click on a date below for speaker details, learning objectives, simulcast locations, and more information.
2020-2021 Child and Adolescent Psychiatry Grand Rounds

 

Date

Speaker(s)

Topic

Location/Archive*

09/09/20
Chuan-Mei Lee, MD
Petra Steinbuchel, MD
Psychiatry Consultation to Pediatrics: Expanding Access to Mental Health Care
Watch video
09/16/20
Michelle Rozenman, PhD
Pediatric Anxiety and OCD During COVID-19: Evidence-Based Treatment Targets (and What We Don't Know Yet)
-
09/23/20
Natalie Todd, PsyD
Coping With Microaggressions and Strategies to Manage Minority Stress
Watch video
09/30/20
Rhea W. Boyd, MD, MPH
Pandemics, Policing, and Protest: On Racism and Health and Where We Go From Here
Watch video
10/14/20
Francis G. Lu, MD
DSM-5 Outline for Cultural Formulation and Cultural Formation Interview: Tools for Culturally Competent Care
Watch video
View handout
10/28/20
Xiomara P. Urban, MD
CAP Fellow Presentation
From Big T's to Little T's With Criterion A: A Historical Review of Diagnostic Specifications, Impact in Pediatric Populations, and Considerations for Providing Informed Care
Watch video
View slides
11/18/20
Helena Hansen, MD, PhD
Beyond Magic Bullets: White Race as Social Determinant of the Opioid Crisis
Watch video
View slides
12/09/20
Matthew Capriotti, PhD
Translating Evidence-Based Interventions to Telehealth Modalities: The Case of Behavior Therapy for Tourette Syndrome
Watch video
View slides
12/16/20
Susan Ye-Bates, MD
CAP Fellow Presentation
Anti-NMDA Receptor Encephalitis: "Brain on Fire"
Watch video
View slides
01/13/21
Daniel Siegel, MD
The Power of Showing Up: How Teacher and Parental Presence Shape Who Our Children Become and How Their Brains Get Wired
Watch video
01/20/21
Stacie Collins, MD
CAP Fellow Presentation
More Than Skin Deep: Exploring Racial Trauma
Watch video
View slides
02/10/21
Casey Von Drehle, DO
CAP Fellow Presentation
Double Helix Rainbow Kids: ASD and Gender Diversity
Watch video
View slides
02/17/21
Margaret Sheridan, PhD
Deprivation and Threat, Testing Conceptual Model of Adversity Exposure and Developmental Outcomes
Watch video
View slides
02/24/21
Omar G. Gudiño, PhD
Mental Health Service Use of Latinx Youth: Identification of Need and Patterns of Care
Watch video
03/10/21
Lauren Asarnow, PhD
Sleep Health in Adolescents
Watch video
03/17/21
Alan Silverman, PhD
Behavioral Assessment and Clinical Management of Toileting Disorders of Childhood
Watch video
03/24/21
Cristina Benki, PhD
The Role of Pain Psychology in Multidisciplinary Treatment of Children and Adolescents Suffering From Acute and/or Chronic Pain Conditions
Watch video
03/31/21
Anna Lau, PhD
Getting Effective Mental Health Care to Asian American Students at Risk of Depression
Watch video
04/14/21
Robert D. Friedberg, PhD
Reducing Behavioral Health Disparities Through the Proper Use of CBT With Youth and Their Families
Watch video
View slides
04/21/21
Melissa Hagan, PhD, MPH
Maternal and Child Mental Health During the COVID-19 Pandemic: The Long Reach of Mothers' Adverse Childhood Experiences
Watch video
04/28/21
Rinad Beidas, PhD
Harnessing Implementation Science for Impact: Applications to Pediatric Mental Health Services
Watch video
View slides
05/12/21
Stephany Cox, PhD
Shannon Lundy, PhD
Gina Pfeifle, PhD
Pediatric Neuropsychology in the Medical Setting: A Developmental Perspective of Medically Complex Patients
Watch video
View slides
05/19/21
Maggie Sibley, PhD
Engaging Parents and Teens with ADHD in Clinical Treatment: The Supporting Teen's Autonomy Daily (STAND) Model
Watch video
View slides
05/26/21
Laura Richardson, MD, MPH
Improving Outcomes Through Depression Screening and Collaborative Care for Adolescents in Medical Settings
06/09/21
Tina Han, MD
CAP Fellow Presentation
Irritable Youth: A Closer Look at DMDD
-
*- Certain presentations may not be recorded, either at the request of the speaker or due to technical issues.
**- This video or handout file contains restricted content and requires a valid UCSF MyAccess login to view.