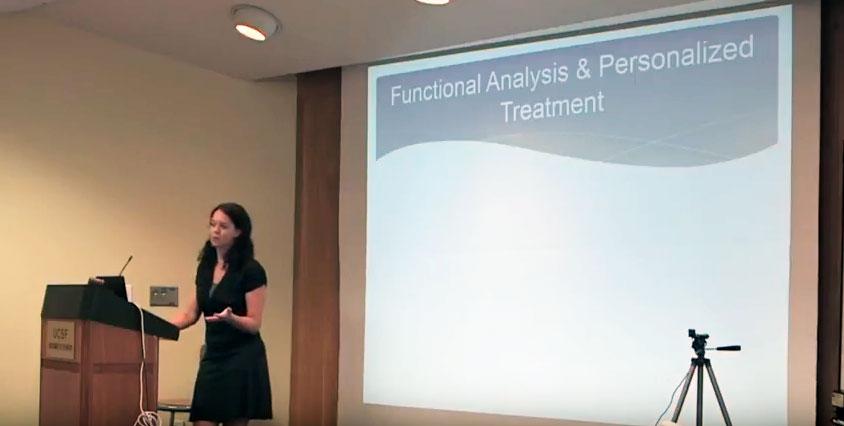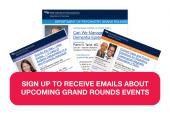 The UCSF Child and Adolescent Psychiatry Grand Rounds series (course number MGR19005) seeks to promote excellence and quality in clinical care; introduce clinicians to recent advances in medical care; provide updates on scientific advances that affect the practice of medicine; and provide a forum for discussion of topics that strengthen the relationship of child and adolescent psychiatry to the broader community.
Events are held on Wednesdays from noon–1:00 p.m. at rotating sites, with live simulcasts available for viewing at other locations. Click on a date below for speaker details, learning objectives, simulcast locations, and more information. These events are for professional audience members only.
2018-2019 Child and Adolescent Psychiatry Grand Rounds

 

Date

Speaker(s)

Topic

Location/Archive

09/12/18
Irene Sung, MD
Compassionate Leadership in My Career at SFDPH: Lessons From My Father
Video
 
09/19/18
Larry Greenhill, MD
NIMH's MTA and PATS Follow-Up Studies of ADHD
Video
 
09/26/18
Robin Randall, MD, MPH
Marlo Simmons, MPH
Heather Weisbrod, LCSW
Developing a Transitional Age Youth System of Care
Video
10/10/18
Will Martinez, PhD
Behavioral Health Disparities Impacting Immigrant Youth: Policy, Advocacy, and Practice
Video
 
10/17/18
Cindy Vargas Cruz, MD
Alicia Lieberman, PhD
Clinical Case Conference
Clinical Implications of Unspoken Racism in the Era of Zero Tolerance
Video**
10/31/18
Lauren Haack, PhD
Si no está roto, no lo arregles: Balancing Adaptation and Fidelity When Translating the Collaborative Life Skills Program for Spanish-Speaking Families in the United States and Mexico
Video
 
11/14/18
Lauren Schumacher, MD
Clinical Case Conference
Anxiety and Inattention: A Collaborative Approach to Comorbidity
Video**
11/28/18
Allison Harvey, PhD
Sleep and Circadian Disturbances in Youth
-
 
12/12/18
Danielle Roubinov, PhD
From Risk to Resilience: Factors That Promote Well-Being Among Children Exposed to Adversity
-
 
12/19/18
Hohui "Eileen" Wang, MD
Kimberly J. Tseng, MD
Clinical Case Conference
Unspoken and Unheard: Recognizing and Managing Mental Illnesses in Asian American Youths
Video**
01/09/19
Flint Espil, MD
Behavior Therapy for a Child With Tourette's and Disruptive Behavior: A Case Example​
Video
 
01/16/19
Melissa Hopkins, MD
Khyati Brahmbhatt, MD
Clinical Case Conference
Integrated Care: Delivering Whole-Person Care and Breaking Down Silos
Video
01/23/19
Melanie Thomas, MD
Maternal Mental Health as a Window of Opportunity to Disrupt the Intergenerational Transmission of Health Disparities
Video
 
02/13/19
Nicki Bush, PhD
Ann Chu, PhD
Miriam Hernandez Dimmer, PhD
The Child-Parent Psychotherapy HEALTH Study: Clinical Research Partnerships to Understand Early Life Adversity, Biological Embedding, and Its Reversibility
Video
02/20/19
Jackie Penn, DO
Clinical Case Conference
Dealing With "Difficult" Families
Video**
02/27/19
Qing Zhou, PhD
Psychological Adjustment in Children of Immigrant Families: The Roles of Culture, Language, and Family Dynamics
Video
 
03/13/19
Steven A. Foreman, MD
Pathological Identification
Video**
 
03/20/19
Helen Yu, MD, MPH
Clinical Case Conference
What is the Relationship Between Early Childhood Trauma and Problems With Stooling?
Video**
03/27/19
Victor G. Carrion, MD
Cue-Centered Treatment: An Evidence-Based Treatment Program Designed to Treat Children With Repeated Trauma Exposure
Video
 
04/17/19
Sepehr Aziz, DO
Ramotse Saunders, MD
Clinical Case Conference
A Curious Case of a Catatonia Consult: An Example of Collaborative Care of an Adolescent Patient Including Child Psychiatry, Neurology, and ECT Treatment
Video**
04/24/19
Allison Libby Arnold, PsyD
Distress Tolerance: A Universal Tool
Video
 
05/08/19
Tara A. Niendam, PhD
Trauma as a Risk and Complicating Factor in Psychosis: Implications for Assessment and Treatment​
Video
 
05/22/19
Catherine Anicama, PhD
The Role of Acculturation and Ethnic-Racial Identity in the Socio-Emotional Well-Being of Immigrant Youth
Video
 
05/29/19
Whitney Ence, PhD
Lauren M. Haack, PhD
Joan Jou, PhD
Allison Libby Arnold, PsyD
Ashley Maliken, PhD
Gabriella Moreno, LCSW
Natalie Todd, PsyD
Preventing Burnout in Child Psychiatry Providers: Introduction and Demonstration of the Ekstasis Peer Consultation Model
-
​
06/05/19
David Oppenheim, PhD
The Importance of Cooperative Mother-Father-Child Interactions: The Case of Young Children With Autism Spectrum Disorder
-
06/12/19
Siya Mehtani, DO
Daniel Eison, MD
Clinical Case Conference
A Boy With a Rare Syndrome and His Remarkable Family: Pediatric Psychiatry and Palliative Perspectives
Video**
**- This video contains restricted content and requires a valid UCSF MyAccess login to view.
VIEW ARCHIVED PRESENTATIONS: 2017-2018