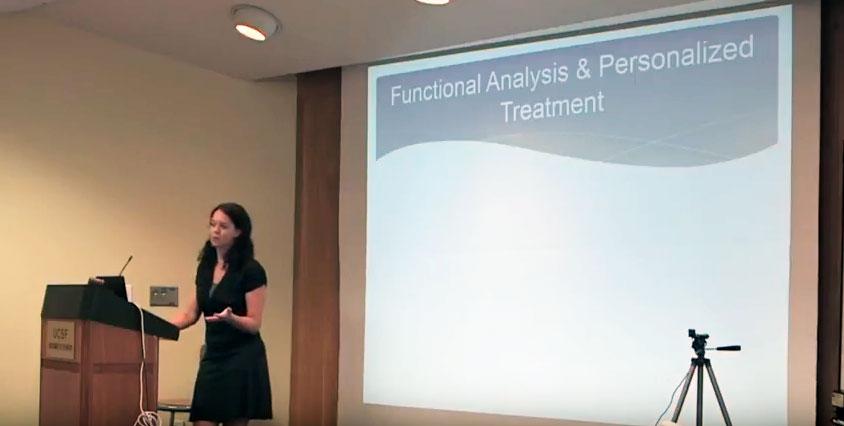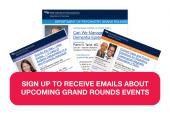 The UCSF Child and Adolescent Psychiatry Grand Rounds series (course number MGR21005) seeks to promote excellence and quality in clinical care; introduce clinicians to recent advances in medical care; provide updates on scientific advances that affect the practice of medicine; and provide a forum for discussion of topics that strengthen the relationship of child and adolescent psychiatry to the broader community.
Events are held on Wednesdays from noon–1:00 p.m.. All events will be held online via Zoom for the foreseeable future in accordance with the UCSF Interim Policy on Large Events and Gatherings. Click on a date below for speaker details, learning objectives, simulcast locations, and more information.
These events are intended for medical professional audience members only and advance registration is required to receive the necessary Zoom connection information.
2020-2021 Child and Adolescent Psychiatry Grand Rounds

 

Date

Speaker(s)

Topic

Location/Archive*

09/09/20
Chuan-Mei Lee, MD
Petra Steinbuchel, MD
Psychiatry Consultation to Pediatrics: Expanding Access to Mental Health Care
Watch video
09/16/20
Michelle Rozenman, PhD
Pediatric Anxiety and OCD During COVID-19: Evidence-Based Treatment Targets (and What We Don't Know Yet)
-
09/23/20
Natalie Todd, PsyD
Coping With Microaggressions and Strategies to Manage Minority Stress
Watch video
09/30/20
Rhea W. Boyd, MD, MPH
Pandemics, Policing, and Protest: On Racism and Health and Where We Go From Here
Watch video
10/14/20
Francis G. Lu, MD
DSM-5 Outline for Cultural Formulation and Cultural Formation Interview: Tools for Culturally Competent Care
Watch video
View handout
10/28/20
Xiomara P. Urban, MD
CAP Fellow Presentation
From Big T's to Little T's With Criterion A: A Historical Review of Diagnostic Specifications, Impact in Pediatric Populations, and Considerations for Providing Informed Care
Watch video
View slides
11/18/20
Helena Hansen, MD, PhD
Beyond Magic Bullets: White Race as Social Determinant of the Opioid Crisis
Watch video
View slides
12/09/20
Matthew Capriotti, PhD
Translating Evidence-Based Interventions to Telehealth Modalities: The Case of Behavior Therapy for Tourette Syndrome
Watch video
View slides
12/16/20
Susan Ye-Bates, MD
CAP Fellow Presentation
Anti-NMDA Receptor Encephalitis: "Brain on Fire"
Watch video
View slides
01/13/21
Daniel Siegel, MD
The Power of Showing Up: How Teacher and Parental Presence Shape Who Our Children Become and How Their Brains Get Wired
Watch video
01/20/21
Stacie Collins, MD
CAP Fellow Presentation
More Than Skin Deep: Exploring Racial Trauma
Watch video
View slides
02/10/21
Casey Von Drehle, DO
CAP Fellow Presentation
Double Helix Rainbow Kids: ASD and Gender Diversity
Watch video
View slides
02/17/21
Margaret Sheridan, PhD
Deprivation and Threat, Testing Conceptual Model of Adversity Exposure and Developmental Outcomes
Watch video
View slides
02/24/21
Omar G. Gudiño, PhD
Mental Health Service Use of Latinx Youth: Identification of Need and Patterns of Care
Watch video
03/10/21
Lauren Asarnow, PhD
Sleep Health in Adolescents
Watch video
03/17/21
Alan Silverman, PhD
Behavioral Assessment and Clinical Management of Toileting Disorders of Childhood
Watch video
03/24/21
Cristina Benki, PhD
The Role of Pain Psychology in Multidisciplinary Treatment of Children and Adolescents Suffering From Acute and/or Chronic Pain Conditions
Watch video
03/31/21
Anna Lau, PhD
Getting Effective Mental Health Care to Asian American Students at Risk of Depression
Watch video
04/14/21
Robert D. Friedberg, PhD
Reducing Behavioral Health Disparities Through the Proper Use of CBT With Youth and Their Families
Watch video
View slides
04/21/21
Melissa Hagan, PhD, MPH
Maternal and Child Mental Health During the COVID-19 Pandemic: The Long Reach of Mothers' Adverse Childhood Experiences
Online via Zoom
​(register to attend)
04/28/21
Rinad Beidas, PhD
TBD
Online via Zoom
​(register to attend)
05/12/21
Stephany Cox, PhD
Shannon Lundy, PhD
Gina Pfeifle, PhD
TBD
Online via Zoom
​(register to attend)
05/19/21
Maggie Sibley, PhD
TBD
Online via Zoom
​(register to attend)
05/26/21
Laura Richardson, MD, MPH
Screening and Collaborative Care Strategies for Teens With Depression in Primary Medical Settings
Online via Zoom
​(register to attend)
06/09/21
Tina Han, MD
CAP Fellow Presentation
Explaining Somatization: Helping Patients and Other Providers Understand Conversion Disorder
Online via Zoom
(register to attend)
*- Certain presentations may not be recorded, either at the request of the speaker or due to technical issues.
**- This video or handout file contains restricted content and requires a valid UCSF MyAccess login to view.