UCSF's Molofsky wins NIH New Innovator Award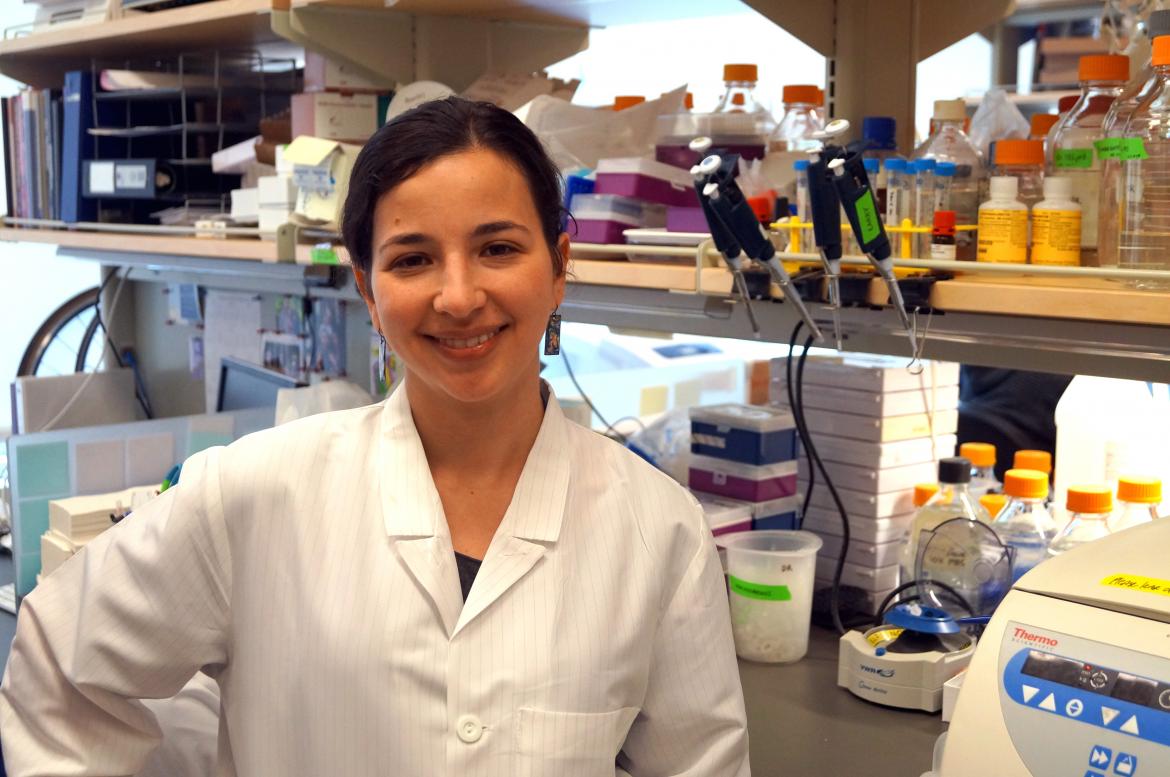 The National Institutes of Health (NIH) has awarded grants to two UC San Francisco researchers to pursue innovative approaches to major contemporary challenges in biomedical research, including one from the UCSF Weill Institute for Neurosciences.
The highly competitive grants, which were announced Oct. 5 [4] among 86 such awards nationwide, were made under the High-Risk, High-Reward Research program supported by the NIH Common Fund.
"I continually point to this program as an example of the creative and revolutionary research NIH supports," said NIH Director Francis S. Collins, MD, PhD. "The quality of the investigators and the impact their research has on the biomedical field is extraordinary."

This year, two UCSF researchers – the Department of Psychiatry's Anna Molofsky, MD, PhD [3], and Eleni Linos, MD, DrPH [5], from the UCSF Department of Dermatology and UCSF Helen Diller Family Comprehensive Cancer Center [6] – received the New Innovator Award [7], which supports unusually innovative research from early career investigators who are within 10 years of their final degree or clinical residency and have not yet received a research project grant (R01) or equivalent NIH grant.
Prestigious grant will support creative 'high-risk, high-reward' research
Molofsky studies glial cells – a broad class of non-neuronal cells in the brain whose functions range from structural support and immune modulation to active participation in electrical signaling and brain plasticity, once considered the sole domain of neurons.
In particular, Molofsky is interested in understanding how support cells called astrocytes and immune cells called microglia appear to work together to prune the synaptic connections between neurons during brain development and learning.
Molofsky received the New Innovator Award for a new effort to identify genetic signatures of synapse pruning by astrocytes and microglia, which would not only enable her team to better understand the role these glial cells play in brain plasticity, but also to observe such rewiring of neural circuits as it happens throughout the brain. She is an assistant professor of psychiatry at UCSF.
This year, the NIH's High-Risk High-Reward grant program issued 55 New Innovator awards, as well as 12 Pioneer awards, eight Transformative Research awards, and 11 Early Independence awards. The total funding, which represents contributions from the NIH Common Fund and multiple NIH institutes, centers, and offices, is approximately $263 million.
---
About UCSF Psychiatry
The UCSF Department of Psychiatry [8] and the Langley Porter Psychiatric Institute are among the nation's foremost resources in the fields of child, adolescent, adult, and geriatric mental health. Together they constitute one of the largest departments in the UCSF School of Medicine and the UCSF Weill Institute for Neurosciences, with a mission focused on research (basic, translational, clinical), teaching, patient care, and public service.
UCSF Psychiatry conducts its clinical, educational and research efforts at a variety of locations in Northern California, including UCSF campuses at Parnassus Heights, Mission Bay and Laurel Heights, UCSF Medical Center, UCSF Benioff Children's Hospitals, Zuckerberg San Francisco General Hospital and Trauma Center, the San Francisco VA Health Care System, and UCSF Fresno.
About the UCSF Weill Institute for Neurosciences
The UCSF Weill Institute for Neurosciences [9], established by the extraordinary generosity of Joan and Sanford I. "Sandy" Weill, brings together world-class researchers with top-ranked physicians to solve some of the most complex challenges in the human brain.
The UCSF Weill Institute leverages UCSF's unrivaled bench-to-bedside excellence in the neurosciences. It unites three UCSF departments—Neurology, Psychiatry, and Neurological Surgery—that are highly esteemed for both patient care and research, as well as the Neuroscience Graduate Program, a cross-disciplinary alliance of nearly 100 UCSF faculty members from 15 basic-science departments, as well as the UCSF Institute for Neurodegenerative Diseases, a multidisciplinary research center focused on finding effective treatments for Alzheimer's disease, frontotemporal dementia, Parkinson's disease, and other neurodegenerative disorders.
About UCSF
UC San Francisco (UCSF) [10] is a leading university dedicated to promoting health worldwide through advanced biomedical research, graduate-level education in the life sciences and health professions, and excellence in patient care. It includes top-ranked graduate schools of dentistry, medicine, nursing and pharmacy; a graduate division with nationally renowned programs in basic, biomedical, translational and population sciences; and a preeminent biomedical research enterprise. It also includes UCSF Health, which comprises top-ranked hospitals – UCSF Medical Center [11] and UCSF Benioff Children's Hospitals in San Francisco [12] and Oakland [13] – and other partner and affiliated hospitals and healthcare providers throughout the Bay Area.