Intensive Services Grand Rounds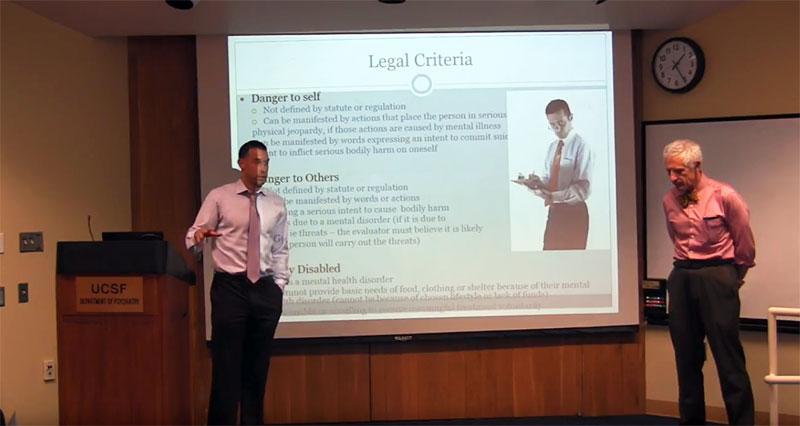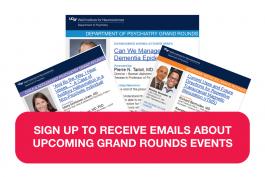 [1]
The UCSF Department of Psychiatry Intensive Services Grand Rounds (course number MGR19066) series seeks to promote excellence and quality in clinical care; introduce clinicians to recent advances in medical care; provide updates on scientific advances that affect the practice of medicine; and provide a forum for discussion of topics that strengthen the relationship of intensive services psychiatry to the broader community.
Events are usually held on the fourth Monday of each month from 1:00–2:00 p.m. in the Langley Porter Auditorium (LP-190). Click on a date below for speaker details, learning objectives, and more information. These events are intended for medical professional audience members only.
2018-2019 LPPHC Intensive Services Grand Rounds

 

Date

Speaker(s)

Topic

Location/Archive

07/10/18

[2]

Dominic Tarpey, LCSW
California Welfare and Institutions Code Psychiatry Holds (5150/5585): What to Know and How to Do It Right
-
 
07/12/18

[3]

Dominic Tarpey, LCSW
California Welfare and Institutions Code Psychiatry Holds (5150/5585): What to Know and How to Do It Right
-
 
07/25/18

[4]

Dominic Tarpey, LCSW
California Welfare and Institutions Code Psychiatry Holds (5150/5585): What to Know and How to Do It Right
-
 
09/24/18

[5]

Walter Sipe, MD
Restrictive and Avoidant Eating Disorders, Unique Dynamics, and Distinctions From Anorexia and Bulimia
Video

[6]


 
10/22/18

[7]

Brian T. Anderson, MD, MSc
Christopher Stauffer, MD
MDMA- and Psilocybin-Assisted Psychotherapy: Clinical Research Update
Video

[8]

11/26/18

[9]

Descartes Li, MD
Bipolar Disorder 2018: Update and Review
 
Video

[10]

12/17/18

[11]

Judith Martin, MD
An Update on Current Trends With Substance Use Disorders and Medication Treatments
Video

[12]


 
01/28/19

[13]

John R. Chamberlain, MD
Basics of Malpractice: Risk Assessment and Documentation
Video

[14]


 
02/25/19

[15]

Renée Binder, MD
The History of Involuntary Treatment and Controversies
Video

[16]


 
03/25/19

[17]

Andrew Parker, PhD
Understanding Threat Management at UCSF
LP-190
 
05/31/19

[18]

Mark Rosenthal, LCSW
Dialectical Behavioral Treatment (DBT)
LP-190
 
ARCHIVED PRESENTATIONS FROM PREVIOUS YEARS: 2017-2018
[19]