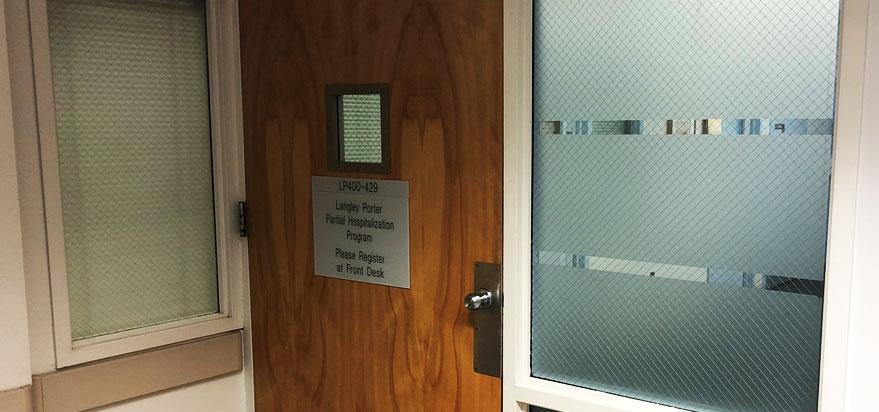 Please note:
PHP is offered in-person at 401 Parnassus Ave., San Francisco, CA 94143.
IOP is offered via telehealth over Zoom.
PHP or IOP services are offered based on medical necessity admission criteria.
Please login to MyChart to complete forms and questionnaires prior to your first day.
On your first day in IOP, if you haven't already been provided the group Zoom meeting ID and password, our medical assistant or practice coordinator will reach out to you. (More information on Zoom is available on the UCSF IT website.)
Prior to your visit, you must go to videovisit.ucsf.edu to setup and test your device.
On the day of your visit:
If you are using your smartphone, open the Zoom app, click "Join a Meeting" and enter the meeting ID number and password.
If you are using your computer, go to https://zoom.us/join and enter the provider's meeting ID number from above.
You will follow steps to turn on your video and then be placed in a virtual waiting room until the clinician joins the meeting. When admitted, you must connect to audio to hear your provider. If not prompted when joining the meeting, make sure you choose an audio option by clicking "Join Audio."
 
By joining a Zoom meeting, you consent to treatment by video. A video visit is billed in the same way as an in-person clinic visit. The terms of your deductible and copay still apply.
Need help setting up your computer or mobile device for video visits? Contact MyChart Customer Service at (415) 514-6000, 24 hours a day, 7 days a week. Please do this well in advance of your appointment.
You may contact our practice coordinator at (415) 476-7400 if you have any specific questions about the programs. Please log in to groups a few minutes before the start time.
Upon starting the program, you will meet with your assigned psychiatrist and primary clinician for your admission evaluations. Please list any medications you are taking for the appointment with your assigned psychiatrist. It is likely you will work closely with the psychiatrist during the course of the program to make adjustments to these medications, so having this information on your first day is important.
Your primary clinician will orient you to the program and will be your point of contact for all questions regarding your treatment. You will meet with your clinician at least once a week for individual therapy sessions and will work closely with them to coordinate your plan for when you finish the program.
It is important to keep in mind that this is a group-based program and you will primarily attend groups where you learn tools and skills to better understand and manage your symptoms.
First days can be overwhelming, so please do not hesitate to speak to any of our staff about any questions or concerns you may have.