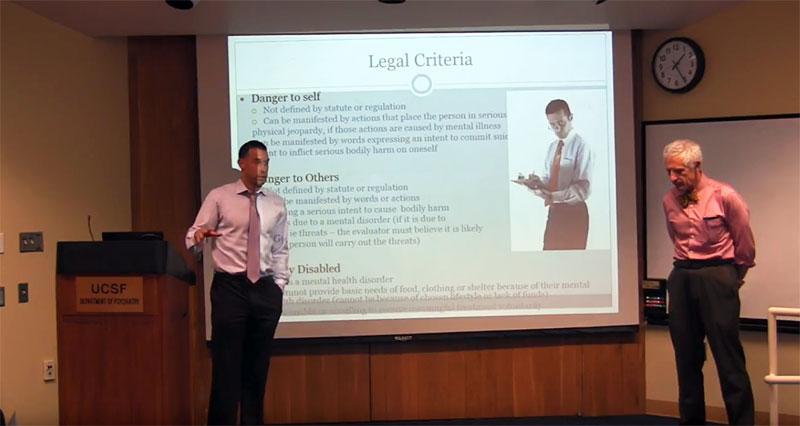 The UCSF Department of Psychiatry and Behavioral Sciences Intensive Services Grand Rounds series (course number MGR22066) seeks to promote excellence and quality in clinical care, introduce clinicians to recent advances in medical care, provide updates on scientific advances that affect the practice of medicine, and provide a forum for discussion of topics that strengthen the relationship of intensive services psychiatry to the broader community.
Events are usually held at 1:00 p.m. on the fourth Monday of each month and are currently only held online via Zoom in accordance with the UCSF Interim Policy on Large Events and Gatherings. Advance registration is required to receive the necessary Zoom connection information. Click on a date below for speaker details, learning objectives, and more information.
Intensive Services Grand Rounds presentations are for educational purposes and intended only for behavioral/mental health professionals and clinical providers. Continuing education (CE) credit is available for physicians, psychologists, nurses, and therapists (LCSWs, LEPs, LMFTs, and LPCCs) who participate in this activity.
For more information about Intensive Services Grand Rounds, contact series coordinator Dominic Tarpey.
Previous 2021–2022 Intensive Services Grand Rounds
Aug. 23, 2021
WATCH VIDEO

Andrew D. Krystal, MD, MS (UCSF)

Sept. 27, 2021
WATCH VIDEO

David Kan, MD, DFASAM (UCSF/Bright Heart Health)

Oct. 25, 2021
WATCH VIDEO

Gregg Bryon, JD (SF Superior Court); Julian Sapirstein, JD (SF Superior Court); Dominic Tarpey, LCSW (UCSF)

Nov. 22, 2021
WATCH VIDEO

Shane O'Neil-Hart, LCSW (Lyra Health)

Jan. 24, 2022
WATCH VIDEO
View slides

Descartes Li, MD (UCSF)

Feb. 28, 2022
WATCH VIDEO

Christopher M. Bartley, MD, PhD (UCSF)

March 28, 2022
WATCH VIDEO
View slides

Jeffrey DeVido, MD (UCSF/Marin Country HHS)

April 18, 2022
Watch video

Sujatha Sankaran, MD (UCSF)

NOTE: Certain presentations may not be recorded, either at the request of the speaker or due to technical issues.