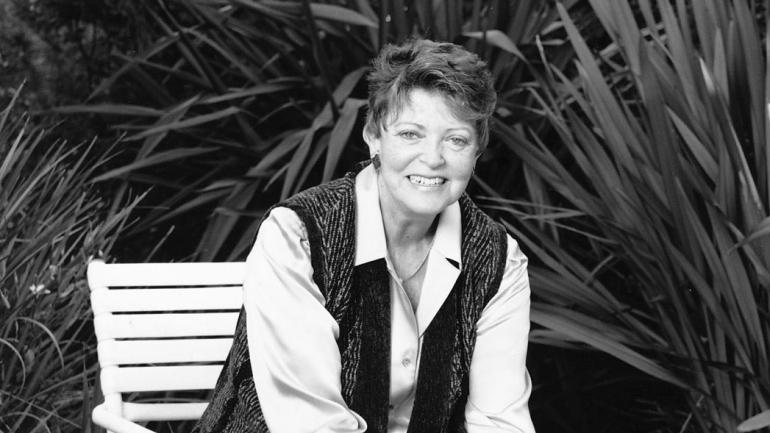 To honor and build on a lifetime of giving and charitable service by the late Helen Diller, the Helen Diller Foundation has granted $500 million to UC San Francisco, a university to which Helen was both generous and devoted. The gift will be the largest single donation in UCSF's history and one of the largest ever to a U.S. university.
Helen's renowned compassion and lifelong commitment to improving the world for future generations as a philanthropist, advocate and mentor has had a singular impact on UCSF and other higher education and charitable institutions.
The new gift is especially noteworthy for the unprecedented level of ongoing funding it will provide for the University's world-class faculty and talented students. This investment in public education underscores Helen's formative student experience, as she attended UC Berkeley and generously supported her alma mater and UCSF, along with Jewish communal needs, throughout her life.
Investing in brilliance
The majority of the new commitment, $400 million, will establish endowments in Helen Diller's name to support UCSF faculty and students, a critical university goal. This new commitment increases UCSF's endowment, which currently stands at $2.25 billion, by nearly 18 percent.
"The Helen Diller Foundation recognizes the extraordinary importance of endowment as we seek to attract the brightest talent," says UCSF Chancellor Sam Hawgood, MBBS, noting that UCSF and most other public universities lack the deep endowment of private peer institutions.
The endowed funds will be used in the following ways:
Faculty support
A $200 million endowment will create a significant stream of faculty support in perpetuity.
Of this, $100 million will be used to retain outstanding current professors and recruit preeminent faculty to UCSF by funding Helen Diller Distinguished Professorships. They may be awarded to either established UCSF faculty rising into leadership positions, or to stellar senior faculty recruited from other institutions. These top clinicians and researchers will mold the next generation of health professionals and shape the culture of care in clinics and hospitals while accelerating discoveries in laboratories.
The commitment will significantly change the landscape of UCSF faculty funding. Currently in the UCSF School of Medicine, for example, approximately 25 percent of faculty receive funding from the state or through professorships. The remaining 75 percent must raise nearly every dollar of their salaries, either through clinical practice or research grants. With the knowledge of dependable funding, Helen Diller Professors will have the opportunity to pursue research, initiate new lines of inquiry, teach and mentor students and younger colleagues, spend more quality time with patients, and take on the most difficult cases.
The additional $100 million of endowment will provide crucial start-up money for the Helen Diller Faculty Scholars program for early- and mid-career scientists. More and more, philanthropy plays a crucial role in helping young faculty launch their academic careers. Helen Diller Faculty Scholars will receive at least $150,000 annually to establish laboratories, buy equipment, hire graduate students and postdocs, and generate the research results that lead to long-term funding from agencies such as the National Institutes of Health.
"When I got here, I heard someone say that it's 'by far the best place you've never heard of,'" Matthew W. State, MD, PhD, Oberndorf Family Distinguished Professor and Department of Psychiatry chair, recalled to health news site STAT. But when he left Yale four years, he added, "no one wondered why" he moved, because they understood UCSF's importance in his field — greatly enhanced last year when benefactors Sandy Weill and his wife, Joan, gave $185 million to establish the UCSF Weill Institute for Neurosciences.
"We're competing with the Harvards and Yales, essentially as a soft money place" set in one of the most expensive housing markets, State said. Large grants, including the Diller  and Weill endowments, make the competition possible.
"It's a source of pride not only in terms of our competitive nature, but in what it reflects about what people feel about the work UCSF is doing," State told the San Francisco Chronicle. "That alone helps with recruitment."
Student support
An additional $200 million of endowment will support students at UCSF's four professional schools, all ranked among the top in the nation: the schools of Dentistry, Medicine, Nursing, and Pharmacy. This commitment increases the amount of funding available for scholarships by more than 150 percent.
The financial support the Helen Diller Scholarship Program offers will allow many students, including first-generation college students, to graduate with a minimal amount of debt, giving them the freedom to pursue life-changing work in their communities.
"I am deeply grateful for the Helen Diller Foundation's forethought in investing in our remarkable faculty and students and those who will follow in their footsteps," says Hawgood. "It is a privilege to be surrounded each day by people who are so incredibly driven, focused and collaborative, and Helen Diller truly understood this. She knew that the excellence of our people is what makes UCSF such a remarkable place, and I am honored to help steward this gift in support of Helen's vision."
Innovation fund
The final $100 million will create an Innovation Fund, which can be drawn on, over time, at the discretion of UCSF's current and future chancellors.
Universities covet discretionary funds because most philanthropic gifts to academia are earmarked for specific purposes. In 2015-16, for example, UCSF raised nearly $747 million, but less than 0.5 percent of those funds were discretionary.
"Unrestricted funds give me the flexibility and agility to respond to the rapid changes in the health sciences," says Hawgood. "These funds will seed areas that will redefine the future of healthcare and could support priorities ranging from genomic surgery to cell engineering, from immunotherapy to microbiome research, and from neuro-technology to next-generation diagnostics for infectious and inflammatory diseases."
Further coverage
---
About the Simms/Mann Institute
The Simms/Mann Institute develops and implements innovative programs and resources to address the complex challenges of the 21st century. The Institute seeks to empower professionals and individuals alike to make informed decisions and personalized choices by promoting the exploration, cross-fertilization, and dissemination of cutting-edge research and best practices in the fields of education and medicine.
About UCSF Psychiatry
The UCSF Department of Psychiatry and the Langley Porter Psychiatric Institute are among the nation's foremost resources in the fields of child, adolescent, adult and geriatric mental health. Together they constitute one of the largest departments in the UCSF School of Medicine and the UCSF Weill Institute for Neurosciences, with a mission focused on research (basic, translational, clinical), teaching, patient care and public service.
UCSF Psychiatry conducts its clinical, educational and research efforts at a variety of locations in Northern California, including UCSF campuses at Parnassus Heights, Mission Bay and Laurel Heights, the UCSF Medical Center at Mt. Zion, Zuckerberg San Francisco General Hospital and Trauma Center, the San Francisco VA Health Care System and UCSF Fresno.
About the UCSF Weill Institute for Neurosciences
The UCSF Weill Institute for Neurosciences, established by the extraordinary generosity of Joan and Sanford I. "Sandy" Weill, brings together world-class researchers with top-ranked physicians to solve some of the most complex challenges in the human brain.
The UCSF Weill Institute leverages UCSF's unrivaled bench-to-bedside excellence in the neurosciences. It unites three UCSF departments – Neurology, Psychiatry and Neurological Surgery – that are highly esteemed for both patient care and research, as well as the Neuroscience Graduate Program, a cross-disciplinary alliance of nearly 100 UCSF faculty members from 15 basic-science departments, as well as the UCSF Institute for Neurodegenerative Diseases, a multidisciplinary research center focused on finding effective treatments for Alzheimer's disease, frontotemporal dementia, Parkinson's disease and other neurodegenerative disorders.
About UCSF
UC San Francisco (UCSF) is a leading university dedicated to promoting health worldwide through advanced biomedical research, graduate-level education in the life sciences and health professions, and excellence in patient care. It includes top-ranked graduate schools of dentistry, medicine, nursing and pharmacy; a graduate division with nationally renowned programs in basic, biomedical, translational and population sciences; and a preeminent biomedical research enterprise. It also includes UCSF Health, which comprises two top-ranked hospitals, UCSF Medical Center and UCSF Benioff Children's Hospital San Francisco, and other partner and affiliated hospitals and healthcare providers throughout the Bay Area.